Former CBI agent testifies about blood in Mark Redwine's home
Cory Redwine testified Thursday that he still loves his father, Mark Redwine, despite disillusionment with him since the death of Cory's younger brother, Dylan.
The disillusionment – beginning with Dylan's 2011 discovery of sordid photos of their father – was only compounded by Cory's belief that his brother died at the hands of their father.
"I wish we were here under different circumstances. I still love him. I wish I didn't have to be here," Cory said.
Cory Redwine, 29, was called to the stand by the prosecution in the trial of Mark Redwine, who is charged with second-degree murder and child abuse resulting in the death of 13-year-old Dylan during a court-ordered parental custodial visit during the Thanksgiving holiday in 2012.
The first of the boy's remains were found in June 2013.
Redwine has pleaded not guilty, saying he left his house to run errands on Nov. 19, 2012, and returned to find Dylan missing. Prosecutors allege Redwine killed his son on the night of Nov. 18, 2012.
On cross-examination from defense attorney John Moran, Cory Redwine revealed that he texted the sordid photos Dylan had discovered to Mark Redwine.
The photos showed Mark Redwine dressed in women's underwear and a diaper, eating feces from a diaper.
Cory Redwine said he texted the photos during a dispute with his father, who was upset that Cory had left liquor bottles at Mark Redwine's property while Cory was staying there with his girlfriend. Mark Redwine sent photos of the liquor bottles to Cory, and in response, Cory Redwine texted the sordid photos to his father.
In text messages accompanying the photos, Cory wrote to his father: "I've got some pictures, too."
He followed up with further angry texts to Mark Redwine, including: "Hey beautiful, You are what you eat, look in the mirror."
Cory Redwine also discussed meeting Mark Redwine in December 2012 at the Sky Ute Casino in Ignacio to discuss the search for then-still-missing Dylan.
Cory said he told his father that he suspected him of killing Dylan.
Another witness, Kathi Barry, heard about the case on Facebook and joined the search effort. She testified Thursday about a confrontation with Mark Redwine at his Vallecito home shortly after Dylan's remains were found in June 2013, according to The Denver Post.
Barry said she and another woman, Denise Hess, drove to Redwine's house to confront him about a text he sent to his ex-wife, Elaine Hall, concerning Hess, who was suffering from colon cancer, a disease from which she would later die.
Redwine had texted he hoped Hess would die from cancer.
Barry and Hess found Mark Redwine standing in the door of his Vallecito House, according to The Denver Post.
Hess began shouting at Mark Redwine from the vehicle.
Barry testified she lost her composure when Redwine shouted at Hess that he hoped she would die from cancer.
Barry took her seat belt off, jumped over Hess in the passenger seat, and was closest to Redwine, and shouted at him: "(expletive)-eating (expletive)," according to The Denver Post.
Barry testified that Mark Redwine then picked up a log and lifted it as if he might hit the vehicle or the women who were in it.
She yelled another vulgarity at Mark Redwine, before speeding away, she testified.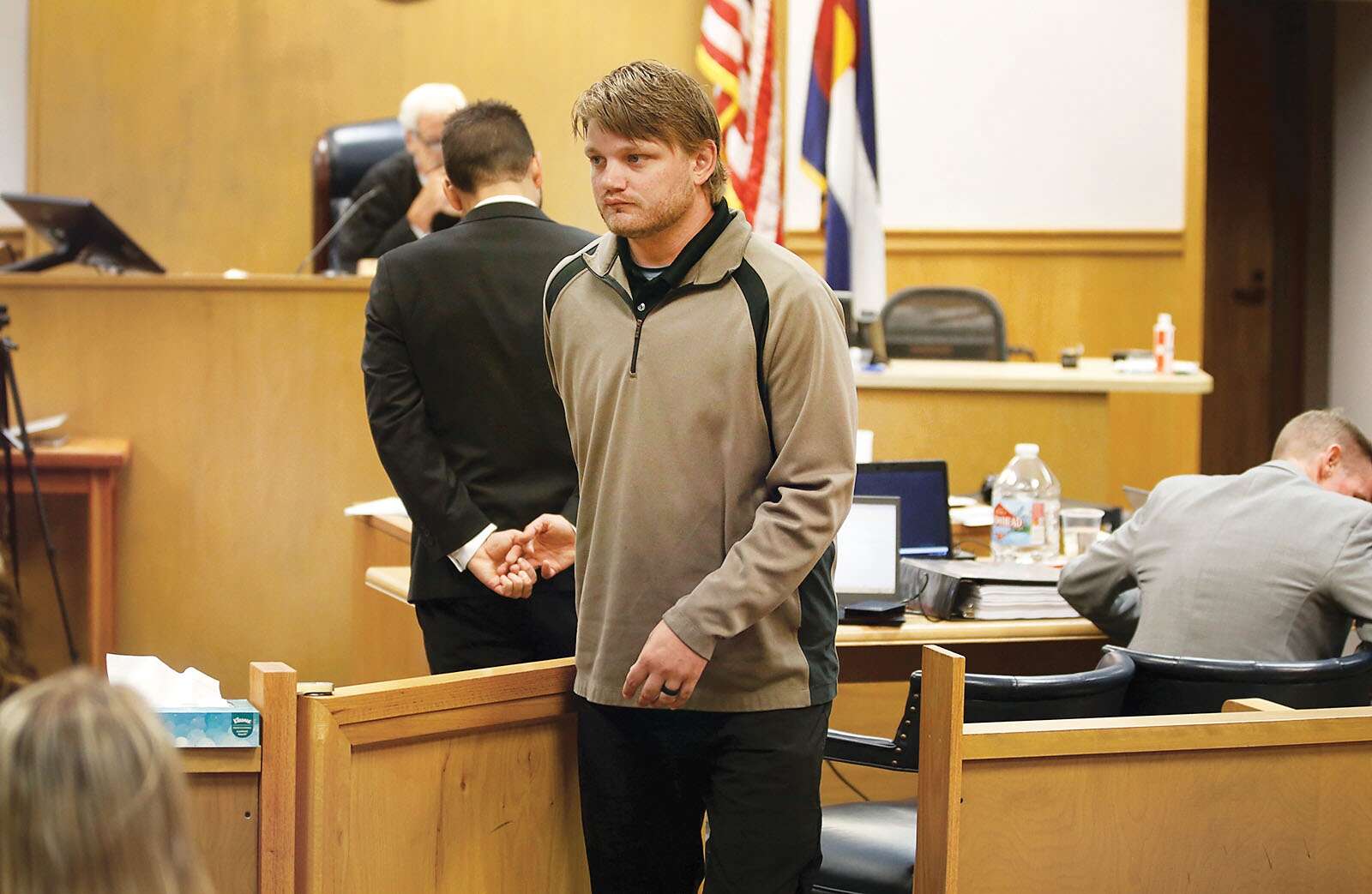 Amber Harrison, who was Elaine Hall's divorce and custody attorney and who later befriended Hall, also testified.
Through tears, Harrison recounted the legal advice she gave Dylan's mother after Hall asked if there were any other options besides sending Dylan to stay with his father as part of a court-ordered custodial visit.
"I told her she had to put Dylan on the plane or she would be charged with contempt of court," Harrison said after taking several seconds to regain her composure.
Harrison interviewed Dylan before he gave private testimony to then 6th Judicial District Judge David Dickinson, the judge in the August and September 2012 custody hearing.
Harrison said Dylan wanted to live with his mother, and she advised him to be honest in conveying his views to the judge, and she assured Dylan that Dickinson was someone he could trust.
Dylan told Harrison the sordid pictures of his dad "creeped him out" and he didn't want to be around his father.
Harrison said she was unsure if Dylan conveyed his feelings about the photos to Dickinson, who later became incapacitated with a medical condition and died in 2017.
Also on Thursday, law enforcement officers involved in the search for Dylan and later death investigation began testifying.
Joe Clayton, a now-retired Colorado Bureau of Investigation agent – an expert in blood-splatter analysis, crime-scene investigation and serology (the study of blood and body fluids) was called to the stand by prosecutors.
Clayton said two areas in the living room of Mark Redwine's Vallecito house where small amounts of blood were discovered using chemical analysis concerned him because they indicated some cleaning might have occurred at the scene.
Blood located on the floor of the living room that was under a rug, might indicate cleaning because the rug did not test positive for blood, something Clayton would have expected if someone had bled on the rug and it soaked through to the floor.
Also, blood on a cushion of a dark brown love seat indicated it might have been diluted by cleaning agents to hide its presence against the dark color of the cushion, Clayton testified.
Finally, Clayton said the number of areas testing positive for blood in the living room – including on the top the coffee table and the cushion of another couch – might indicate movement in the living room during a bleeding event.
If a small amount of blood had been found in one spot, Clayton said that could be explained by a single event like a cut. However, the more numerous positive tests for blood were "concerning," indicating movement around the room during a bleeding event.
parmijo@durangoherald.com
Previous versions of this story neglected to attribute several paragraphs of Kathi Barry's testimony to a report by Shelly Bradbury of The Denver Post. Subsequent accounts of the testimony included paraphrased and attributed paragraphs from the Post story, and new reporting by The Durango Herald.