When Emily Van Fleet walks on stage as Patsy Cline, the sign above her quickly flips from Creede Opera House to Grand Ole Opry. It's a nice tribute to Creede's illustrious 57-year history performing as one of America's rare repertory companies.
Now that CRT is back running a full complement of plays after the pandemic, the 2022 season is more than a celebration. Here's a summary of three of the company's new offerings.
Always ... Patsy Cline
The bio-musical by Ted Swindley is based on Cline's life. It begins with "Honky Tonk Merry Go Round," and contains 26 more of Cline's songbook. Dressed in her early signature cowgirl outfit, Van Fleet's young Cline is an uncanny look-alike. She beams with youthful confidence and sustains a languid singing style throughout. Accompanied by a four-man on-stage band, Van Fleet sings and easily slips into a variety of scenes telling the story of a fan friendship.
The saga of Cline's rise to fame and sudden death in a plane crash is essentially told by Louise Seger (an engaging and forthright Caitlin Wise). The unlikely friendship unspools between songs and scenes that form the last chapter of Cline's life.
Director Michael Perlman and his creative team follow the alternating scene structure fluidly. The stage set conceals Louise's kitchen and also a bar where celebrity and ordinary citizen meet. It's ultimately a story of friendship interspersed with music as Cline performs on an elevated stage, invites Louise up to enhance the show and Louise tells her life-changing story.
Playwright Swindley has been smart enough to know friendship doesn't end with death, and has Louise take time for reflection. Not to give anything away, there are also scored encores, and "Bill Bailey" is worth waiting for.
'Sherwood: The Adventures of Robin Hood'
Ken Ludwig's refreshing origin story about the famous folk hero brims with action in its Creede production. It's no wonder CRT has chosen it as a family show. Sprightly scenes unfurl as the versatile eight-member cast double up on roles, even Lavour Addison as a young man energized by injustice to right wrongs.
The play begins and ends with the frame of Robin Hood's imminent death in 1194. But the dire scene suddenly wings back to his upbringing and transformation into the underdog leader from Sherwood Forest.
Robin quickly assembles his merry band through a variety of episodes and exploits with engaging Matt Zambrano as Friar Tuck, the play's narrator.
WHAT: Creede Repertory Theatre, 57th season- six shows in rotation: "Sherwood: The Adventures of Robin Hood," by Ken Ludwig; "Always… Patsy Cline," by Ted Swindley; "Native Gardens," by Karen Zacarias; and more. Two theaters, matinee and evening performances.
WHEN: Now through Sept. 17.
WHERE: Creede, a three-hour drive from Durango.
ADMISSION: Tickets range from $15 to $42 for children, students, adults and seniors.
MORE INFORMATION: Call (719) 658-2540 or visit www.creederep.org.
Director John DiAntonio unfolds the story swiftly tucking in various subplots like a wrongfully arrested father (Zambrano), his petulantly grieving daughter Doerwynn (a fierce Caitlin Wise), an embedded romance between Robin and Maid Marian (the always surprising Emily Van Fleet) and a comic confrontation with Prince John (a droll Anne Butler, who returns in disguise later in a brilliant piece of double casting). Fight director Chris Van Winkle and fight captain Zambrano deserve a double-quiver award for the lively, organic combat scenes with swords, daggers and quarterstaffs. The stagecraft involved in a thrilling tournament has to be seen to be believed.
Lindsay Fuori's charming fairy tale set alternately serves as Sherwood Forest, a castle, a battlefield, a banquet and/or dancing hall, and a river that must be crossed.
Ludwig's play calls for multiple accents and direct address, which in the hands of the CRT cast, engages the audience in unexpected ways. The play originally was developed and produced at The Old Globe in England and has had productions all over the world.
'Native Gardens'
Karen Zacarias' new play is set in pre-pandemic America and while contemporary in its themes, feels like a period piece. It focuses on a young professional couple moving into a condo alongside an older couple. The play takes place in their backyard garden area separated by a fence. The fence is one issue. More important is the great divide between preferences for either natural plants or fussy bloomers. More significant differences emerge: class, age, race, privilege and entitlement. Zacaria's dialogue is sharp and clean as tensions rise leading to an interesting climax and falling action.
A beautiful, three-hour drive from Durango to Creede takes you on newly widened and paved roads through Bayfield, Pagosa Springs, Wolf Creek Pass, South Fork, then the spectacular Wagon Wheel Pass. The drive alone is worth the trip to see smart, professional theater in the old mining town of Creede. The company has solidified its reputation for polished, high-style summer theater and is celebrating its 57th year of true repertory theater in the West.
Emily Bosco and Matt Zambrano bring Tania and Pablo Del Valle to life. She's a pregnant Ph.D. candidate and he's a lawyer who has invited his firm over too soon to their new digs. Next door, Frank and Virginia Butley (a winning pair of old marrieds played by the inimitable Christy Brandt and stalwart Stuart Rider) begin as gracious neighbors, but assumptions intrude.
Directed by Julia Rosa Sosa Chaparro, the play grows carefully out of a simple but telling set designed by Cece Smith. And the cast is augmented by two non-speaking but essential roles as handymen/surveyors/ landscapers Brandon Guzman and Alejandro Rowinsky sweep, weed, measure and observe the clash of differences around them.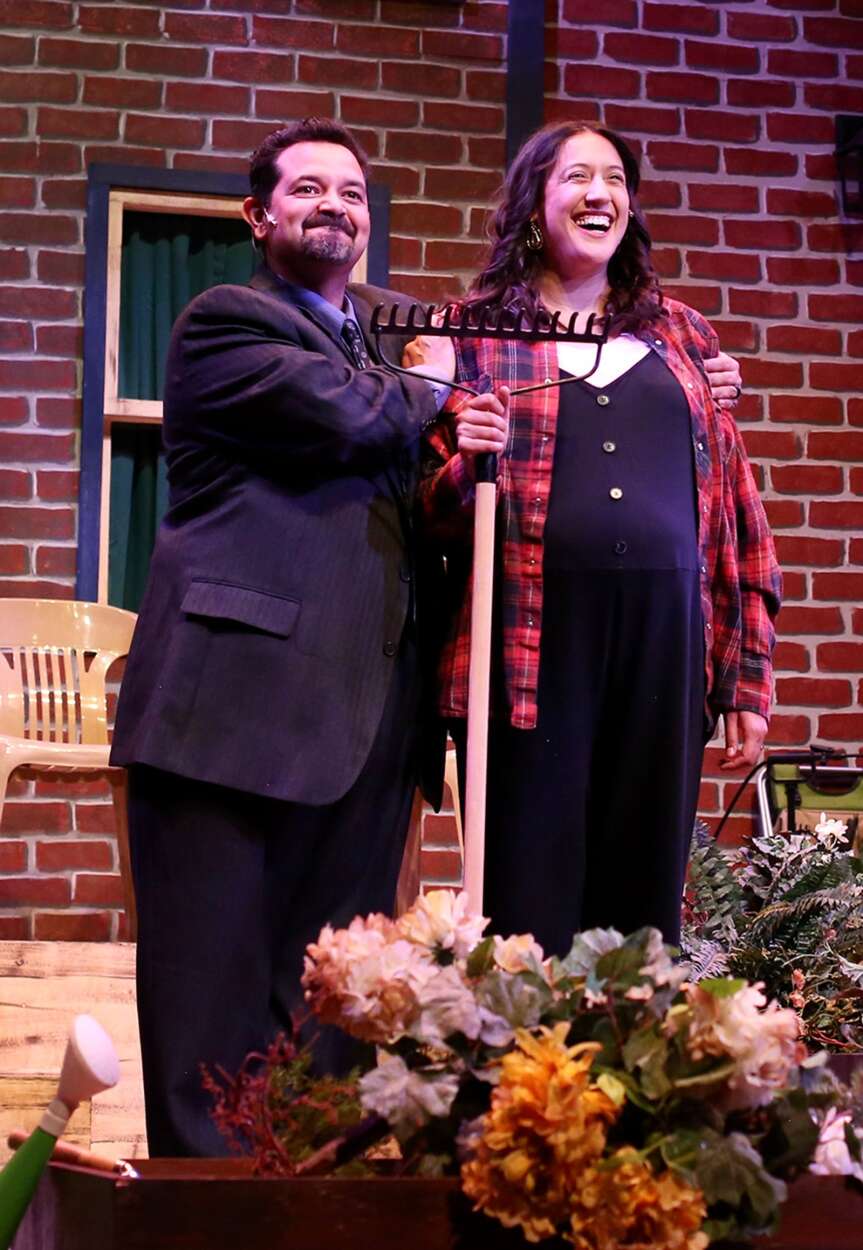 The three shows run in repertory with "Steel Magnolias," which is up and running; "Boomtown," which opens July 1; "The Royale," by Marco Ramirez, about the controversial 1905 heavyweight contender, opens July 23. The final performances of "Steel Magnolias" and "Patsy Cline" close the season on Sept. 17.
Judith Reynolds is an arts journalist and member of the American Theatre Critics Association.