12 people died in slides statewide, 5 in San Juans as of this week
After one of the deadlier avalanche seasons in recorded history in Colorado, snow researchers and emergency management officials are reflecting and thinking of new ways to approach next winter to avoid loss of life.
"This year was especially dangerous for people," said Ethan Greene, executive director of the Colorado Avalanche Information Center. "And it's not a problem we can solve in isolation."
As of Thursday, a total of 12 people died recreating in the backcountry, tying the other high fatality winter of 1993-94, according to records that go back to 1950, when outdoor recreation is considered to have started in the state in full force.
Five of those deaths this year happened in the San Juan Mountains, outside Silverton. (Backcountry ski season, and therefore avalanche danger, is not over typically until May.)
To find the last time more than 10 people died in avalanches, other than this year and winter 1993-94, one would have to go back to records in the late 1800s during the heyday of mining across the state, Greene said.
The root cause of increased avalanche activity this year can be traced to conditions that set up the winter snowpack this fall.
"The bad avalanche season always begins in fall," Greene said. "And this year was no exception."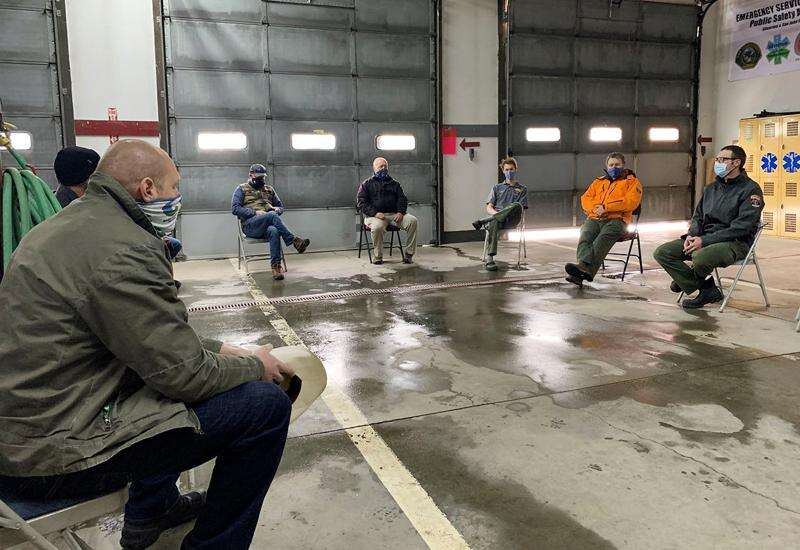 Colorado received decent snow in October, but then experienced a dry period from mid-November into December. And when snow is on the ground, and then an extended dry period hits, snowpack weakens and becomes unstable.
Put more snow on top of that weak base and conditions become ripe for slides.
As a result, the avalanche danger throughout the entire winter was considered one of the highest years of risk for triggering slides in recent memory, with many researchers calling conditions a 1-in-10-year event.
"It's like a house of cards where it can take a lot of weight on top, but it doesn't take much effort at all, just a little push, and then it collapses," said Jim Donovan, director of San Juan County's Office of Emergency Management.
The CAIC is tasked with forecasting avalanche danger, and then getting that message out to the public. This year, the center ramped up its effort, starting a social media campaign, buying billboards and even putting out TV ads.
But still, tragic events occurred in the backcountry.
The first fatality occurred Dec. 18 near Ohio Pass in Gunnison County after a backcountry skier was caught and killed in an avalanche. And then, just a day later, two backcountry skiers were killed in a slide outside Silverton.
News of the deceased – Durango residents Dr. Jeff Paffendorf, 53, and Albert Perry, 55, known as "Bert" – sent shock waves through the community, especially because the pair were regarded as experienced, seasoned outdoor recreationists.
In a subsequent investigation report, the CAIC said Paffendorf and Perry were familiar with the terrain, but the avalanche danger present had not been seen in years, and the pair had likely not experienced such conditions before.
It is also believed Paffendorf and Perry were traveling uphill in an avalanche path when they triggered the slide, which started above them, the CAIC wrote in its investigation report.
Then, on Feb. 1, tragedy struck again in Southwest Colorado after an avalanche caught four backcountry skiers, also west of Silverton, ultimately killing three of the skiers who were from Eagle County.
The group, too, was considered veteran backcountry skiers, but erred after going into a gully where they triggered the slide, according to a CAIC report. The deceased were Seth Bossung, 52, Andy Jessen, 40, and Adam Palmer, 49.
A common theme throughout Colorado's 12 avalanche deaths, Greene said, was that most of the people who died were experienced and knowledgeable about backcountry travel in the mountains.
"They were not new to backcountry travel," he said.
Ron Corkish, president of La Plata County Search and Rescue, said even if a backcountry skier is experienced and has taken avalanche courses, it's always important to remember the basics before going out.
"When you're going into a backcountry situation, focus on the basics and don't overthink it," he said.
Avalanche recovery missions, which more often than not deal with fatalities, took a heavy toll on search and rescue teams this year, Donovan said. San Juan County has about 30 people available to help with missions.
And this is especially difficult in the tight-knit community of Southwest Colorado, Donovan said, where it's not uncommon for rescuers to have a personal connection with the person they are trying to dig out.
"The mental impact is real," he said, adding the team has a therapist on hand if needed. "There's just a lot of stress on the rescuers when they're out there."
The two recovery missions were especially challenging, as avalanche danger posed a risk to search and rescue crews. Recovering the Eagle County residents took several days.
Donovan said the three men were buried 9, 11 and 20 feet deep, respectively, requiring the use of chainsaws and other equipment made specifically for deep burials. Corkish estimated they moved 22 tons of snow.
"You're there just getting the job done and you don't try to internalize it too much because it'll tear you up during the rescue," Donovan said. "Honestly, you put it out of your mind."
Donovan said he believes after the Feb. 1 avalanche, people started to use more caution in the backcountry. As of Thursday, no other accidents involving avalanches had been reported to the CAIC in Southwest Colorado.
"People got pretty spooked by that accident," he said. "It was a shocker to a lot of people."
Backcountry skiing has been growing in popularity for years, but the growth of the sport was accelerated in the last year with the COVID-19 pandemic, which has been sparking people's interest in outdoor sports.
"The world we were living in bled into the backcountry and made things harder for everyone," Greene said. "Backcountry recreation is an escape from all that, but we always take some of that stuff with us."
But given the fact most people who died in slides this year were experienced, emergency management officials realize the message needs to reach skiers who may have grown comfortable with their skill set.
"It's hard to get people to realize how much risk they're taking," Donovan said.
Greene said it's imperative to get everyone in the backcountry skiing community – user groups, guide companies, ski shops – involved to help reach and educate as many people as possible about avalanche risks.
For next year, CAIC wants to boost communication, increase staff around the state and install signs at trailheads about avalanche danger. But educators can only do so much, and backcountry skiing, inherently, is a risky sport.
"I'm proud of the work the center did this year," Greene said. "But, of course, it's hard to be proud of the work you've done with 12 people dead, and we don't take that lightly at all, and it definitely feels like there's more work to do."
Corkish, too, said all the technology in the world is not be enough to combat the elements.
"There is snow science," he said, "but Mother Nature is a greater force."
jromeo@durangoherald.com