Interpretation services are overhauled for Spanish-speaking families at ceremony
Durango High School's class of 2023 is a group of students not quite like any other. Thrust into a time of uncertainty by the COVID-19 pandemic, classmates were split into cohorts, attended courses online and wondered what the future may have in store.
But they persevered. On Friday, 306 DHS students received their high school diplomas. Seventy-two students earned their white robes, a sign they finished their senior year with a GPA of 4.0 or higher, Karla Sluis, spokesman for Durango School District 9-R, said.
Ilias "Leo" Stritikus, senior class president, said in an interview with The Durango Herald his classmates have all done a great job and they all have something to be proud of.
He said the fact the graduating class persevered through the global COVID-19 pandemic speaks to the resilience of each and every graduate.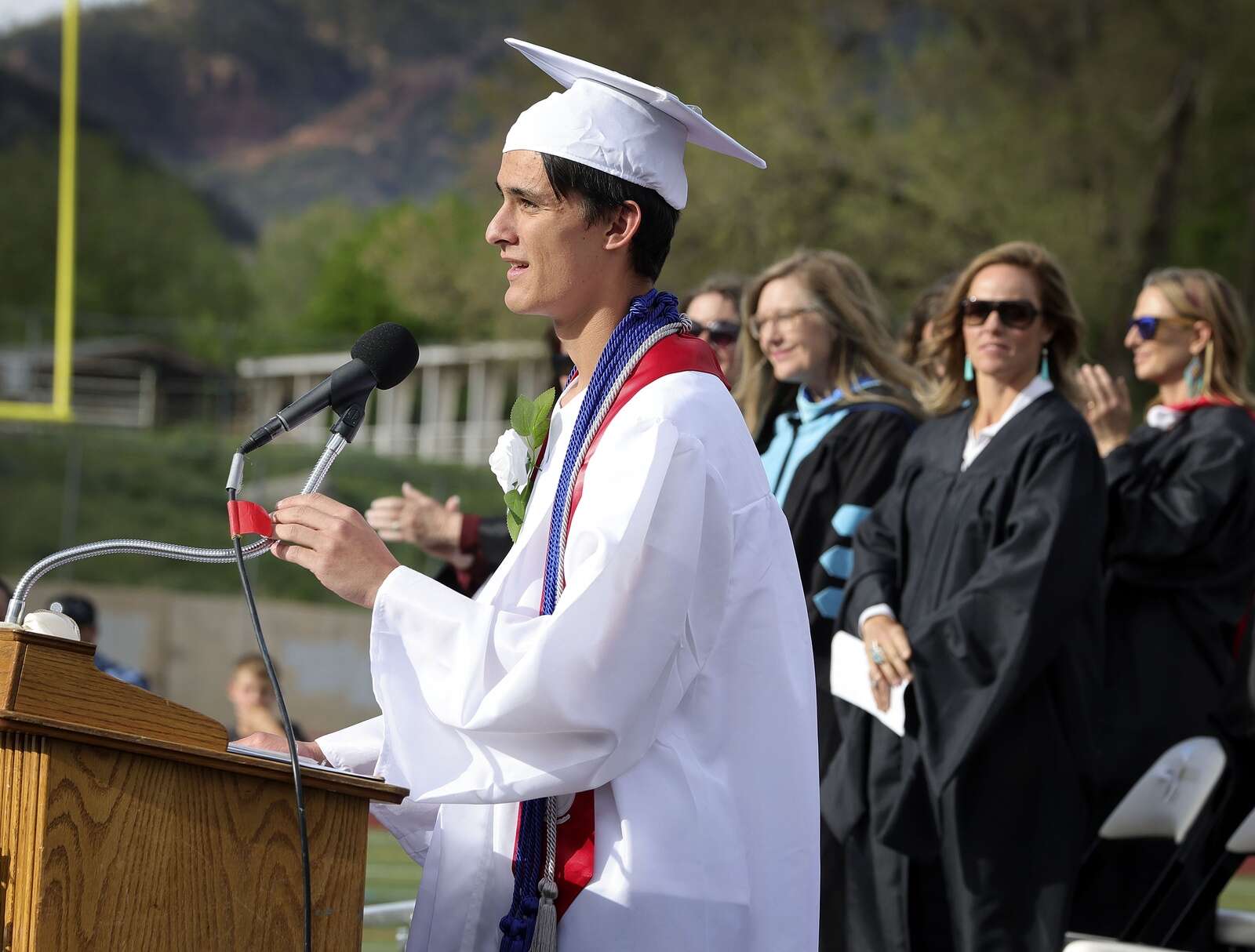 "We didn't get the experience we expected, but we powered through it, and we turned it into something very special," he said.
Stritikus was one of many involved in the student-led push to allow students to carry and administer Narcan on campus.
Jessica Matlock, CEO of La Plata Electric Association, was the commencement ceremony's keynote speaker. She commended students' fight with the school district to allow Narcan on campus, and told the graduating class to "never wither at the first sign of (adversity)," but persevere and find blessings in disguise.
When Stritikus reflects on his high school days, he thinks about how unique each year was, he said.
"For our whole class, every year was so different and yet everybody in our class adapted so well," he said. "And that's something that's a big source of pride for me, and I think everyone else in the class, is how we were able to find success in four very rapidly changing years."
Stritikus plans to attend Dartmouth College in Hanover, New Hampshire, where he will study international affairs or public policy. He said he wants to make a difference in the world and studying politics will help him do so.
Superintendent Karen Cheser said in a written statement to The Durango Herald the graduating class of 2023 has "grit and resilience" that will benefit the students well through life.
"They are the COVID-comeback kids," she said. "These grads also represent our first year of Portrait of a Graduate, which is our district's new North Star. The class of 2023 will blaze a trail for all the grades below them, and carry all those skills and characteristics like a backpack at a trail head."
DHS Principal Jon Hoerl shared a similar sentiment. He said the graduating class of 2023 is excellent. Collectively, the students achieved an overall weighted GPA of 3.39.
One student, Charlie Shepherd, achieved the highest single GPA in the DHS's history with a weighted GPA of 4.58, he said.
Student groups were setting the bar at new heights all over,this year, he said. The varsity girls basketball team made its deepest run into the Class 5A state tournament's Final Four; about 70% of students passed AP exams with qualifying scores; student council earned a council of excellence rating for the 12th time in 13 years.
The Knowledge Bowl team ranked third nationally and took second place in the United States for the first time in the history of DHS, he said. The choir program received superior and excellence ratings at the 2023 Free the Jazz Festival. All three student choirs winning first place; and the student orchestra received superior marks at the CHASA Festival and was accepted into the Colorado All State Orchestra.
And Troop 1096 was nominated for the Bobby G Award, the equivalent of the Tony's for high school, with nine talented students set to compete at nationals, he said.
The graduating class of 2023 set the standard for career pathways by earning certifications, taking advantage of workplace experiences and pathway courses offered at DHS, he said.
"It's been a pretty remarkable class," he said.
He said every year the senior class does a phenomenal job, and the next graduating class steps in and raises the bar even higher.
"That's definitely true of this class of 2023. And it's been a privilege to watch them grow and develop over the last four years," he said.
DHS ups its interpretation game for Spanish-speaking families
Interpretation for Spanish-speaking families has been greatly improved this year, and Latino and immigrant students have more support than they ever had before, Daniela Chavarro, a 17-year-old graduate at DHS, said.
She said she was a member of student council, which worked hard to make translation services at the high school stronger.
"Last year was not that good. And this year, we wanted to ensure that every family that speaks Spanish will be able to understand (the graduation ceremony)," she said.
Chavarro immigrated from Neiva, Columbia, and started at DHS in 2020. She said it has been a difficult journey – she arrived in Durango during the COVID-19 pandemic and faced language barriers and adversity. It was hard to find support, but eventually she found it.
"I'm glad to say that things are different now. Three years later, I can say that students that speak Spanish in Latino and immigrant students have more support than before," she said. "It is still not perfect, but we now have a bigger support system."
Chavarro told her story to commencement attendees on Friday. She was one of two student speakers that evening, the other being Amiah Hanson.
Karla Sluis, spokeswoman for the school district, said 50 programmable FM receiver headsets were available to families who requested them. And, Sara Illsley, interpreter, provided interpretation services during the event.
cburney@durangoherald.com