Proposal to establish temporary homeless camp at La Plata County Fairgrounds goes nowhere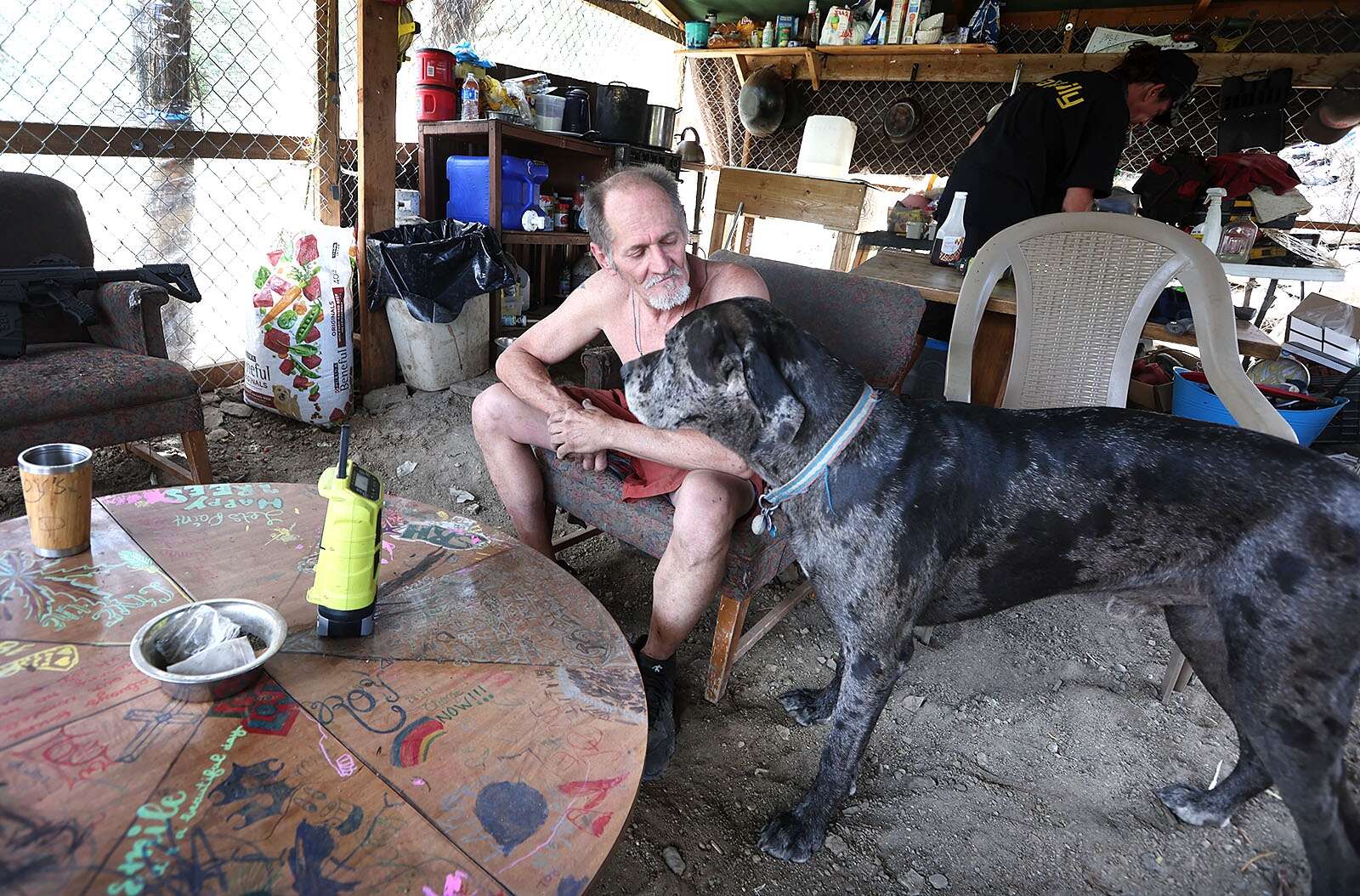 Dozens of residents showed up to a special meeting Thursday at Durango City Hall. Some voiced displeasure about creating a temporary homeless camp at the La Plata County Fairgrounds, while others railed against the inability of local officials to do more to address homelessness.
"There have been years spent on this issue with very little progress," said Durango resident Claire Ninde. "And it is very, very frustrating. It is unfortunate to hear how many in the community are referring to these people only as criminals."
Emma Kendall, a sixth grader at Escalante Middle School, said she can't go to city parks alone or walk to the movie theater with her friends because of safety concerns involving the homeless population.
"It makes me sad because my mom talks about how fun of a time she had when she was a kid," Emma said. "But I can't have that because of all the scary homeless people."
La Plata County is expected to close Purple Cliffs on Friday, but despite months of work and discussion between La Plata County and the city of Durango, no alternative site has been identified for where people without homes can live.
City Council met in a special meeting Thursday morning to discuss the potential "purchase, acquisition, lease, transfer or sale" of numerous properties for the purpose of providing a permanent managed camp for homeless people in Durango.
After an executive session Thursday, councilors agreed another public meeting should be held with the city and the county to discuss what policies both governments would support when it comes to a managed homeless camp. A specific date was not set.
Earlier in the meeting, City Council directed staff members to examine potential leases on properties and partnerships with nonprofits dedicated to helping the unhoused, although no specific piece of land or organization was mentioned.
City Manager José Madrigal planned to ask city councilors for their thoughts on using the La Plata County Fairgrounds as a temporary safe parking space with warming tents, with the caveat that the property would not be used for overnight camping.
But come Thursday morning, the idea was already moot, he said. He referenced a county announcement on the La Plata County government Facebook page on Wednesday that said the fairgrounds is solely county property and "there are no plans for any temporary or permanent accommodation for the unhoused community at the fairgrounds," and "the Commissioners emphasize that no decisions will be made that would jeopardize the safety, security or operations of any of our fairgrounds stakeholders."
Madrigal said the option of a temporary, no-camping site at the fairgrounds had been discussed between the joint city-county work group consisting of himself, Mayor Barbara Noseworthy, Commissioner Marsha Porter-Norton and County Manager Chuck Stevens. But Madrigal said the county had pulled its proposal and so there was no longer any reason for the City Council to spend time on it.
At the conclusion of the special meeting, Councilor Kim Baxter said, "My apologies to the unhoused and to our community for council not having had these conversations earlier so that when Purple Cliffs closed we would be having a path forward for everyone."
Opinions on homelessness in full view
The chamber room at Durango City Hall was packed with residents for and against a managed camp for the unhoused on Thursday morning. Those in favor of denying homeless people shelter or support appeared to outweigh those asking for expedient alternatives to Purple Cliffs' imminent closure.
Those against a managed camp – especially at the fairgrounds – said they sympathize with homeless residents who are earnest in their search for work and don't use drugs or alcohol.
Dale Ruggles, a county resident and a frequent user of the fairgrounds, said the temporary camp at Purple Cliffs is "the biggest you-know-what-kind-of hole."
"There's got to be some kind of rules associated with temporary or permanent camps," he said to a round of applause from other attendees. "And if they can't keep their trash picked up, then they need to be on a bus out of town."
He said the city should "be compassionate and see what you can do to help them," whether Purple Cliffs residents are given motels or designated parking areas, but whatever the decision is, it should come with rules that are enforced. He objected to the notion of any temporary shelters or accommodations at the fairgrounds.
Durango resident Jeff Bleecker said he and his wife experienced the effects of having a homeless camp near their neighborhood when they moved to town about five years ago.
"If you build it, they will come," he said. "We already see most of our open spaces have been taken over by what you call the unhoused. ... I see a lot of drunk people, I see a lot of drug-addicted people and I see a lot of people who just don't want to participate and who want to take advantage of the free services that we provide here."
He said some members of the homeless community are "legitimately looking for work and are temporarily homeless," but many homeless people are "not interested in participating in society" and have flocked to Durango because it is an "island city," the only place with services for many miles.
County resident Cam Formby said the American Civil Liberties Union, which scolded Durango and La Plata County in a letter about Purple Cliffs on Wednesday, is "bullying" the city.
"You guys need to stop being bullied by an entity that is not here and doesn't see how we live or operate or what our needs are," she said. "I suggest that our tax dollars and the county attorney and the city attorney look into fighting ACLU and get them off of our backs regarding this."
In a letter to the City Council and the Board of Commissioners, the ACLU said closing the Purple Cliffs camp with no plan in place to shelter residents risks violating residents' constitutional rights, for which the municipal governments and their officers could be liable.
The letter also highlighted the "serious threat to life" posed by closing the camp without providing refuge to residents with winter on the way.
Rallying cries against managed camps, especially at the fairgrounds, garnered much applause on Thursday, but other attendees voiced support for the homeless population and lashed back at criticism of the people at Purple Cliffs.
Timothy Sargent, a former resident of Purple Cliffs who now lives at Durango's Espero Apartments (which provides housing for unhoused, low-income and disabled residents), chided critics of the homeless population.
"These people you are talking about are not subhuman," he said. "Everybody deserves food, water, shelter, a place to be. This is not a totalitarian state, this is America. You cannot simply kick these people away because they do not look nice to you.
"Poverty is scary," he said. "The only thing these people have in common is they are poor. Your drug addiction, your alcoholism, your mental illness is in your homes – you just hide behind your walls. Start looking at these people as people."
Another resident of Espero Apartments, who goes by the name Happy, said he can't defend crimes or drug use after having experienced the local homeless population. But he also supports rehabilitation services, which have failed some people.
"Ship them to the rehab, give them the help that they need. Tough love? Horse (expletive). People are dying out here. I've touched the hands of the frozen corpses that you people have said, 'These are a bunch of (expletive) bums on our streets.'"
He said drug users among the homeless population are "lost, that's all."
"I'm not ashamed to say that I live in Espero," he said. "I pay my rent in cash. I go out and I break my knuckles every day out here to try to find that solution."
A news release issued by La Plata County Sheriff's Office on Thursday said La Posta Road (County Road 213) is scheduled to be closed between the intersection of River Road and the gun range on Monday and Tuesday "to facilitate the safe clearing of the Purple Cliffs area" and a culvert replacement.
The closure is scheduled to take effect at 7 a.m. Monday and La Posta Road is set to reopen at 5:30 p.m. Tuesday.
The gun range may be used as a turnaround point for vehicles, the release says.
The release also reminds residents that Purple Cliffs will be permanently closed on Friday. Residents there have 72 hours from closure to remove their personal possessions. On Monday and Tuesday, law enforcement will remove items and debris.
cburney@durangoherald.com