Developments to occur at Mercury Village and Animas Cliffs
Durango City Council approved preliminary plans this week for a new 71-unit apartment complex in Mercury Village and eight townhomes at Animas Cliffs.
The new apartments at Mercury Village south of the Mercury Building will have 71 units spread across three buildings, said Savannah Lytle with Durango Community Development. They are being developed by local developer Reynolds Ash + Associates.
Lytle said the rental units will be at an "above-market rate" because of construction costs.
Reynolds Ash + Associates' land-use application to the city said the River Trail Apartments are intended to be "relatively upscale" and fill a niche market for residents who want a "very nice place to live but aren't ready or able to purchase homes."
The developer expects many residents could be visiting professors at Fort Lewis College and other people with "short-term but higher-end professional positions in town."
Building No. 1 will have 32 residential units with 12 two-bedroom units and 20 one-bedroom units.
Building No. 2 will have 21 residential units, with 13 two-bedroom units and eight one-bedroom units. It will also have four commercial units totaling 2,313 square feet on the ground floor, according to the developer's land-use application.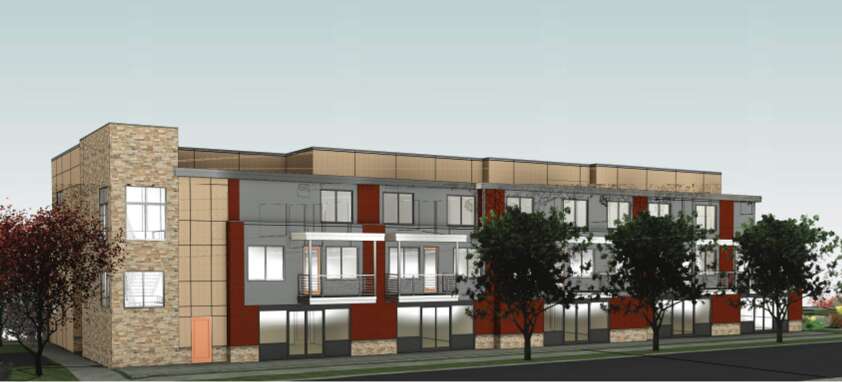 Building No. 3, the northernmost building, will have 18 residential units with seven two-bedroom units and 11 one-bedroom units, plus a small storage shed intended for storage of kayaks and other outdoor gear. It is planned to have 42 storage units (4-feet by 4-feet in size) and will have direct access to the Animas River, according to the land-use application.
Curbs, gutters and sidewalks have already been built and are in place, Lytle said, and amenities are planned between the Animas River Trail and the apartment buildings that will be accessible for residents and the general public.
The planned parking lot will have tree islands every 10 parking spaces. Four Americans with Disabilities Act-accessible parking spaces will be included in the parking lot to comply with ADA requirements, she said.
The city will screen the river from the east side of the apartments to shield the Animas River and Animas River Trail from potential damage from construction, Lytle said.
"We want to minimize that impact of development as much as possible from the river trail as well as the river," she said. "And so they (Reynolds Ash + Associates) met those requirements with this landscaping."
Townhomes approved for north Durango
Durango City Council also approved eight townhome units split in two fourplexes at Animas Cliffs at 1700 County Road 203.
Dan Armentano with Durango Community Development said the development is a small-scale residential project and is Phase 3 of the Animas Cliffs Condominiums development that has 47 condo units and was initially approved in 2007. The Phase 3 property is vacant but used to be home to a fitness center that was demolished in 2021.
The townhome condos are planned to have 20 parking spaces, 16 of which would be garage spaces, with two for each unit plus four guest spaces. One of the parking spaces will be ADA-accessible.
"These are townhomes with a fairly typical design with garage space on the first floor and living spaces above," Armentano said.
There was originally concern that the northern fourplex's decks on the third floor would overlook a neighboring property and potentially violate neighbors' privacy, and the city compromised with the developer to include cladding on the railing to protect privacy of the occupants and neighbors.
The development will have its own homeowners association and declaration of covenants, conditions and restrictions, Armentano said.
Councilor Kim Baxter asked if there was an understanding between the HOA's of this development and neighboring properties of what their agreements are and if there would be any conflicts there. Armentano said he isn't sure. Baxter said maybe the developer should consider that.
cburney@durangoherald.com