Jen Pack's fabric works explore tensions in medium, form and gender stereotypes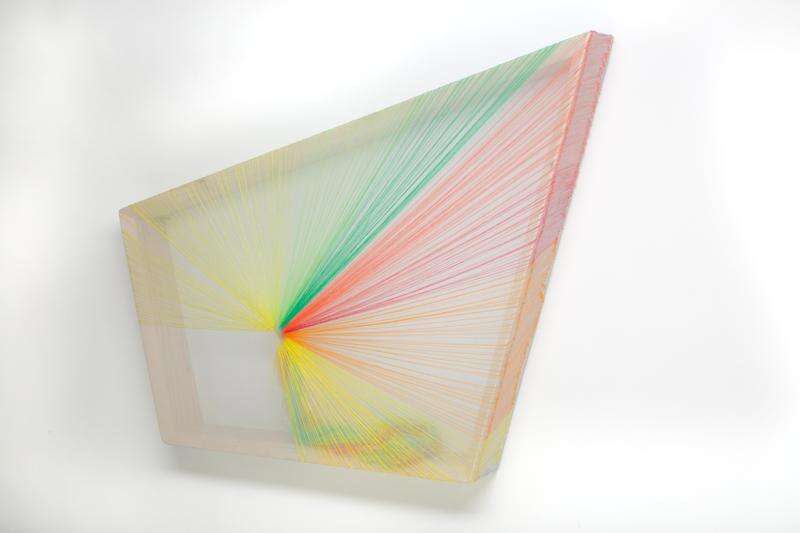 The first thing you'll notice about Jen Pack's artwork are the stripes and lines of vibrant color, stripped side by side in a way that can make your brain vibrate. From afar, the pieces might look like paintings, color stretched across a wooden frame hanging on the wall.
Looking closer, you'll find it is not paint but fabric intricately stitched together. This is where the tension enters, competing factions of form and mediums.
Pack opens her new show, "Irregularities," from 5 to 7 p.m. Friday at the Durango Arts Center. She will then give a free lecture from 7 to 8 p.m.
She attributes the different reactions her work gets to the different worldviews people bring to it.
"Since I'm doing something kind of hybrid, people don't necessarily know how to contextualize it," Pack said. "People will reference quilting when they look at it sometimes. Other people reference painting."
Pack's work also plays with the duality of masculinity vs. femininity. She references the work of early abstract painters, a largely male field, including the likes of Ellsworth Kelly and Mark Rothko, who did sizeable color studies. Using fabric and sewing in her work, Pack also references feminist artists like Judy Chicago, whose needle and stitchwork was groundbreakingly presented as fine art in galleries.
"Again, it's like the viewer projects what they want onto the work. But there is a deep association with fabric work with femininity and the woman's work," said Pack, who day-jobs as a librarian at Fort Lewis College. "There's still that weird stigma associated with fiber work. It's like, it's not art, it's craft."
The tensions of hybridity and in-betweenness are not only inherent in Pack's art but in her identity as well.
"That is a true reflection of me and my place in the world. Partly because I'm bicultural, and then also I have always felt like I'm in between masculine and feminine," said Pack, whose mother is Caucasian-American and her father Korean.
Pack grew up around fabric and sewing, her mother making and mending clothes and her sisters following suit. Pack held out until a neighbor gave her a sewing machine in college, one she still uses to this day.
"I kind of refused to (sew) because I was a tomboy," she said. "I was more interested in wood shop and stuff like that."
Another masculine aspect to Pack's work revolves around the frames she uses to stretch and hang her work, which she builds herself in increasingly complicated fashion, forcing her to develop new skill sets.
"I have been asked if I have other people building the frames for me. I've been asked, 'Does your boyfriend build the frames for you?' It's shocking how many times I've been asked that. It's like, Oh, she knows how to use tools," she said.
Pack's techniques are rooted in her undergraduate years at Art Center College of Design in Pasadena, California. She began making self-portrait photographs, which led her to start making clothes and costumes for the portraits. She said it got to the point where the focal point wasn't the portrait anymore but in the way she was looking at and playing with fabric and color.
Having developed the techniques in her work for the last 15 years, Pack's main goal these days is to keep perfecting her craft.
"The experience of making it is very repetitive, and it's very soothing in some ways," she said. "It's not like it's a religious experience or anything, but there's definitely this thing that happens when you're doing the same thing over and over. It just slows your mind down to a different space. It's really nice when that happens."
dholub@durangoherald.com
"Irregularities," a new show by Jen Pack, 5 to 7 p.m. Friday, Durango Arts Center, 802 East Second Ave. Pack will give a free lecture from 7 to 8 p.m.