Project design likely delayed because of funding shortfalls
For decades, the city of Durango has wanted to improve connections between the (usually) vibrant downtown and the popular Animas River Trail. But one thing has stood in the way: Camino del Rio.
This week, the city released a study with recommendations for overpass, underpass and street-level crossings of the busy and dangerous-to-cross Camino del Rio. Residents are invited to offer feedback on the proposals.
The city is nowhere close to putting a shovel in the dirt, and if anything, the project will be slowed by declining sales tax revenue as a result of the coronavirus response.
"We're going to have to look and see what the economic situation looks like," said Barbara Noseworthy, a city councilor on the Multimodal Advisory Board. "The declining sales tax will impact decisions."
The city allocated $350,000 for project design in 2020 but returned the money to city coffers in anticipation of a revenue decrease, Noseworthy said.
But that doesn't mean planning can't go forward, she said.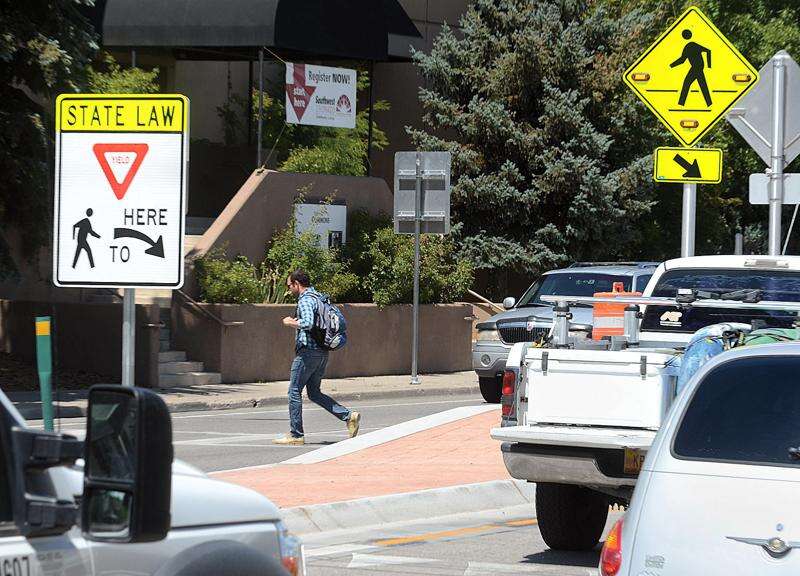 Pedestrians must cross Camino del Rio to reach the river from downtown, but over the years, vehicle and pedestrian traffic have increased, making it a dangerous crossing.
The average annual daily trips on Camino range from 26,000 to 36,000 vehicles per day, according to the PST Engineering study. Pedestrian crossings increased from 2009 to 2019, particularly at six intersections between East College Drive and 12th Street on Camino del Rio.
The highest accident rates seem to happen at the Seventh Street and the 12th Street intersections on Camino del Rio – about three bike/pedestrian accidents per 100,000 crossings at each intersection, according to the study.
PST Engineering considered nine plans for crossing Camino del Rio, including short- and long-term options to consider.
A short-term option would turn the pedestrian beacon at 12th Street and Camino del Rio into a standard traffic light, which would cost about $60,000.
A long-term option is an overpass or underpass near the intersection of College Drive. Pedestrian traffic is expected to increase at the intersection once the city connects the river trail with the SMART 160 Trail, which heads into the Grandview area. That option would cost at least $3.2 million for the overpass or $3.9 million for the underpass.
Another recommendation calls for building an underpass at 11th or 12th Street of Camino del Rio, which would cost at least $3 million.
The engineering team also considered crossing above and below Camino del Rio at Seventh, Eighth, Ninth and 10th streets. But they did not recommend those options because of right-of-way issues, impact on surrounding infrastructure or low levels of anticipated use by pedestrians.
With the study complete, the city is transitioning into a public comment period for the crossing project.
The Multimodal Advisory Board held its first public comment period Wednesday.
Residents' next opportunities for public input include:
April 28 during the City Council study session.May 13 during Parks and Recreation Advisory Board meeting.May 20 during Multimodal Advisory Board meeting.
smullane@durangoherald.com
April 28 during the City Council study session.May 13 during Parks and Recreation Advisory Board meeting.May 20 during Multimodal Advisory Board meeting.