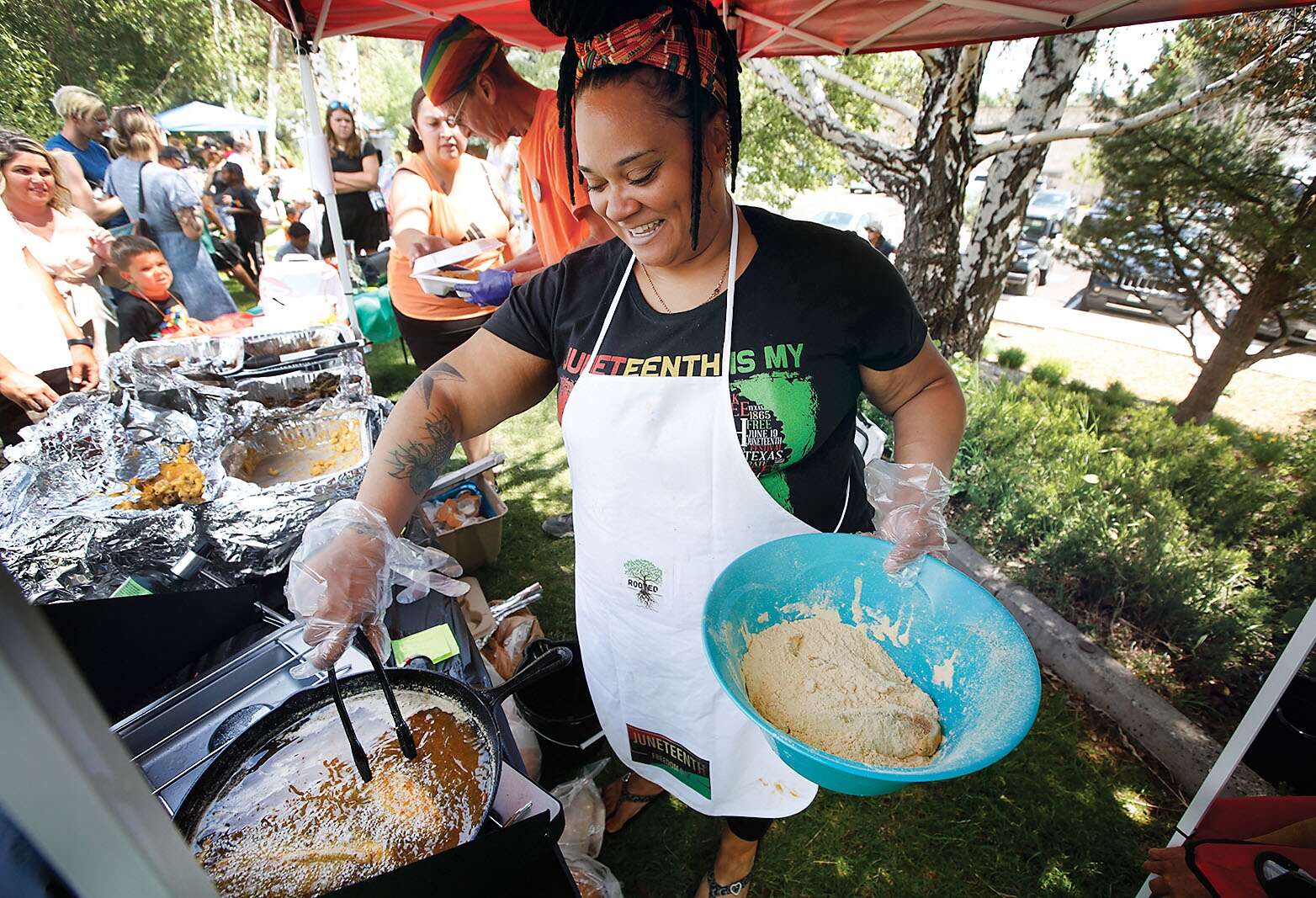 Event with speakers, soul food draws a crowd Saturday afternoon
About 150 people gathered at Rotary Park on Saturday to celebrate Durango's second Juneteenth.
The holiday commemorates the emancipation of enslaved African Americans and has grown into a celebration of African American culture. President Joe Biden signed a bill Thursday that was passed by Congress to set aside Juneteenth, or June 19, as a federal holiday.
"I think it was long, long overdue," said Tracy Jones with Southwest Movement 4 Black Lives and co-organizer of Durango's celebration. "But I also don't want that to kind of blind us to the bigger issues going on."
She said she was excited to see how many people turned out for the celebration in Durango.
"It's motivating to see these people come out and it just drives us to continue to do this work," she said.
In addition to speakers, the event included activities for children, an art project by The Hive and soul food.
"It's a little stressful because there's not much of a Black community here, you know. We want that support," Jones said. "So that's kind of what the goal of this was today, it was to get the Black community together ... so we can all connect and start working together and create that community here."
She said that one of the most important goals of the event was to educate Durango as a community, especially because the city is predominantly white and the holiday has only been federally recognized for a matter of days.
Jones said it's important to "know the history, why we celebrate it, so it doesn't get washed away, sugar coated or anything like that."
Juneteenth is the anniversary of June 19, 1865, when Union Army Gen. Gordon Granger proclaimed and enforced the emancipation of enslaved people in Texas, more than a month after the formal end of the Civil War and almost three years after President Abraham Lincoln issued the Emancipation Proclamation.
In modern Durango, Jones said the event is important because it lets the community "know that we have a Black-led organization here in this town that's here to connect with the Black community, fight for change and take action to make this a more diverse, inclusive and just place.
"We have people who come here – professionals, doctors, waiters, receptionists – they come here and then they leave because of the lack of acceptance," she said. "To know that we do have an organization here to try and create a safe space for that and to fight for that, that's what I hope they know."
In addition to Jones, several other people gave speeches at Rotary Park, including Jalea Steen, who spoke about her experiences with discrimination as a Black person in Durango.
"Juneteenth is a day that our ancestors were freed," she said. "But we are not free, and I think we all know this. This is a fact that is out there.
"I'm not free to walk through these streets," she said. "My son is not free to walk through these streets, my son is not free to play in the park, my son is not free to buy a pack of gum, my son is not free to do anything without having the judgment of being a Black man hanging over his head every single day."
This year's Juneteenth celebration was the first event for Steen's new catering company, Rooted.
"Rooted is soul food – it's Southern-style cuisine, really just down home cooking," she said.
Steen is aiming to start a food truck and is currently booking to cater indoor and outdoor events.
"Once we have a food truck, I'm going to do smothered pork chops, mashed potatoes and gravy, cornbread," she said. "Greens are always going to be on the menu – that's a staple. Fried catfish will always be on the menu as well. I'm going to do smothered gizzards over rice, different things like that."
Steen, too, was surprised by the number of people who came to the Juneteenth celebration.
"This was definitely way more than what I expected," she said. "I kind of thought our first time maybe 20 people, 30 people – but we had an amazing turnout today. I definitely learned what not to do next time and to bring way more food, but I think that's a good thing when you run out. I think everyone enjoyed it."
She said the fact that Durango is able to have diverse cultural events like Juneteenth makes the city more welcoming.
"Coming here, I wasn't really sure where to turn to for this kind of experience," she said. "And now I'm like, 'OK, I'm at home.' It's amazing to feel like this and to see everyone here and it not just be Black people but all of us together because that's what it's about."
ngonzales@durangoherald.com