Karen Zink helped lead community vaccination clinics during pandemic
Karen Zink, the certified nurse practitioner who led the Durango and La Plata County community vaccination efforts last year, was named the 2021 Citizen of the Year on Tuesday at Durango Rocks!.
Zink was awarded and recognized at the Chamber of Commerce's annual celebration, which marked a return to the in-person event after it went virtual last year.
Brian Lundstrom, former president of the Chamber of Commerce, announced Zink's award. He said her three guiding principles are "stewardship, protection and love" and that "visionary" and "forward-thinking" are two words that describe her.
"She's a leader of our community and does work for the betterment of other people, not for any award or accolade," he said.
When the COVID-19 pandemic hit, Zink learned there wasn't a community plan in place to get vaccines to the community, Lundstrom said. When Zink learned of this, she rallied 400 volunteers to host community vaccination clinics at the La Plata County Fairgrounds. Under her leadership, she helped more than 6,300 people receive vaccinations.
He said the volunteer community clinic organized by Zink was the largest rural clinic in Colorado.
"That's pretty powerful," he said.
Lundstrom said Durango and La Plata County owe it to Zink's efforts that the community was able to begin its recovery from the COVID-19 pandemic.
"We were able to start seeing our families and friends again and start returning to some sort of normalcy," he said.
Zink, who started her own health care practice (Southwest Women's Health, where she works as a certified nurse practitioner) in 1989, was "instrumental" in bringing the 9Health Fair to La Plata County and has helped organize it for over 40 years, Lundstrom said.
The certified nurse practitioner faced plenty of challenges and overcame many obstacles when she started her business 33 years ago. Until 2010, advanced practice nurses weren't allowed to practice without the collaboration of a physician, she told The Durango Herald in an interview.
But she started her own practice, with the help of a collaborating physician, well before the Colorado Nurse Practice Act changed that societal norm, she said.
In her acceptance speech, Zink told Durango Rocks! attendees, "I love you." She said the community makes it easy to volunteer and added that her husband has been "extremely supportive."
"I have a 'take no prisoners' approach to getting volunteers signed up for a project," she said. "And if all of you stood up who have never volunteered for something that I was organizing, there would be quite a few of you."
Business of the Year: Kroegers Ace Hardware
Kroegers Ace Hardware was honored as the 2021 Business of the Year. It was recognized for its low employee turnover rate, even during the pandemic, and its friendly and helpful customer service.
Kroegers Ace Hardware works with nonprofits to provide round up funds (rounded up to the nearest dollar) and was able to provide $760,000 to area children's hospitals, according to the Chamber of Commerce.
"Kroegers has withstood the test of time, and they continue to evolve in the ever-changing retail landscape, overcoming obstacles and challenges while still thriving," says their nomination.
Small Business of the Year: Southwest Eye Consultants
The Chamber of Commerce recognized Southwest Eye Consultants as the Small Business of the Year for its service in an underserved area, the development of a research center that takes part in groundbreaking studies and clinical trials involving gene and injection therapies "that would normally occur only at big university research centers," according to the Chamber of Commerce.
Nonprofit of the Year, recipient: Durango Business Improvement District
The Business Improvement District was awarded as the nonprofit of the year.
The BID was recognized for its efforts to support businesses during the pandemic through "buy local" rewards program campaigns. According to the Chamber of Commerce, the BID's rewards programs encouraged over $240,000 in local spending.
Entrepreneur of the Year, recipient: Carol Clark, Union Social House
Carol Clark of Union Social House was awarded Entrepreneur of the Year for her creativity during the pandemic with building green houses "that served as warm and intimate areas to enjoy friends and libations when COVID restrictions limited the use of indoor space," according to the Chamber of Commerce.
Clark has organized signature events for southwestern Colorado for decades, from organizing Durango's annual Oktoberfest, to helping create the original Durango Farmers Market, and others.
Spirit of Durango: Dietz Market
Dietz Market was awarded Spirit of Durango for its support of nonprofits such as Adaptive Sports Association, various schools, libraries, Parker's Pets and other nonprofit organizations, according to the Chamber of Commerce.
"They take care of their employees and offer flex time to help their staff schedule appointments, and handle what life presents," says the chamber.
Bill Mashaw Volunteer of the Year: Vaughn Morris
Vaughn Morris, CEO of the Boys & Girls Club, was honored for being a "true community leader and volunteer, continually going above and beyond the expectations of his job description daily.
He serves on the boards for Pine River Library, United Way of Southwest Colorado and Durango Chamber of Commerce, and is responsible for coordinating the Salvation Army Bell Ringing, says the Chamber of Commerce.
Morley Ballantine Award: Rep. Barbara McLachlan
The Chamber of Commerce described state Rep. Barbara McLachlan as "the embodiment of what it means to represent one's community," an advocate for women's rights in equal pay and opportunities for promotion; an advocate for expanding LGBTQ rights; an advocate for quality public education and empowering Colorado women.
Leadership La Plata Barbara Conrad Award: Janae Hunderman
Janae Hunderman received the Barbara Conrad Award for her ability to see opportunities for leadership and contribution to set goals and accomplish them, says the chamber.
"She brought new life to the Leadership La Plata Alumni Committee, and created a series of events to keep the LLP alum engaged and grow the LLP program," the chamber said. "She is now the LLP Steering Committee Chairman, creating a new structure that will ensure the stability and growth of LLP for many years to come."
Outstanding Contribution to the Community: Power to Act
As of March 2022, Power to Act had donated 946 Purses with a Purpose, which including more than 13,000 products; it hosted 81 monthly meals and served more than 1,200 dinners, making the organization a qualified candidate for the Outstanding Contribution to the Community Award.
The Power to Act offers assistance to women who are victims of domestic violence, and helps those who are unhoused.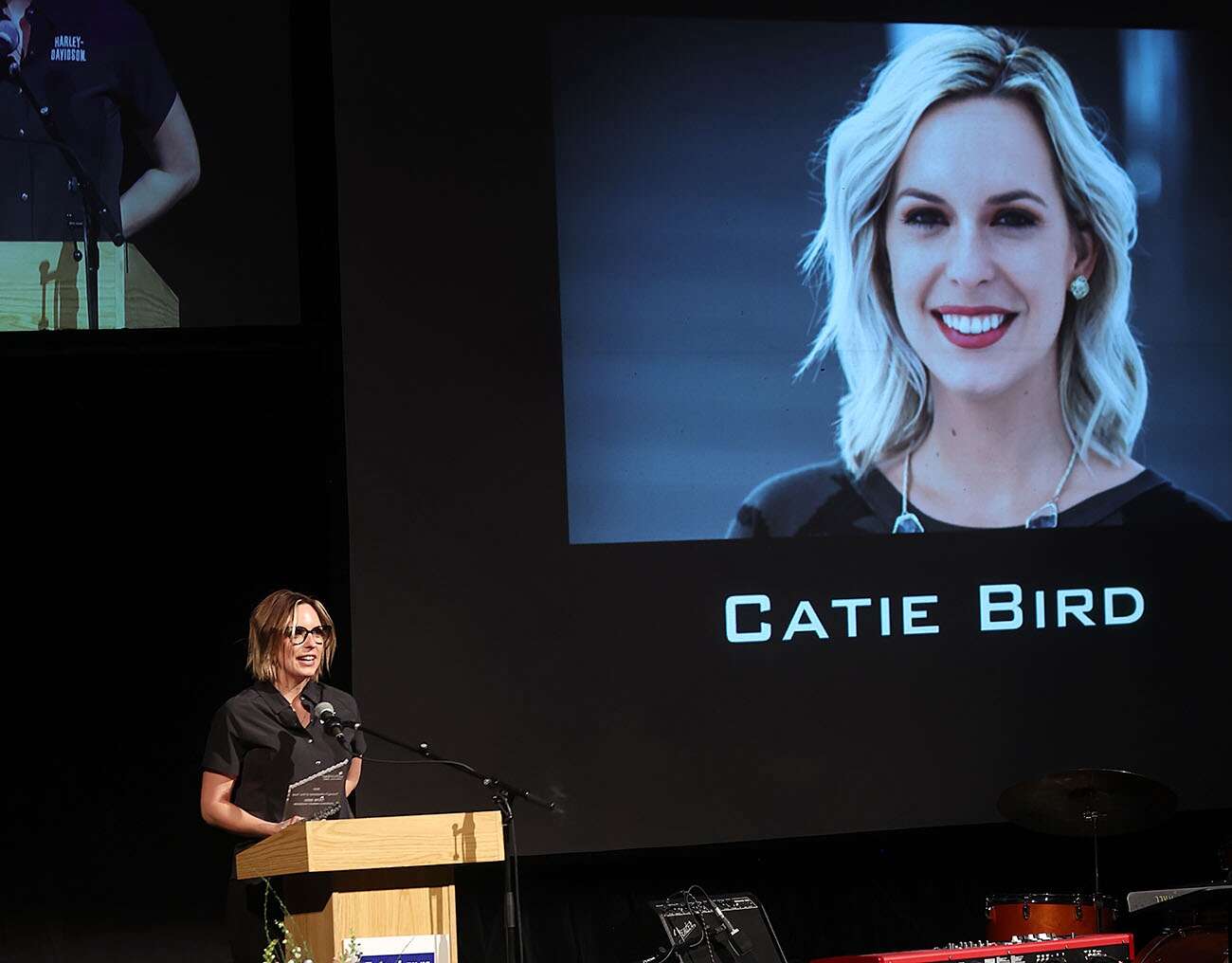 Young Professional of the Year: Catie Bird, Harley-Davidson
Catie Bird, co-owner of Harley-Davidson, demonstrated leadership, resilience and kindness, according to the chamber. She was a member of the Young Professionals of Durango board during challenging times at the height of the pandemic and helped keep the YPOD organization together.
She's participated in the Harley-Davidson Toy Drive for the last five years, raising more than $25,000 for toys in the process.
Diplomat of the Year: Nancy Ottman
This year's Diplomat of the Year was Nancy Ottman, who has been a Diplomat for more than 15 years, because she believes that "everyone should serve the people in their community in some capacity," according to the Chamber of Commerce.
cburney@durangoherald.com