Durangoans show up in style for 2018 Snowdown events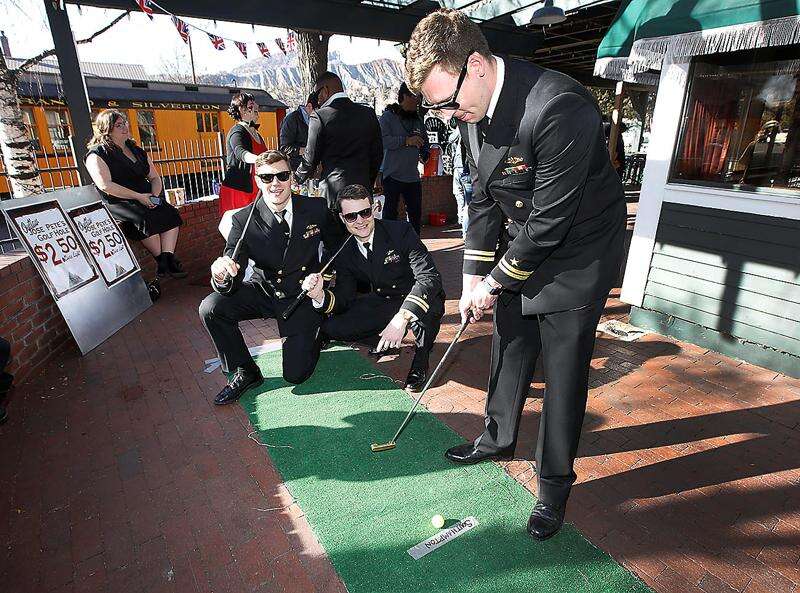 If only USA Today could have seen Durango this past weekend.
The notoriously underdressed residents of Durango, which USA Today labeled in 1988 as the "least fashion conscious" city in America, stepped up the past five days for this year's Snowdown theme: "A Black Tie Affair."
"Isn't it ironic?" said organizer Julie Oskard. "We were pretty stylin' this weekend."
All over town, hundreds of partygoers donned tuxedos, suits and ties, fancy dresses and gala attire. Durango, if only for a few days, looked as if it could go toe to toe with fashionista strongholds in Paris or Milan.
Well, save for the scantily clad drinking games that involved something called "Butt Darts" and an inordinate amount of penguin costumes.
Regardless, the town and its people seemed to have survived a relatively mild five days of Snowdown.
A spokesman with the La Plata County Sheriff's Office said Sunday the department made no DUI arrests over the weekend. Calls to Durango Police went unreturned Sunday.
However, there were some bittersweet moments, Oskard said, as event organizers remembered Snowdown founders that have recently passed away, including Adele Nielsen and Charlie Siegele. This year's event also paid homage to Terry Fiedler, one of the founders of the winter celebration, who has been diagnosed with Alzheimer's disease.
Yet as Snowdown turned 40 this year, the event has shown no signs of slowing down. Oskard said there were more than 150 events over the five-day period, with countless stories of lines out the door.
"I think it went great," she said. "Our sole mission of having fun is fulfilled every year."
With the official end of Snowdown late Sunday, it's time to start getting ready for next year and its "Comic-Con" theme. Think superheroes, wizards, Jedis, monsters, Trekkies, etc.
But now, for Durangoans, it's time to put back on the Chaco sandals, flannel shirts and ripped jeans, and stash those fancy clothes back in the closet to collect dust until the next obligatory wedding or court date.
jromeo@durangoherald.com