'They forget how interdependent and entwined the Four Corners area is'
FARMINGTON – When cases of COVID-19 began to rise in the region, Jenny Hargrove and her family discussed whether she should move out of their Durango home.
Hargrove, an emergency medicine physician at San Juan Regional Medical Center in Farmington, said it's a question her and many of her colleagues have had to grapple with – finding a balance between doing their job while keeping themselves and their families safe.
While some colleagues decided to move into temporary housing, Hargrove and her family decided the emotional toll – and no clear end date to the virus' spread – would ultimately be harder for everyone if she moved out. Instead, she has taken extra precautions to make sure she doesn't bring the virus home with her, including additional changes of clothes and shoes, taking a shower after each shift and self-isolating as a family unit from others.
"Overall, I feel like we're doing the best we can to keep ourselves and staff safe, but it makes you evaluate every single step you do in the ER," she said. "The amount of mental energy we expend to be aware of everything you do and come in contact with, it's a lot. It's taken its toll on everyone working in the hospital."
She said San Juan Regional Medical Center has done a good job of protecting employees and screening patients for COVID-19 – every admission is now getting nasal swab test.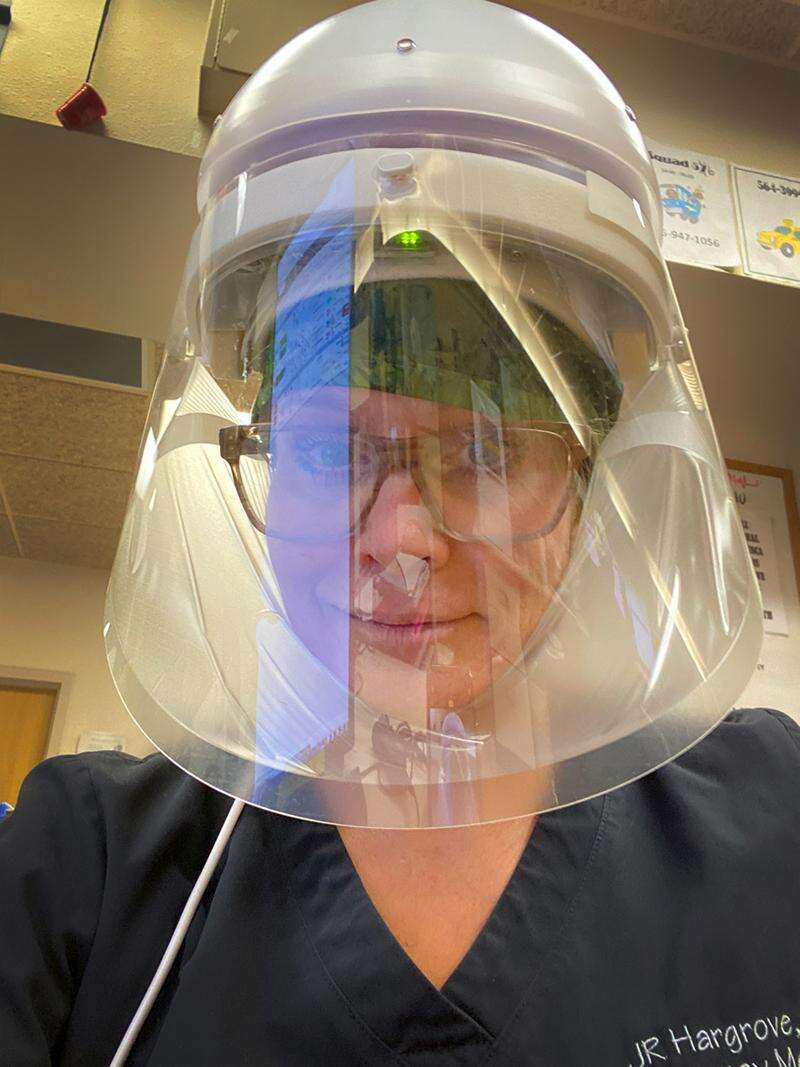 "Almost everything has changed with how we're interacting with patients," Hargrove said of the emergency room at the hospital. She said the ER is divided into respiratory and non-respiratory patients. Everyone in the emergency room, including the non-respiratory side, is wearing an N95 mask because it's not uncommon for a non-respiratory patient to be transferred to the other unit if they test positive for the coronavirus.
Hargrove said while there are still questions surrounding the virus, "the one thing we know is social distancing works. It has delayed the surge even in San Juan County enough that the hospital was able to be prepared as well as we can be."
With 1,376 cases out of 9,056 completed tests, San Juan County has had one of the highest number of COVID-19 cases in New Mexico, second only to McKinley County, as of Monday. La Plata and Archuleta counties have a combined 80 cases out of 2,708 completed tests as of Monday. Based on state- and county-level decisions, La Plata County began opening sooner than San Juan County, which has lagged behind other counties in New Mexico because of its high case number.
"I think there's a bit of a false sense of security here in Durango," Hargrove said. "They forget how interdependent and entwined the Four Corners area is."
Hargrove added about two-thirds of her colleagues commute into Farmington from Durango and the surrounding area.
"People commute between the two and some forget how much of that really occurs," she said. "All you have to do is drive through Durango and see how many New Mexico tags there are and how many Colorado tags are in Farmington."
She said it's understandable that people are growing impatient with the physical distancing orders but when she sees people disregarding those or refusing to wear a mask into a business, it can be frustrating.
Hargrove said new research is showing the viral shedding is the worst two days before people have symptoms, making social distancing and the use of masks that much more important.
"Most of the people are asymptomatic or have minimal symptoms," she said. "(People) forget that they can still be transmitting it even if they feel fine."
Wearing a masks and social distancing has "unfortunately become a political issue," Hargrove said, but it's up to everyone in the community to fight the spread of the virus.
"Everyone talks about emergency and first responders being on the front line, but it's really in the hands of the community," she said. "The public is on the front lines."
lweber@durangoherald.com