DHS beats Bayfield in OT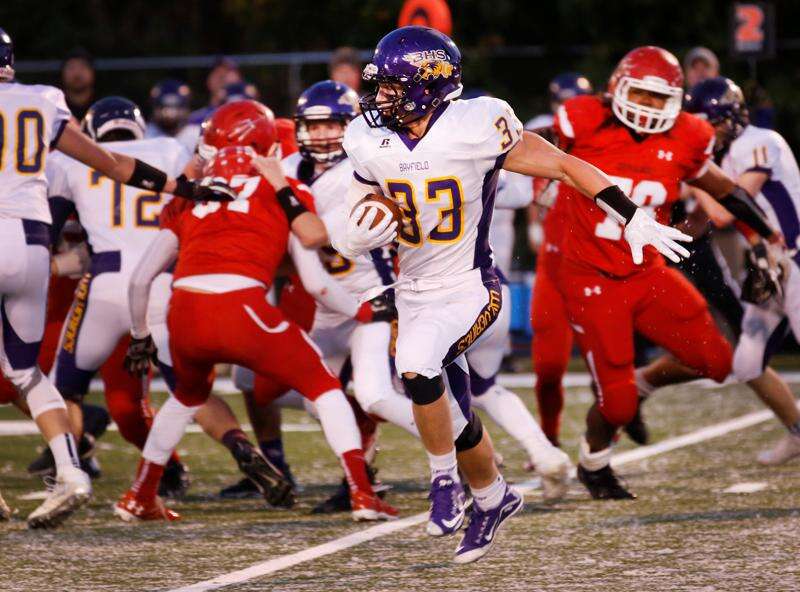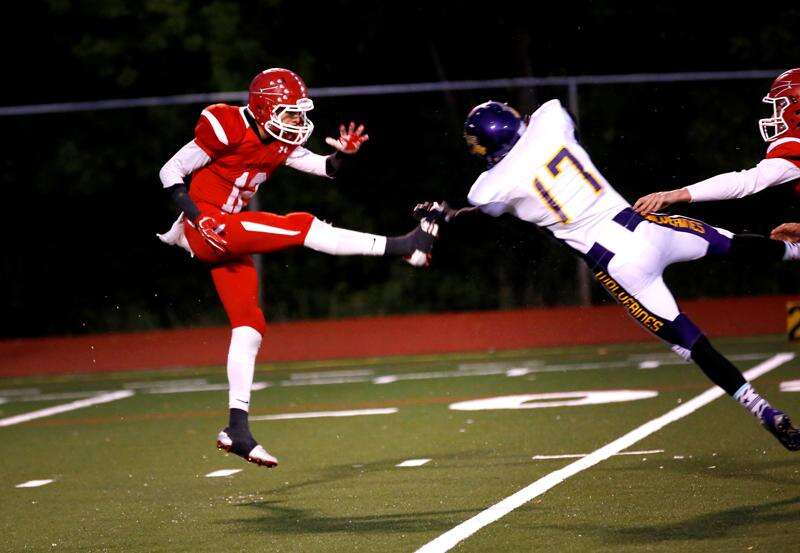 After 80 years of waiting, it was only fitting that Bayfield and Durango played extra minutes Friday night.
The two teams grinded to a 6-6 tie after regulation, and it seemed like neither of the physical defenses would budge. It was Bayfield's that cracked, however, as Durango quarterback Peyton Woolverton found Jake Bourdon on fourth-and-goal to break the drought on the first possession of overtime. The Demons stopped Bayfield's attempt on offense with a Dawson Marcum interception that clinched a 14-6 homecoming win that will give the Demons bragging rights for the next year.
"We practiced that play a bunch where I would just sit there on the goal line and he'd hit me there," said Bourdon, son of Amy and Robb Bourdon. "So many reps, and we had it timed out well in practice and it was just like second nature down there because we'd done it already so many times."
Marcum ran 14 times for 42 yards and a touchdown to lead the Demons' offense, but it was the defense that earned their stripes Friday. "Bayfield is a really well-coached team, so hats off to them and their defense," Durango head coach David Vogt said. "With these two defenses, it was just a matter of which offense was going to make it happen."
The Demons (3-2) came out of the locker room to start the game and made it happen immediately. Durango won the coin toss, elected to receive and took advantage of good field position on its opening drive starting from their own 44. After a first-down sack sent them backwards, Woolverton found Bourdon down the sidelines on third-and-11 to keep the drive going and set up the Demons in Bayfield territory.
Dawson Marcum's 25-yard run set up his 1-yard score to cap off an eight-play, 56-yard drive and send a statement on its opening drive. That was the last the Demons would put points on the board in regulation. Bayfield (2-2) allowed only four more rushing yards in the opening half and held Woolverton to 2-for-7 passing for 34 yards and an interception.
"Our team played championship caliber defense," BHS head coach Gary Heide said. "We just couldn't overcome the negative plays on offense. We made enough big plays to score one or two more touchdowns, but negative plays didn't allow us to stay ahead of the sticks."
Bayfield's offense didn't have much success in the opening half, either, but was able to put together some drives that stalled deep in Durango territory. However, after a Durango fumble set up Bayfield at the DHS 29, David Hawkins scored Bayfield's only touchdown of the game with a 12-yard rumble to tie the game 6-6.
Nearly the entire third quarter was played in Bayfield territory, and Durango had a number of chances to go ahead. The Demons started three third quarter drives at the Bayfield 30, 40 and at midfield but came away empty after impressive stands by the stout Wolverines' defense. Finally, a Marcum 18-yard run on third down set up the Demons with a first-and-goal scenario, but a 29-yard field goal was blocked by the Wolverines and the score remained 6-6.
The game seemed destined for overtime with one minute remaining and Bayfield's ball at midfield. The Wolverines had other ideas, though.
Westbrook marched them down the field with three pass plays, and the Wolverines had it all the way to the Durango 2-yard line. But as Bayfield had stuffed the DHS offense all night, Durango's defense returned the favor late. The Demons pushed Hawkins and the Wolverines the other direction and forced a fourth-and-goal from the 10-yard line that ended up in an incompletion that ended regulation time. On third down, it appeared Ryan Phelps had hauled in a game-winning touchdown pass from Josh Wesbrook, but the ball was poked out of his hands at the final second for an incompletion. Hawkins finished with 20 carries for 39 yards and a touchdown. He was held to negative 4 yards in the second half and overtime by a stingy Demons defense.
"We knew we would have to stop Hawkins if we wanted to win," Vogt said. "And I think we did a heck of a job of that."
In overtime, Woolverton hit Bourdon from four yards out, and the Demons executed the same play for the 2-point conversion. Woolverton finished 8-for-19 for 76 yards, a touchdown and two interceptions.
"They're such a good defense, and they were so well-coached," said DHS senior quarterback Woolverton, son of Kathleen and Ryan Woolverton. "We just had to keep our heads in it and capitalize when we had the chance. The opportunities were there, and we didn't take advantage for awhile. We kept it together though and did it when it mattered most."
Bayfield quarterback Josh Westbook finished 7-for-14 for 63 yards and three interceptions. Two of the interceptions were courtesy of Demons' Alex Hise. "Congratulations to Dave Vogt, his team showed a lot of class tonight," Heide said. "I think both teams did. We fought hard, and I'm proud of the kids but they shut us down. Our defense played championship football, just not able to take it home."
It won't take 80 years for Bayfield to get another shot at Durango as the two will play next year at Wolverine Country Stadium.
After beating 2A defending champion Bayfield, Durango will open league play next week against Pueblo East, the 2015 CHSAA Class 3A champions.
Bayfield will look to bounce back with their homecoming game at 7 p.m. Friday against Gunnison.
"We gotta make sure this doesn't tear our guys up inside or tear our team down at all," Heide said. "We have to use it as a positive. The most important part is to go win league. We can be a great football team, and we'll go out and prove it."
Sports editor John Livingston contributed to this report.
jfries@durangoherald.com