Demons welcome Wildcats after five weeks since last home game
Two teams eager to prove they belong in the league championship conversation along with Pueblo South will clash Friday night.
No. 7 Durango High School (4-2, 1-0 3A South Central League) will host the Pueblo Central Wildcats (5-1, 1-0 SCL) at 7 p.m. today. It's a true homecoming for the Demons' football team, which hasn't played at home since a tough 25-18 loss to Palisade back on Sept. 6.
"I'm pretty fired up," said DHS junior Ben Finneseth. "We're starting to get on a hot streak and it would feel really good to keep rolling."
Since the Palisade loss, Durango has gone 3-0 with impressive victories in which the Demons offense has posted 50 or more points in every game. First it was a 53-13 beatdown of Farmington before a 55-0 throttling of Bayfield. Last week, DHS opened the league schedule with a 52-10 win at Pueblo Centennial.
"Everyone at school knows what we're doing, and everyone is pretty excited about it," said DHS junior quarterback Jordan Woolverton. "I can't wait to get back home with our awesome crowd. It's going to be crazy with our fans."
The Durango offensive explosion has been led by Woolverton and senior running back Everett Howland. Woolverton has completed 69% of his passes for 1,050 yards and 16 touchdowns this season, and he has yet to throw an interception. Last week, he showed maturity behind center with pre-snap audibles to plays that put the Demons in position to score in a hurry.
"Obviously, I have so much help from the guys up front on the line that has done an amazing job this year," Woolverton said. "And I have all my receivers who make the right reads and catch the ball for me, too."
Woolverton also has gotten it done with his legs, as he now has 388 rushing yards and another seven rushing TDs this season with two 100-plus-yard rushing games.
Howland has been a threat in the running and passing game from the Demon backfield. He now has 735 rushing yards and seven TDs with a whopping average of 13.4 yards per carry. He has added 143 yards and two TDs on nine receptions.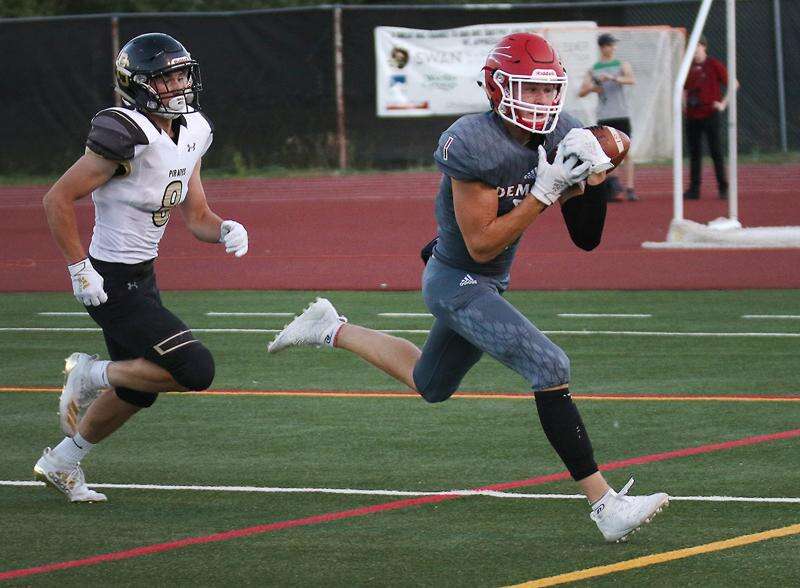 Finneseth continues to be a go-to receiver for Wollverton, as he has team highs in receptions (21), yards (441) and receiving scores (six).
Now healthy after an early-season shoulder injury, Gage Mestas has four receiving TDs on 15 receptions for 323 yards.
"Jordan and I have been throwing all summer. Me, Gage and Jordan always have this connection where our minds work together," Finneseth said.
Howland also has led the Demon defense with 37 tackles and four sacks, while Kyler Reimers has 27 tackles. Woolverton leads the defensive secondary with two interceptions, and Alex Finneseth continues to lead the team with two fumbles forced and recovered. The Durango defense has collected 15 takeaways this season.
Pueblo Central has a two-game win streak going with a 31-6 win against Sand Creek followed by last week's 21-7 victory against Pueblo County.
"I can't wait to get out and play against a team that's 5-1 right now," Woolverton said. "That's pretty impressive, so I'm super excited to get out there and show them and the rest of the league what we're about and what we're coming for and set the tone for the rest of the season right now."
The Wildcats are a run-first team that has 841 rushing yards and 13 scores via the ground game this year. Jeromey Baros leads the team with 402 yards and four TDs, while Brandon Martin has run for 256 yards and a team-high six scores. Martin is also the team's top passer with 462 yards and three TDs. He has thrown two interceptions and completed 51.8% of his passes this year with an average of 92.4 passing yards per game.
"They're going to try to run it down our guts and then throw over the top," Woolverton said. "I'm excited to get on some defense this week and see what we can do."
Austin Allenback is the unquestioned leader of the Wildcats defense with 70 tackles this season, including 12 for a loss with four sacks. Durango's big offensive line has done a great job pass protecting and run blocking all season and will look to quiet Allenback on Friday.
The Wildcat secondary has been active with six interceptions led by two from Martin, who also has a fumble recovery this season. Pueblo Central has forced 10 turnovers this year.
Durango will look to avoid a homecoming letdown ahead of next week's big clash with third-ranked Pueblo South (5-1, 1-0 SCL).
"We all know what's coming up next week," Finneseth said. "Homecoming this week, our minds are in a bit of a different spot, but we're all on the same thing. We all want to keep winning and the main goal is to beat Pueblo Central right now."
jlivingston@durangoherald.com
Who:
Pueblo Central (5-1) at No. 7 Durango (4-2)
What:
CHSAA Class 3A South Central League football
When:
7 p.m. Friday
Where:
Durango High School stadium
Listen Live:
KKDG 99.7 FM
Twitter:
@jlivi2