Howland, Willis make first team; Woolverton second team
The talent on the 2019 Durango High School football team could not be ignored by the coaches around Colorado.
Four players from the Demons were honored Thursday when the Colorado High School Activities Association announced its Class 3A all-state football teams.
To be selected for the all-state teams, a player must be named to the first team of its all-league awards. Then, coaches within the same classification can vote from the pool of players. The CHSAA all-state teams are presented by CHSAANow.com, ColoradoPreps.com and MaxPreps.
Durango senior running back and linebacker Everett Howland and senior offensive and defensive lineman Carver Willis were named first team all-state. Junior quarterback ans safety Jordan Woolverton received a second-team selection, and senior offensive and defensive lineman Fynn Hyson was an honorable mention selection.
It was a strong showing for Durango, which could have expected less recognition because of the voting system. Durango played two teams – Palisade and Pueblo South – in the state playoffs it had already played in the regular season. The Demons also played three non-classification games against Bayfield, Montrose and Pagosa Springs, and those coaches were unable to vote for the Demons. That also was the case for DHS' lone game against a New Mexico opponent in Farmington. With little exposure to Class 3A voters besides the coaches at Palisade and the five Pueblo opponents from the league schedule, Durango had six fewer chances than some teams to perform directly in front of coaches who could vote in Class 3A.
"It goes to show how much of an impact those kids had when we did play against those teams," DHS head coach David Vogt said. "It's such a great honor for those kids and the program as a whole. It's a huge deal."
Willis' honor came a day after he officially signed with Kansas State University. He was a well-known name around the state, and Vogt said his tenacity at left tackle set the tone for one of the best offensive lines DHS has ever put together.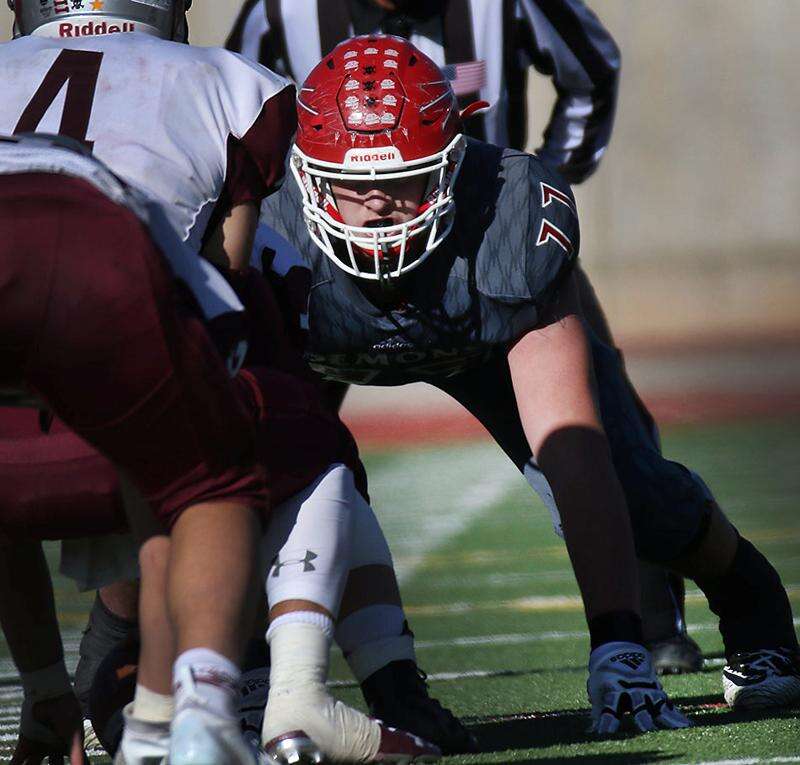 "I'm gonna be honest, I've never been one for awards, so it's not a huge deal to me to be all-state," Willis said. "But my goal coming into this season was to get (Howland) and (Woolverton) to be all-state guys, and it's a bigger deal to me for them to be all-state than for me to be all-state. And (Hyson) being all-state is awesome and very well deserved."
Howland had big shoes to fill in 2019, as he took over starting running back a year after Dawson Marcum ran for 1,131 yards and 11 touchdowns. Howland more than filled those shoes, as he ran for 1,443 yards and 14 touchdowns to go with 340 receiving yards and three more scores.
"On offense, I didn't really play a whole lot on that side the first three years," Howland said. "I didn't really expect a whole lot, but my line and receivers did an exceptional job blocking for me this year. Without them, I rush for negative 1,400 yards. All the credit goes to them for my stats this year."
Howland also led the Durango defense with 61 total tackles and six sacks from his middle linebacker spot.
"He got his opportunity this year and literally ran away with it," Vogt said. "Defensively, he was a guy who could shut down the entire wide side of the field. We'd play him to the wide side, and people would stop running over there. He was so dynamic on both sides of the ball."
Woolverton was left off the first team despite finishing seventh in the entire state, regardless of classification, in total yards. He was third in total yards in Class 3A behind only first-teamers Jake Green of Frederick and Trey Towndrow of Green Mountain. Both of those QBs played one more game than Woolverton.
Woolverton was named the team's offensive MVP at Wednesday night's award banquet. He posted nearly 3,000 total yards, with 1,941 through the air and 1,005 rushing. He passed for 23 touchdowns and only three interceptions and completed 73.6% of his passes. He also ran for 15 scores.
"I go back to that run he had at Pueblo South," Vogt said of Woolverton's go-ahead 47-yard TD run with a little more than a minute to go in the regular season loss to the Colts. "It was one of the most amazing runs I've ever seen anyone have in high school football. It showed how much of a leader and how hard he plays. He was bloody, busted ankle, injured arm, and he was playing so hard. When he's on the field, you always have a chance to win the game. He just made so many big runs and throws."
Woolverton also made 35 tackles on defense from his free safety spot. He tied Ean Goodwin for a team high of three interceptions, and he forced a fumble. He returned one interception for a touchdown.
The junior also punted 11 times for an average of 40.7 yards, with a long of 65. He pinned opponents inside their own 20-yard line five times. He also made 15-of-20 extra points to add to his all-around play.
"To be recognized on a statewide platform feels good," Woolverton said. "All the hard work and effort of the offseason was portrayed on the field. It's nice to know other people are seeing that and not only your friends and family. I couldn't do any of it without the guys up front and the playmakers in front of me.
"Next season, we want to take it further. I'm excited to go into next season, push deeper in the playoffs, and I know we can do just about anything with the team we have coming up."
Hyson was the epitome of a team player. He wanted to play tight end his senior season but was moved to right tackle when the Demons needed him on the line. He also started the year as a fierce defensive end but was moved to defensive tackle when the team needed help inside. Defensively, he had 13 tackles with one sack. He also had an interception return for a touchdown on homecoming night.
"He's the perfect program kid," Vogt said of Hyson. "We've moved him all around the last four years. When we had to move him, he didn't ask any questions and just went to work. He excelled everywhere we put him, was the perfect teammate and was a technician, too. His technique on the offensive line was perfect."
The Class 3A Coach of the Year was Pueblo South's Ryan Goddard, who led the Colts to a 12-2 record, a 3A South Central League championship and a state runner-up finish behind Palmer Ridge.
Player of the Year was awarded to Palmer Ridge's Raef Ruel, who led the Bears to a 12-2 record and a 3A state title. He rushed for 1,830 yards and 32 touchdowns.
Ruel's teammate Luke McCallister, a junior quarterback who passed for 2,647 yards and 28 touchdowns with only three interceptions in 12 games, was not named to the all-state team. He was named the MVP of the state championship game.
The first-team quarterbacks were Green, Towndrow and Cameron Tucker of Palisade. Statistically, Woolverton had 1,251 more passing yards than Tucker, 333 more rushing yards and eight more total touchdowns. Woolverton also had more tackles, and both boys had three interceptions. Tucker played in only eight games because of injury.
All-League
All four of the Durango players named to the all-state team were on the All-South Central League first team. They were joined by junior receivers Ben Finneseth and Gage Mestas and junior defensive end Kyler Reimers.
Finneseth had an all-state caliber season with 49 receptions for 785 yards and nine touchdowns. Gage Mestas was right behind him with 34 grabs for 626 yards and seven scores. Finneseth also forced four fumbles on defense and blocked a field goal, while Mestas had one interception and a fumble forced and recovered.
Honorable mention all-league selections were junior linebacker Thomas Barnes, freshman offensive lineman Josh Bates, junior offensive lineman Nate Howland, sophomore lineman Will Knight, junior receiver and defensive back Niko Mestas, junior offensive and defensive lineman Ford Pitts, junior lineman Ethan Ryan and junior lineman Demetrius Trujillo, as every member of the Durango offensive and defensive lines were recognized.
Pitts was second on the team for Durango with 59 tackles, and Reimers was fourth with 54. Reimers also had four sacks.
The league's Offensive Player of the Year was Pueblo South receiver Jackson Dickerson, who had 66 receptions for 1,113 yards and 17 touchdowns.
Defensive Player of the Year went to Pueblo South's Andy Smith. Specialist of the Year was Brandon Martin of Pueblo Central.
jlivingston@durangoherald.com