Young stars blend with proven veterans for Demons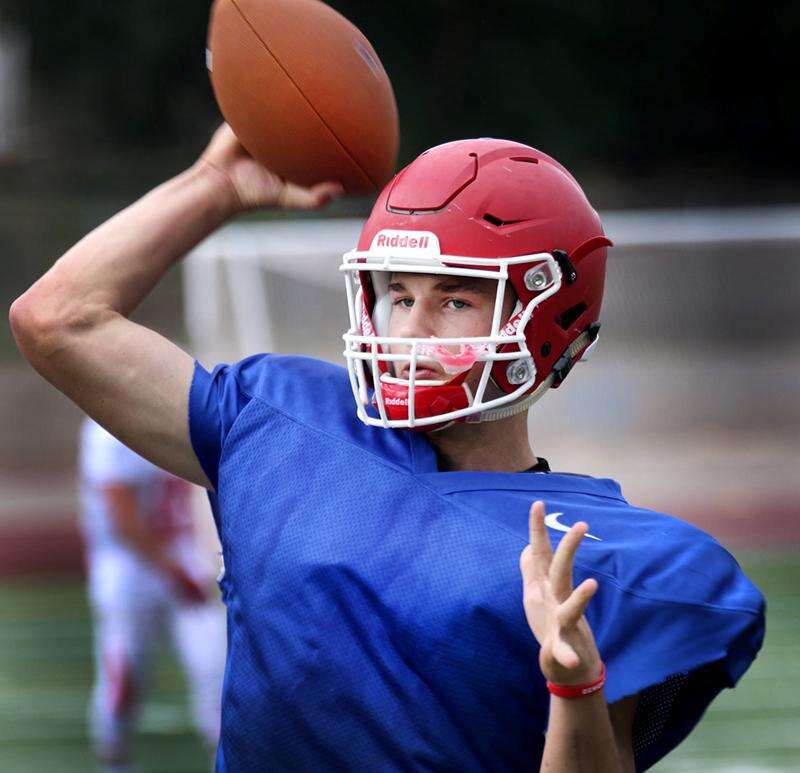 The Durango Demons shocked Class 3A with a quarterfinal appearance last year. The team was a touchdown away from going even further. In 2018, Durango High School has an expectation to take another step forward.
One year after the Demons reached the Class 3A state quarterfinals and nearly pulled off consecutive playoff upsets, the team is eager for a new season and another chance to make the postseason. It won't come easy, as Durango will face a loaded schedule that features seven playoff teams and a pair of state champions from a year ago.
"We gotta come out with a strong attitude," said senior Alex Hise. "It is a tough schedule. We have to prepare even harder, play harder and do everything with intent."
DHS head coach David Vogt will lead the team for his sixth season. The Demons have gone 37-19 in that span and have failed to win at least seven games only once. DHS has seen the benefits of Vogt's weight system as well as the Demons' program filtering down to the middle schools. Now, the eighth-ranked Demons have loaded classes of sophomores and freshmen who can contribute to varsity right away.
That was evident a year ago, when Jordan Woolverton took over at quarterback late in the season and helped lead the team to a 4-1 record in league play and a 49-21 upset of No. 4 Cañon City on the road in the playoff opener. He also showed his ability during the team's 35-28 home loss in the quarterfinals to Erie, the eventual state runner-up.
Woolverton passed for 1,024 yards, 10 touchdowns and only one interception, and he completed an astounding 72.6 percent of his passes. He's gotten bigger and stronger going into 2018, his first full season as the team's starting quarterback.
"You see it in his progressions," Vogt said of his quarterback. "Maybe last year, he was working on one progression or two. This year, I've seen him go through and hit his fourth option. It's going to be fun to see him go through his progressions and hit the open guy."
One of those wide receivers will be Hise. Last season, he was the second option behind senior Gavin Mestas. Hise was seventh in Class 4A last year in the 100-meter dash and was fifth in the long jump. His athletic ability gives the Demons a dangerous weapon on the outside of the offense and a high-end defensive back.
"If they don't double cover him, then they're gonna pay," Vogt said. "It's really nice to have that option because it takes pressure off other kids, too."
As the Durango offense continues to build its passing game, it could open up even more holes for dangerous running backs Dawson Marcum and Everett Howland. Marcum rushed for more than 1,000 yards and double-digit touchdowns last season and also was the team's second-leading receiver.
"I think we have a very balanced offense and think we can do it both ways," Marcum said. "We can pass or run it down team's throats."
While Mestas was the team's leading receiver, an elite kick returner and defensive back as well as the team's punter with a knack for converting fake-punt runs, the Demons don't have to look far to replace him. That will come in the form of his younger brother, sophomore Gage Mestas, who has a strong rapport with Woolverton from their days slicing opponents in YAFL and en route to two middle school titles at Miller Middle School.
"We've also got Jordan Stanley as a freshman and a ton of young guys out there," Hise said. "Guys like Jordan Woolverton and Gage Mestas, they're young but all guys who, when the going gets tough, they step up to the plate and help us out."
DHS also had to replace a Division I talent on the offensive line. Ryan Barkley signed with Montana State after last season. Sam Choate, a senior, has emerged as a leader of that unit and has impressed the coaching staff as the line learns new techniques and stances for this season.
"We've got some great athletes over there," Vogt said. "Coming into the season, I didn't think we'd be as strong on the offensive and defensive lines, but those guys stepped up in practice, and I'm excited to watch them play."
Defensively, the team had to replace its two leading tacklers and inspirational leaders in Max Hyson and Manasseh Brockus. Howland and Gus Kidd have filled the shoes nicely. Brian Elvidge is also expected to be a force on defense along with Kiernan Mcinnis and Kade Engle, all seniors who have helped lead the team in the offseason.
"It's definitely a little bit of a rebuild with some new guys coming in and learning positions," Marcum said. "But every guy has put in the hours and grinded all summer."
The Demons are excited for a tough opening schedule. After the 7 p.m. Aug. 24 opener at Pagosa Springs, the team will face preseason No. 5 Palisade in a marquee Class 3A showdown. Then, longtime rival and Class 4A powerhouse Montrose will visit before the Demons look for revenge against Bayfield Sept. 14.
"We're excited, especially for Montrose," Choate said. "My freshman year, we heard all the war stories between Montrose and Durango. We're excited to have that game back on the schedule and the opportunity to experience it ourselves"
After a Sept. 21 home game against Farmington, Durango will open play in the 3A South Central League, which welcomed last year's 4A state champion Pueblo South after reclassification last summer. Durango is the only non-Pueblo school in the league.
"We've always been the outlier," Marcum said. "When we started, we were in the Colorado Springs league, then in the Pueblo league, and now we're back in the Pueblo league. We're kind of used to it."
"It would be amazing to beat them and take the whole city," Hise added.
jlivingston@durangoherald.com
Note: All games broadcast on KKDG 99.7 FM
*3A South Central League game
Aug. 24:
at Pagosa Springs, 7 p.m.
Aug. 30:
at Palisade, 7 p.m.
Sept. 7:
vs. Montrose, 7 p.m.
Sept. 14:
vs. Bayfield, 7 p.m.
Sept. 21:
vs. Farmington, 7 p.m.
Oct. 5:
vs. Pueblo Centennial*, 6 p.m. (homecoming)
Oct. 13:
at Pueblo Central*, 1 p.m.
Oct. 19:
vs. Pueblo South*, 6 p.m.
Oct. 26:
vs. Pueblo County*, 6 p.m.
Nov. 2:
at Pueblo East*, 7 p.m.