Wolverines regrouping after key departures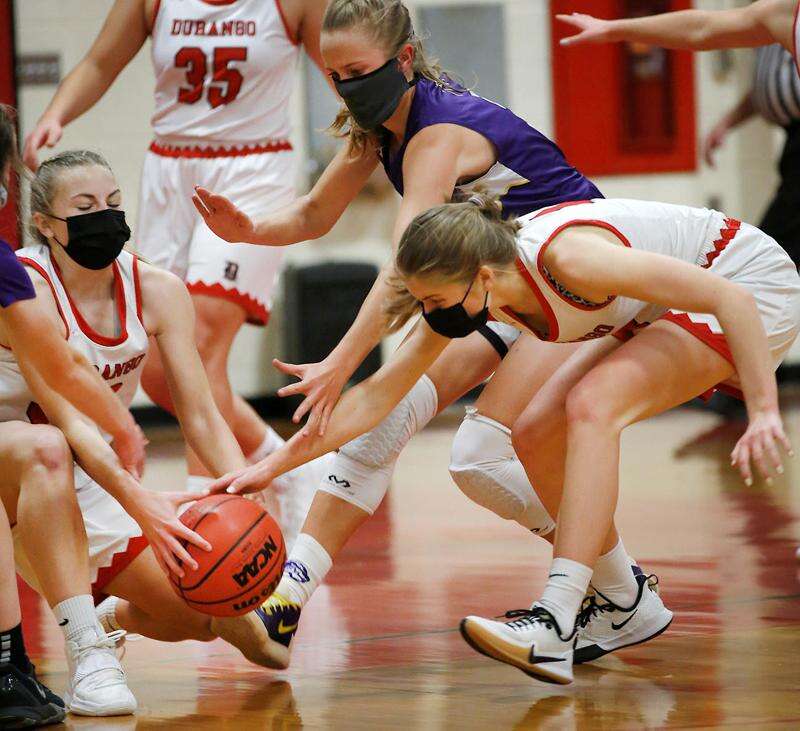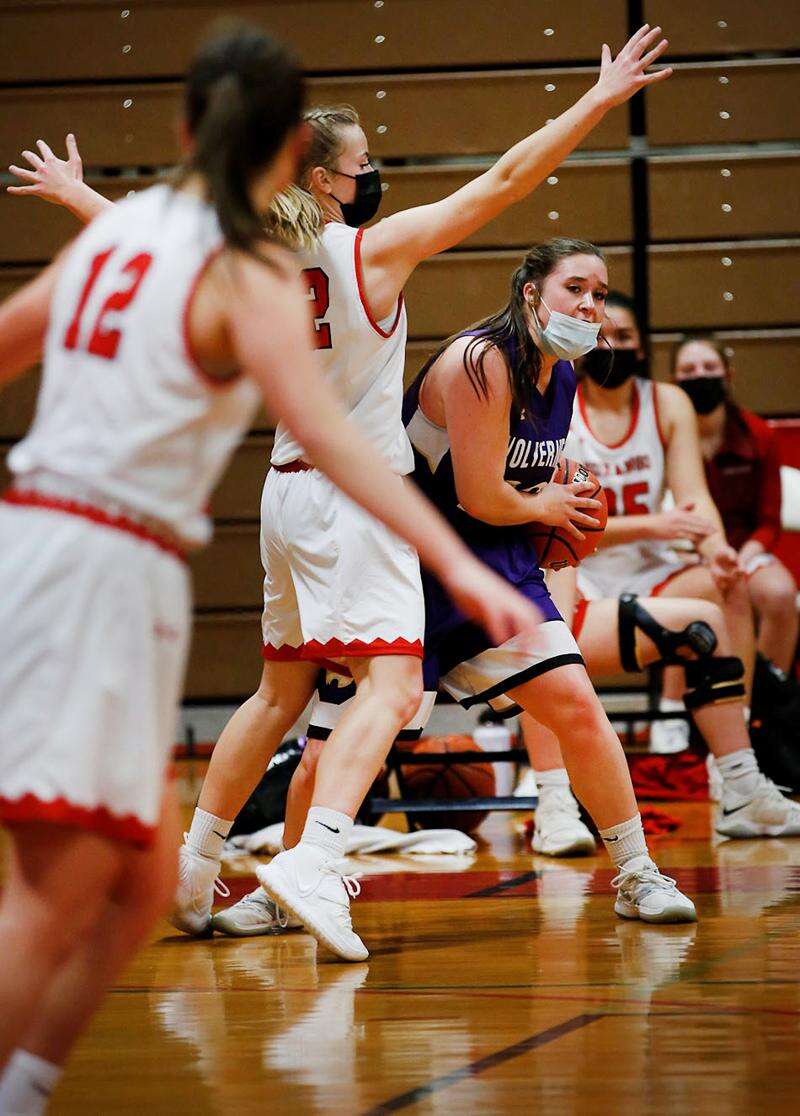 Players took to the court with no applause and masks on their faces. But when the ball went into the air for the first tipoff of the 2021 season, it all felt just fine to the Bayfield Wolverines and Durango Demons.
The cross-county rivals clashed Tuesday afternoon in the first girls basketball game of the season that had been postponed and shortened to seven weeks because of the COVID-19 pandemic. While parents and student sections were absent from the game, the intensity of varsity basketball was visible during Durango's 40-17 win against the visiting Wolverines.
"It was really exciting. I feel safe saying everybody was ready to play and happy to get out on the court again," said Durango sophomore Mason Rowland. "It's definitely different, but the opportunity to play is amazing right now under the circumstances."
Rowland started the game with a first-quarter flurry. She went 2-of-2 from the field and 4-of-4 at the foul line in the game's opening quarter to help the Demons take a 12-4 lead. She finished with a game-high 13 points, and she pulled down several rebounds and steals.
"We all wanted to start strong in our first game being back," she said. "I think we did that. It was a good win, a good way to start the season out, and I hope we can keep going with this."
Bayfield hung tough in the second quarter to stay within 24-13 at halftime, but Durango's defense limited the Wolverines to one point in the third quarter. It was a Cayanne Carlson layup through a foul in the final minute of the fourth quarter that would go down as Bayfield's lone made field goal of the second half. Carlson made her free throw to finish with a team-best 12 points.
"Cayanne is going to be massive for our team with her leadership and ability to score," said BHS head coach Josh Kitchen. "We'd like the score to be different and have more options to score at the hole, but I was happy with our effort in our first game. We had no summer ball with COVID and only four practices, so I was happy with the effort."
While Durango looked like a team ready to make another run in the Class 4A playoffs with six seniors and the continued improvement of Rowland, the Wolverines resembled a much different team than what fans last saw in 2020 when BHS went 9-13 overall. This year's team is without last year's top four scorers, none of which were seniors last season.
"It's always tough to lose girls who have been part of what we've done and built," Kitchen said. "You hate to see any of the girls go. You're never going to replace people who have been a huge part of who you are. But we have girls with talent, and we have to find ways to use that talent. I'm not sure who we are yet, but I know we're going to play hard."
That was evident throughout the game, as both teams fought to the final whistle with bodies hitting the floor regularly. Abby Tate added five points for the Wolverines, while senior guard Madison Wells orchestrated the BHS offense.
For Durango, senior Maddy McManus scored nine points and proved to be a threat from all over the floor, while center Sydney Flores made life difficult inside for the Wolverines, as she added seven points.
Brenna Wolf hit a big 3 for the Demons near the end of the third quarter to end a dry spell, and she also was key in helping DHS force numerous turnovers.
"We really haven't worked on our defense much with only four practices," DHS head coach Tim Fitzpatrick said. "I was pleased with our offensive execution. We had some turnovers, but the kids executed the right passes. We didn't knock down some shots, but we will knock those down. The girls were just anxious to play, and we wanted to get out there and do something. It felt great to see them play."
Last season, DHS went 15-10 overall and won a first-round playoff game before a second-round loss at Green Mountain. With so many experienced players, DHS can expect more great things in 2021, but Fitzpatrick said he isn't talking about that yet.
"They want to get back to where we were last year and see what happens," he said. "But we need to stay in the moment and keep it day to day right now."
DHS will play on the road Friday and Saturday at Delta and Telluride, respectively. The Demons will return home Feb. 2 to play Centauri. Delta and Centauri were both 20-game winners a season ago.
BHS will begin its league season Friday at Pagosa Springs before a Saturday trip to non-league Mancos. BHS won't play at home until it will host Montezuma-Cortez for a league game on Feb. 13.
"It's going to be about composure for us," Kitchen said. "Some of that will come with playing together and getting used to each other's tendencies."
jlivingston@durangoherald.com