Bodewes, Kondrat got 1-2 for Demons at the Boggy Draw Bear Chase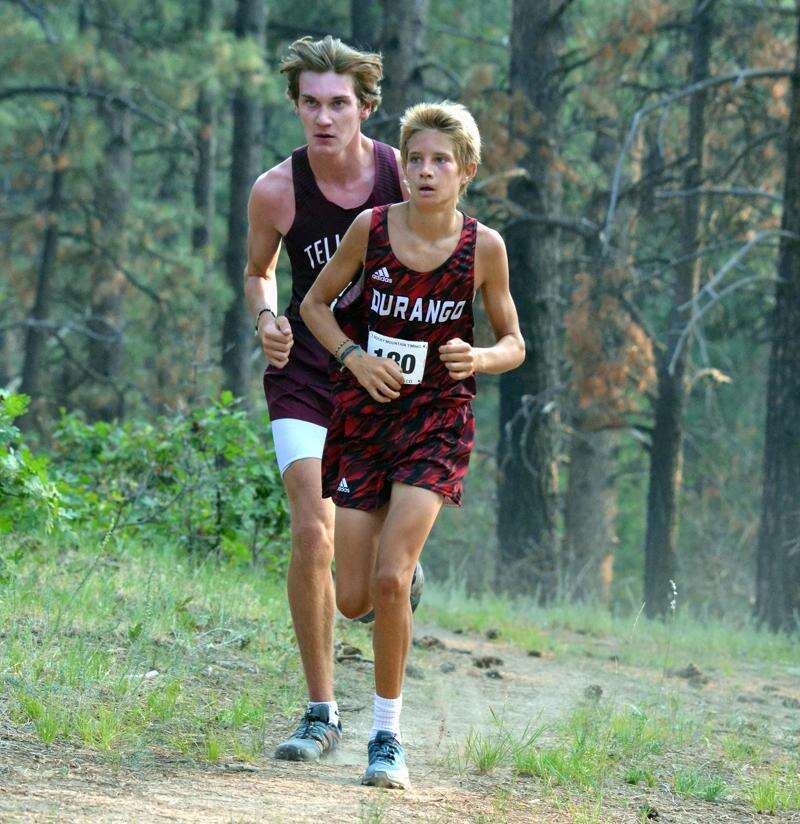 The return to running came in Dolores, and high school cross-country athletes from across southwest Colorado turned in strong performances.
Dolores High School hosted the second edition of the Boggy Draw Bear Chase on Friday. On a blistering hot afternoon, the Durango High School girls, led by a one-two finish from Kristina Bodewes and Angelina Kondrat, claimed the team victory, while the DHS boys placed second behind San Juan High School out of Blanding, Utah.
Bodewes, a junior, finished the 5-kilometer race in 22 minutes, 16 seconds to finish first in the 39-runner field. Kondrat, also a junior, was nine seconds behind Bodewes to take second. The Demons' duo was well ahead of the pack, as Pagosa Springs junior Michelle Sauceda would ruin to third place in 23:05. She was 56 seconds in front of Durango's Nina Quayle, who placed fourth.
The Pagosa Springs girls took second with 62 points behind Durango's 35. Ignacio High School's girls placed third with 72 points. San Juan was fourth with 85, Mancos took fifth with 103, and Telluride was sixth with 108.
The Ignacio girls were led by freshman Maci Barnes, who was sixth in 24:57. Defending girls race champion Charlize Valdez came in 14th in 27:38. Alannah Gomez was 19th in 28:51, Moriah Ashley was 21st in 28:58, and Avaleena Nanaeto placed 25th in 29:59.
Also for Durango, Bailey Freeman placed 11th in 26:08, and Avery Cerwin ran to 22nd in 29:15.
Ridley Dennison of Montezuma-Cortez turned in a top-10 run in ninth place, as she finished in 25:52.
The Durango boys scored 60 points to edge Pagosa Springs by one point for second place. San Juan won with 32 points. Bayfield High School, led by a second-place finish from Zeb Shields, placed fourth with 88 points. Montezuma-Cortez was fifth with 99 points, and Ignacio, which saw the return of a boys team this year, placed sixth with 125 points.
Gabe Heraty of Pagosa Springs won the boys race in 17:59. Shields was second in 18:21 for the Wolverines, while Mancos' Edgar Hernandez would place third in 19:26.
San Juan's top finisher was Cameron Jensen, who was fourth in 19:26. Dolores' Michael Brafford was fifth in 19:42. Montezuma-Cortez had a top-10 performance from John Whyte, who was seventh in 19:57.
Durango freshman Sam Persing was ninth in 20:05. He narrowly edged Telluride's Cole Paczosa at the finish line. Charlie Dillman of Durango was 13th in 21:24, while Davis Cameron and Nathaniel Ellis placed 19th and 20th, respectively, in 22:35. Micah Zastrocky of Durango was 21st in 22:45.
Durango only sent freshman boys to the race, while the girls squad was primarily made up of junior varsity runners.
Also for Bayfield behind Shields' effort was Royce Hinjosa in 23rd in 23:00. Michael Everett was 25th in 24:36, and Preston Gomez took 26th in 24:49. Tristan Sager placed 36th in 29:30.
Eppie Quintana led Ignacio in 17th in 22:05. Dylan LaBarthe was 34th in 27:42, Gabe Tucson was 37th in 29:58, Tyler Barnes was 38th in 31:21, and Jeremy Roderick was 40th in 39:04.
Also for Mancos, Conner Sehnert placed 11th in 20:58, Stephen Knezek was 29th in 25:17, and Braxton Dennison was 33rd in 26:24.
Montezuma-Cortez ran well together as a pack in the middle of the field. Wes Atcitty was 27th in 24:58, Gabriel Crowley was 28th in 25:17, Keirnan Korthank was 30th in 25:32, and Cassius Maloney was 31st in 25:35.
Montezuma-Cortez will host a meet Friday. Durango's varsity will be in action next Saturday at the Fruita Invitational.
jlivingston@durangoherald.com