With only four games, DHS anxious to host playoffs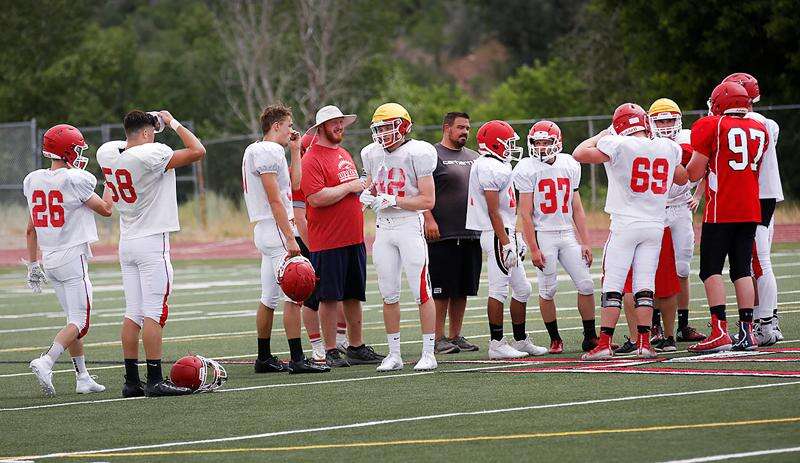 Durango High School built a tough schedule for the 2018 season in hopes it would pay dividends for a young team building toward 2019. That schedule will only be tougher this year, but so are the Demons.
With the biggest offensive line in years anchored by Kansas State commit Carver Willis at left tackle and Fynn Hyson at right tackle, the Durango High School football team believes it has the boys in place to protect talented junior quarterback Jordan Woolverton and produce another 1,000-yard rusher in Everett Howland.
"We look really good with our line right now," Woolverton said. "All of those guys are putting in work right now. It's the biggest line we have had in a while, and I'm excited to see what they can do."
The Demons went 6-5 overall last season with a first-round playoff exit against Erie. It was the second time the Noah Roper-led Erie Bulldogs had knocked Durango out of the Class 3A state playoffs. In 2017, the Demons went 8-4 and reached the quarterfinals before their exit.
Roper is off to Dartmouth College to play in the Ivy League, while Durango is more mature and eager for its final season in the Class 3A South Central League as the only non-Pueblo school in the conference.
Though the Demons' schedule features the same 10 teams as a year ago, last year DHS had six home games and this year only has four. DHS will open with a pair at home against Pagosa Springs and Palisade, and the Palisade game has been circled on the schedule since a 20-3 road embarrassment a year earlier in a game the Demons were out of from the opening kickoff. Then, DHS will hit the road for four consecutive games before homecoming against Pueblo Central. Then it's on the road for two more before a huge showdown against powerhouse Pueblo East to close the regular season Nov. 8.
"It's tough having only four home games, but that's just how the cookie crumbles," said DHS seventh-year head coach David Vogt, who has a 43-24 record while leading the Demons. "We have three tough away games to Pueblo, but the positive is we get good team-building on the road. The nights in a hotel do wear on you, though.
"The schedule does set up perfectly for us. If we win the games we are supposed to win, then we will have Pueblo East here at home the last game for the league championship, and I've never had one of those. I'm itching for it."
Though the Demons have returned plenty of talent and have quality underclassmen ready to play, the team has big shoes to fill left by Dawson Marcum, who last season rushed for 1,131 yards and 11 touchdowns. He also hauled in 261 yards worth of passes and caught two more touchdowns. Not only was he also a force on special teams, he was the leader of the defense as a defensive back with 94 total tackles, which ranked second on the team.
DHS will look to Howland, a senior, to fill that void. He will start at running back and middle linebacker after he was third on the team in tackles and third in rushing last season with four touchdowns rushing and another receiving. Howland is coming off a dislocated elbow suffered last season at Pueblo East that kept him out of the playoffs.
"I'm feeling great; best shape I've been in a while," Howland said. "My arm is fine after therapy all summer, and I've hit the weight room hard to make sure the elbow is 100%.
"The last four years (Marcum) has been the guy here. It's hard to take his spot, but I've been working with him, and he has told me what to do and what worked for him. I'm going to apply some of his game to my game this year."
While Durango has never had a problem running the football under Vogt, it is the excitement that comes in the passing game with Woolverton that has DHS eager. Now an upperclassmen, Woolverton has gotten bigger and smarter, and he hopes to avoid some of the vicious hits he took as a sophomore when he passed for 1,560 yards and 15 touchdowns to only three interceptions while he completed 70% of his passes.
"Our line and running backs, we are communicating a lot at the line of scrimmage this year," Woolverton said. "We have new blitz pickup packages we can call at the line of scrimmage, and I have a lot more freedom with checks I can call to change the protection and get a blitzer picked up and get a pass off on time, or I can check to a run if we need to."
Woolverton is excited about receivers Gage Mestas, a junior, and Ben Finneseth, a senior, who will also back up Howland at running back, as will sophomore Nate Messier. Niko Mestas also will be split out wide to give Woolverton another weapon.
"The team chemistry is really building. The O-line is learning what the guy next to them is going to do, and it's all falling into place," said the 6-foot-5, 270-pound Willis, who noted 6-3, 255-pound freshman lineman Josh Bates will be a force. "A lot of the receivers are starting to click with (Woolverton) because of all the time spent before practice and after practice, so the offense is looking really strong."
The Demons have also been known for strong defense under Vogt. With speedy defensive backs, Howland and Colby Basye holding down the linebacker positions and Willis and Hyson ready to impose their will on the defensive line, that trend is likely to continue in 2019.
"I'm trying to get a sack a game," Hyson said. "Something like that to help us get penetration. The team is looking awesome, and the plan is to get better every day, every game. We hope to get further than the first round of the playoffs, and hopefully get that state championship."
With only four regular-season home games, the Demons made it clear they want to win the league championship and deliver their fans a home game in this year's playoffs.
"It's kind of sad for us seniors with only four guaranteed games on our field, but I'm not worried about that," Howland said. "I'm worried about how we play. If we win all of our away games, then we will have a home playoff game, and that's what I'm looking forward to."
jlivingston@durangoherald.com
*homecoming
Aug. 30:
vs. Pagosa Springs, 7 p.m.
Sept. 6:
vs. Palisade, 7 p.m.
Sept. 13:
at Montrose, 7 p.m.
Sept. 20:
at Farmington, 7 p.m.
Sept. 27:
at Bayfield, 7 p.m.
3A South Central League
Oct. 11:
at Pueblo Centennial, 6 p.m.
Oct. 18:
vs. Pueblo Central*, 7 p.m.
Oct. 25:
at Pueblo South, 6 p.m.
Nov. 1:
at Pueblo County, 6 p.m.
Nov. 8:
vs. Pueblo East, 6 p.m.