Designation recognizes school spirit, student voice and civic engagement
Durango High School Student Council was recognized for 10 years in a row by the National Student Council Association as a Council of Excellence, which is awarded to student councils that admirably represent school spirit, student voice and civic engagement.
Then, the COVID-19 pandemic knocked DHS Student Council from its perch in 2021.
The Student Council is set on regaining its former recognition as one of about 230 Councils of Excellence across the country, Dale Garland, Student Council adviser and dean of students, said at a Council of Excellence open house hosted at DHS on Thursday.
Garland described the Council of Excellence title as a source of pride for the high school and the Student Council. He said he was pleased the community attended the open house to support the council.
"It's something we take really seriously, and it's something that we're really proud of," he said.
DHS started participating in the Council of Excellence program about 13 years ago, Garland said. The program seemed like a good model for the Student Council because the recognition went to "truly representative" councils of school spirit, giving voice to students, and organizing events and activities for the school.
"We adopted that program, then we developed activities, events, initiatives around those kinds of things related to service and spirit and elections," Garland said.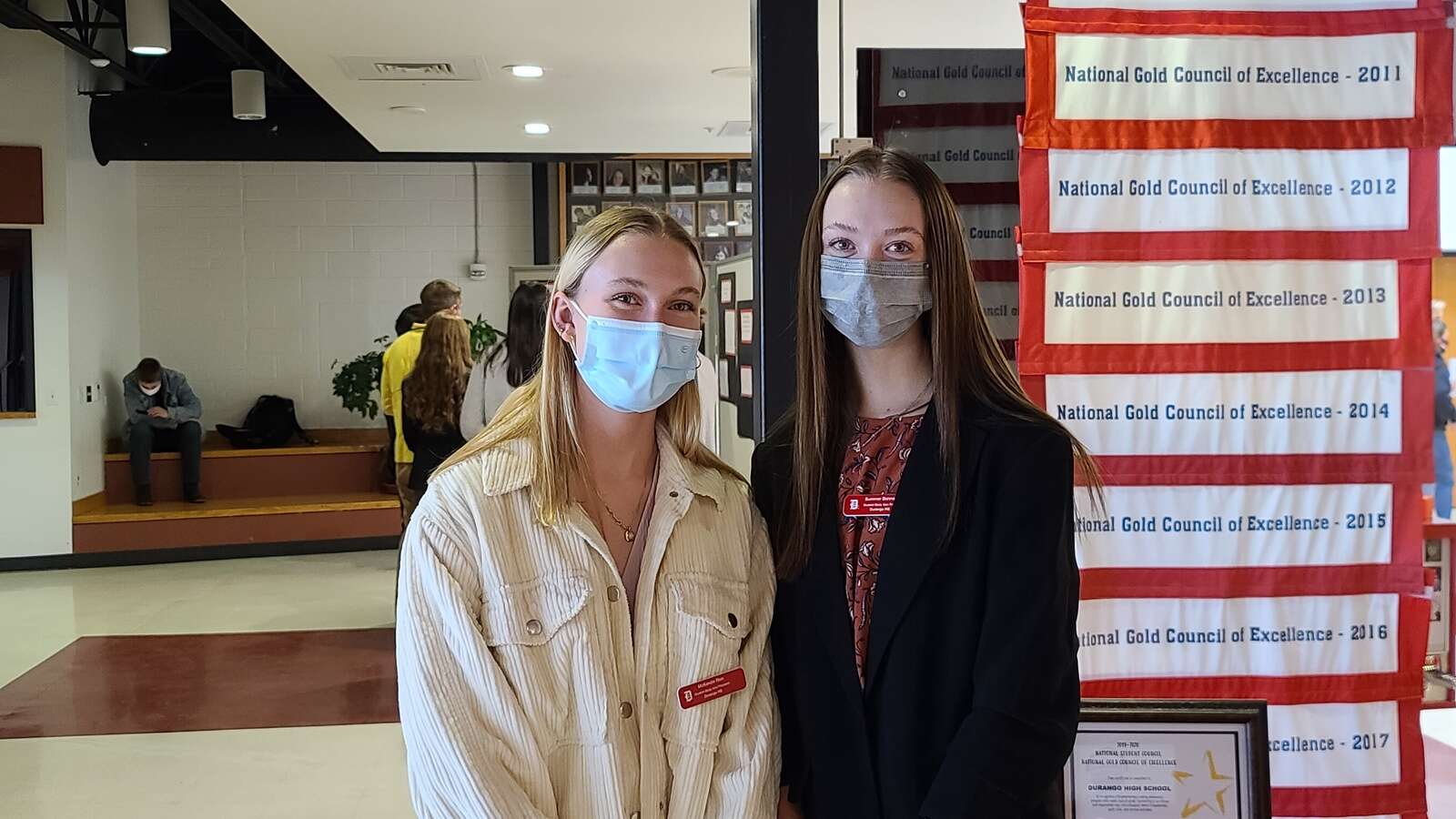 McKenzie Rion, DHS student body vice president, said the recognition of Council of Excellence is earned by satisfying certain indicators. The principal – Jon Hoerl at DHS – will evaluate whether the Student Council has met those indicators before sending his report to the National Student Council Association.
The criteria the council is judged by fall under four categories, said Summer Bonnar, student body secretary treasurer. Those are governance, service, general activities and civic engagement.
"Being a council of excellence is a big honor, especially being such a small school in such a rural community," Rion said. "There's actually not that many in Colorado alone, so being awarded this, is a super big step, especially for Durango High School."
She said the title brings a lot of recognition to DHS, especially from out of state.
Bonnar said receiving the title also demonstrates the Student Council is living up to its three pillars of student leadership, which include development of personal leadership, presenting student voice and putting on quality and diverse events.
Some events the council organizes include homecoming and prom, charity events – the school raised money for furnishing the Espero Apartments – and, perhaps the largest charity program, the DHS Rocks! talent show.
"Students raise money in their classes to get out of class, so there's a goal amount of money they're trying to reach to get out of class to go watch the talent show," Bonnar said.
The money raised in the lead-up to the talent show is placed into the DHS Cares fund and then distributed to students in need.
"(DHS Rocks!) is a daylong talent show where we get a lot of kids involved from across the school," Garland said. "We use that money for a program we call DHS Cares, which is used by our principal and our counselors for helping DHS families in need.
"Whether it's a first and last month's deposit or they need help with their utility bills or groceries or whatever, we fund that program through that."
He said school spirit events have been successful this year. The students were "hungry" for involvement and just want to be together, he said. More than 1,000 kids attended the homecoming dance.
cburney@durangoherald.com