We have 'a few exciting tricks up our sleeves'
The cast and crew of Durango High School Troupe 1096 are kicking off their season this weekend with their production of "Anastasia."
Based on the 1997 animated film, "Anastasia" is the story of one of history's biggest unanswered questions: What happened to Grand Duchess Anastasia Romanov? Set amid the turmoil of the Russian revolution with the Bolshevik regime on the rise, Anya, an amnesiac orphan stranded in what was once the Russian capital, St. Petersburg, is on a quest to rediscover her past, which she believes lies in Paris. Joined by a dashing conman, Dmitry, and an ex-aristocrat, Vlad Popov, who want to use Anya to swindle the only remaining Romanov, Dowager Empress Marie, into believing that Anya is the lost Anastasia, she escapes to Paris with a determined Soviet officer on their heels.
Staging a play set in so many different times and locations was tough, but nothing the troupe isn't able to accomplish, said Troupe 1096 Theater Director Ben Mattson, adding that while at first glance, the set appears minimalist, "We definitely have a few exciting tricks up our sleeves, and we are eager to share this production with our audience." Remarkable, too, not only with this production, but everything the troupe stages, is the fact that it is completely student-run – there are adults around, but ultimately, it is up to the students to get the show up and running.
What: Durango High School Troupe 1096 presents "Anastasia."
When: 7 p.m. showtimes: Saturday (Oct. 29), Nov. 3, 4, 5 (understudy), 10, 11, 12. 2 p.m. showtimes: Sunday (Oct. 30), Nov. 5 and Nov. 12 (understudy).
Where: DHS auditorium, 2390 Main Ave.
Tickets: $15, available online at https://bit.ly/3TV3h2W.
More information: Visit https://troupe1096.weebly.com.
"There are many challenges to 'Anastasia,' and we have had a wonderful time tackling this show and putting the Troupe 1096 stamp on it," he said. "The story is epic, spanning decades, dealing with heavy political ideas alongside more intimate themes of humanity, connection and what it means to be home. There is a narrow focus on Anastasia and her connection to her memories (or lack of), and her connection to the people around her. Yet, at the same time, there is a coinciding sweeping lens on the history of Russia from 1907-1930s. Finding the heart and simplicity of her story, while creating an epic and grand world around her, has been an exciting challenge for the production team as well as the cast members."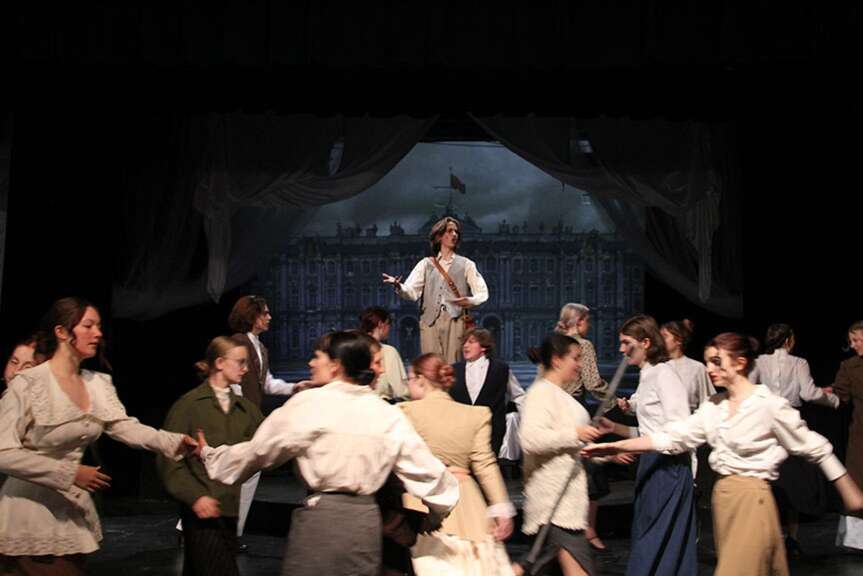 And the story of Anastasia endures, Mattson said, because it is about more than one woman trying to discover her past – it's about self-discovery.
Anastasia: Katelyn Bowie
Dmitry: Ben Hinkley
Vlad: Aiden Hurley
Gleb: Jacob Fuller
Lilly: Cruz Colvig
Dowager Empress: Karissa Rocha-Atamas
Count Ipolitov: Noah Oury
Gorlinsky: Nathan Greer
Young Anya: Sadie Hanson
The Understudy Cast
Anastasia: Maggie Williams
Dmitry: Noah Oury
Vlad: William Reynolds
Gleb: Declan McAlvaney
Lilly: Ava Allen
Dowager Empress: Ginger Ashurst
Count Ipolitov: Nathan Greer
Young Anya: Sadie Hanson
"There are two lines that stick out to me every time we run the show. 'You can't be anyone unless you recognize yourself first' and 'It's never too late to come home.' To some degree, we all spend our lives trying to discover who we are. In the flux of life, there are times when we become people we no longer recognize. There are times we feel lost, or forgotten or feel that something is missing," he said. "The journey to discover who we are is both outside and inside of ourselves, and as Anastasia remembers more and more of herself, we can see that we, too, are able to come 'home'; to find ourselves again. And when we are in line with ourselves – when we recognize who we are, like Anastasia, we are capable of greatness, deserving of love and courageous enough to choose our destiny."
katie@durangoherald.com