Event featured athletes, marching band, floats and fire engines
Downtown Durango was pulsing Thursday night as Durango High School held its first homecoming parade in nine years.
DHS Demons, the DHS marching band, floats and fire engines rolled down Main Avenue to celebrate the event.
The DHS mountain bike team also showed off their skills riding through downtown. The parade started at the Strater Hotel and finished at Buckley Park. Floats featured in the event represented themes from different decades as well as different school clubs such as Black Student Alliance. The DHS athletic teams were represented with signs placed on a fire engine.
"We have a 1970s float, the senior float is 1980s-themed, there's a disco float, and a rock 'n' roll float," said senior student body president Ashley Forrest.
Durango Police Department patrol vehicles blared sirens while parents and community members flooded the downtown sidewalks and some businesses closed early to support the high school's event.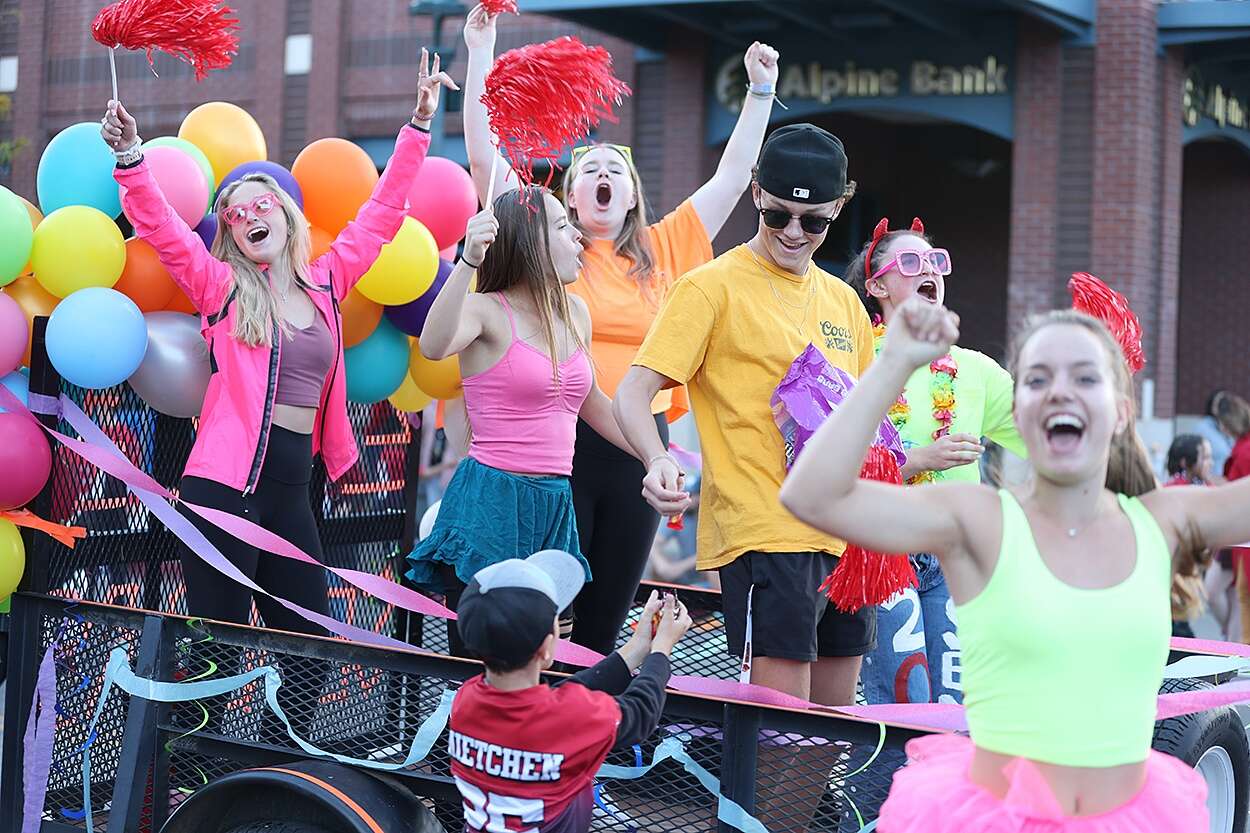 Forrest and Molly Martinez, junior class president, have spent the first part of the semester planning the event and working with other student leaders.
"I am really excited for the parade and to get this tradition back up and running," Martinez said.
Martinez said student council members have worked hard organizing the floats for each grade and some DHS clubs also participated.
DH Principal Jon Hoerl said Martinez was an integral part of putting together the parade. Martinez worked with the city to obtain the necessary permits to set up the parade.
"She's been really passionate about this project and it's great to see it come together," he said.
Hoerl hopes to make the parade a tradition at DHS.
"It's really exciting for us. I'm in my seventh year, and it's certainly been a while since we've had an opportunity to do this," he said. "We're excited that the city's worked with us and given us an opportunity to bring this back to the community."
Forrest said students wanted to bring back the parade to add to homecoming festivities and put a spotlight on the various school clubs. She said the school stopped the parade in previous years because of behavioral problems involved with the event. Forrest credits Durango School District 9-R Athletic Director Ryan Knorr and Hoerl for supporting the idea to bring it back.
"I'm hoping this year, we kind of set it back on the right path," Forrest said. "Hopefully, students treat it with respect and that way it can continue as a tradition in the future."
Local businesses such as Nini's Taqueria, Homeslice and Cream Bean Berry sponsored the parade.
"It's just nice to see that support for the high school kids from the community, local businesses and local benefactors," Forrest said.
The homecoming football game will be at 6 p.m. Friday against Summit High School. The game will feature performances from local Native American drumming groups in celebration of Indigenous Peoples Day on Tuesday.
tbrown@durangoherald.com