Some say new terminal needed, others call it excessive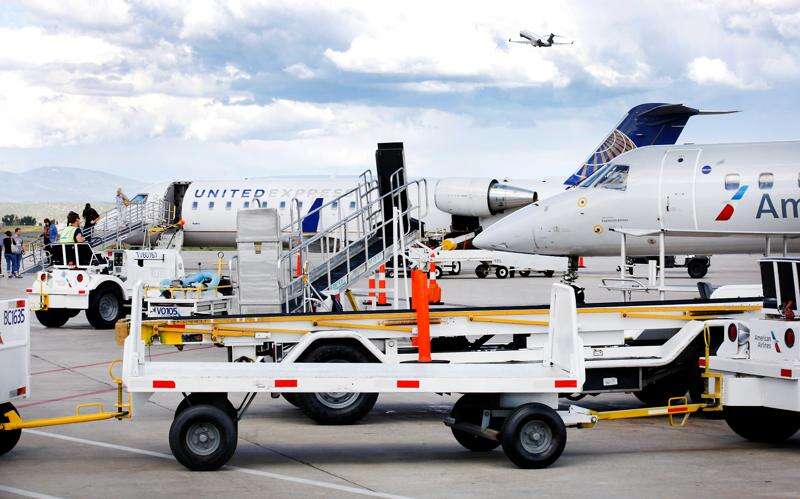 Arguments for building a new Durango-La Plata County Airport include a range of things, such as improving working conditions and making room for new air service.
But opponents question if the project could be accomplished less expensively through a remodel and the promise of grant funding.
In November, La Plata County voters will decide whether to invest $40 million in property taxes in an 82,000-square-foot terminal on the east side of the runway. Matching funds from the Federal Aviation Administration could pay another $35 million to $40 million toward the building.
But there is no guarantee the city and the county would receive that funding, FAA spokesman Allen Kenitzer said in an email. Although, the project might compete well with other projects the FAA is considering during the same time frame, the email said.
The uncertainty gives opponents pause.
"We really need to think through what we're doing here," said Doug Lashley, a former city councilor.
Interim Aviation Director Tony Vicari said after conversations with FAA officials, he is confident about receiving the funding because the airport has not had any federal investment in its terminal.
If the FAA does not or cannot provide the money, then the project likely would not move forward, he said.
"I don't think there is really, necessarily, a realistic fear that would happen," he said.
If the tax measure is approved and the airport receives the grant funding, it would pay for 1,500 parking spaces for cars, five parking spaces for planes as well as a safer intersection at Colorado Highway 172 and an extension of County Road 309A that would provide a direct route to the new terminal.
The additional space would make way for larger airplanes, which are becoming ever more common as airlines upgrade fleets, and space for planes to park overnight, Vicari said.
Airlines also need more room in the building to handle bags after they are screened. Right now, the airlines share a space and much of their equipment must be stored outside in the winter.
"It's just not sufficient space for them to operate at a maximum," Vicari said.
It puts the airport at a disadvantage when negotiating for new air service. There are no plans for interim improvements ahead of a terminal expansion.
"Any airline that comes in and wants to use their own ground handling would really struggle to use that limited space," he said.
While Frontier Airlines was operating at the airport, it contracted baggage services with AvFlight, which provides fuel and hanger services and has a building at the airport.
In the new terminal, the baggage carousel could be expanded. The single carousel can create longer waits for bags, especially when more than one plane comes in at about the same time.
The existing terminal could be expanded to accommodate another carousel, but that would cut into rental car space and revenue from those tenants of the airport, Vicari said.
Making the airport more accommodating for airlines would meet today's level of traffic, help protect air service and make it easier to attract more, proponents say. Such improvements would ensure the airport will continue to be an economic driver.
They point to a Colorado State University study that showed the airport supports about 1,800 jobs in the county and $161.1 million of general economic activity.
"If we don't do something about our airport, we're endangering our community's investment," Mayor Christina Rinderle said.
Farmington had the same opportunity to be the regional airport but instead the community let it whither, she said.
She argues paying $40 more in property taxes annually on a $400,000 house for a new airport will protect jobs that rely on the air service.
However, opponents question how great the demand for a new terminal is when Farmington's economy is suffering and the number of people boarding planes is down 3.3 percent compared to last year.
"I think their proposal is excessive in size and cost," resident John Ritchey said.
Through August, about 121,666 people had boarded planes, compared to the end of August last year, when 125,876 people boarded.
United Airlines had been flying smaller planes into the airport and that could have contributed to the decline, Vicari said.
But weakness in the economy could also be a factor because there are empty seats on planes.
"Theoretically, it should be jam-packed. ... That hasn't been the case this year so far," he said.
Instead of building a terminal, opponents ask why problems around baggage and office space can't be solved in other ways.
"I would support a greatly scaled-down renovation," Ritchey said.
Others believe property taxes place the burden on just a few instead of sharing it with visitors who use the airport, said resident Edwonne McCaw.
"There are lots of people around that are on fire against this," he said.
If the ballot question doesn't get voter approval in November, it likely will be proposed again, Rinderle said.
But then, the community could miss out on the grant funding and low interest rates, she said.
mshinn@durangoherald.com