Titans score tight 6-4 win over DHS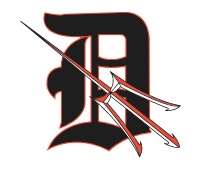 The Durango High School boys lacrosse team welcomed a new 4A Mountain League foe to town on Tuesday, the Crested Butte Titans.
Crested Butte fielded a junior varsity team last year, but this is the program's first year competing at the varsity level.
Tuesday's game was low scoring and tight throughout. Crested Butte led 2-1 after the first quarter, 3-1 at halftime and 4-2 heading into the fourth quarter. DHS cut the lead to one, 4-3, with 5:26 remaining in the contest, but CB scored the next two goals and eventually finished on top, 6-4.
"Our defense gave us a chance to win it, but we didn't take advantage of our offensive situations," said DHS head coach Luke Miller.
The coach said DHS had six man-up opportunities in the game and only scored on one of them.
"Those are times when you have to get goals," Miller said.
On defense, the Demons forced 31 turnovers in the game, including 12 in the fourth quarter when DHS rallied within one.
"Our defense definitely did its job, now our offense needs to click together," Miller said.
Cruz Martinez scored Durango's first goal. Jeffery "JT" Monger then scored one while Owen Muraro scored a pair. Owen Carozza and Ilias "Leo" Stritikus were credited with assists.
Carozza stole a Crested Butte pass midair and then found Muraro open in front of Crested Butte's net and Muraro buried his shot with 37 seconds left for the final score. DHS created one more opportunity late, but its shot was saved.
Carozza also had 10 takeaways in the game while Grady Hooten had five and Wade Mitchell three.
DHS goalie Alex Gnehm saved 15 of the 21 shots he faced, but suffered the loss.
Getting the team up to game speed is one thing that can't really be coached, but Miller said "I could see it coming as the game went on."
Next, DHS (0-2, 0-1 4A Mountain) will head to Grand Junction for a pair of league games. DHS will play at Fruita Monument (1-2, 1-0) at 4 p.m. Friday and then at Grand Junction High School (1-3, 1-1) at noon on Saturday.
Crested Butte (1-3, 1-2) will also play Fruita in its next game on Tuesday.