Exercise classes, social gatherings, support group meetings and more are available locally
The Durango chapter of the Colorado Parkinson's Association is reaching out to let people know about monthly meetings, outings and exercise classes for people with the disease, as well as monthly meetings and crossover events for those caring for someone with Parkinson's.
April is Parkinson's Awareness Month and April 11, the birthday of Dr. James Parkinson who first recognized the disease as a medical condition, was declared World Parkinson's Day in 1997.
Parkinson's disease is a brain disorder that causes unintended or uncontrollable movements, such as shaking, stiffness, and difficulty with balance and coordination. Symptoms usually begin gradually and worsen over time. As the disease progresses, people may have difficulty walking and talking. The main cause of the disease is a loss of nerve cells in the part of the brain that is responsible for producing a chemical called dopamine. There is no cure.
Durango resident and chapter member Rick Van Wagenen, 75, figures Parkinson's sneaked up on him long before he was diagnosed. It was on a Thanksgiving Day about 30 years ago, he said.
"I walked in the house that morning and there was supposed to be a turkey roasting in the oven but I didn't smell anything," said Van Wagenen, who then asked his wife about it. "'I thought we were having turkey, or are we having ham?'" he asked.
Only later did Van Wagenen learn that losing the sense of smell can be an early sign of the disease. He was not diagnosed by a doctor with the disease until he was 73.
"I think I had a lot of symptoms before that," he said. "But you know, when I hit 70, I thought, 'Well, I guess this is how 70 years old feels.' I didn't know. You slow down, get a little slow on the uptake and you're stiff and sore when you get up in the morning. But my wife actually said, 'You are slowing down, there's something wrong with you.'"
Then she read an article where actor Alan Alda shared his Parkinson's symptoms.
"And she said, 'Rick, you have all the same symptoms,'" Van Wagenen said. "And so she finally made me go the neurologist and he diagnosed me hardly without looking. 'I've seen enough of it to know,' he told me. 'You have Parkinson's and it's not a death sentence.'"
Parkinson's disease does not directly cause people to die, but the condition can place great strain on the body, and can make some people more vulnerable to serious and life-threatening infections, according to the national Parkinson's Association. But with advances in treatment, most people with the disease now have a normal or near-normal life expectancy.
Parkinson's disease manifests differently in different people. Some may lose the sense of smell and even taste early on while for others those symptoms may not occur until much later.
Some common Parkinson's signs and symptoms may include:
A tremor, or rhythmic shaking, usually beginning in a limb, often hand or fingers.
Slowed movement.
Rigid muscles.
Impaired posture and balance.
Loss of automatic movements.
Speech changes.
Changes in handwriting
A couple dozen people are involved with the Durango chapter's Parkinson's meetings, events and activities, which include yoga, heated-pool workouts, boxing and a basic boot camp aimed at improving strength, flexibility and coordination.
"It's mostly flexibility, which a lot of Parkinson's people lose quickly," Van Wagenen said. "And balance, that's another important thing because a lot of people, as they lose their ability to orient themselves in space, fall over and suffer serious injuries to their neck and head and hips."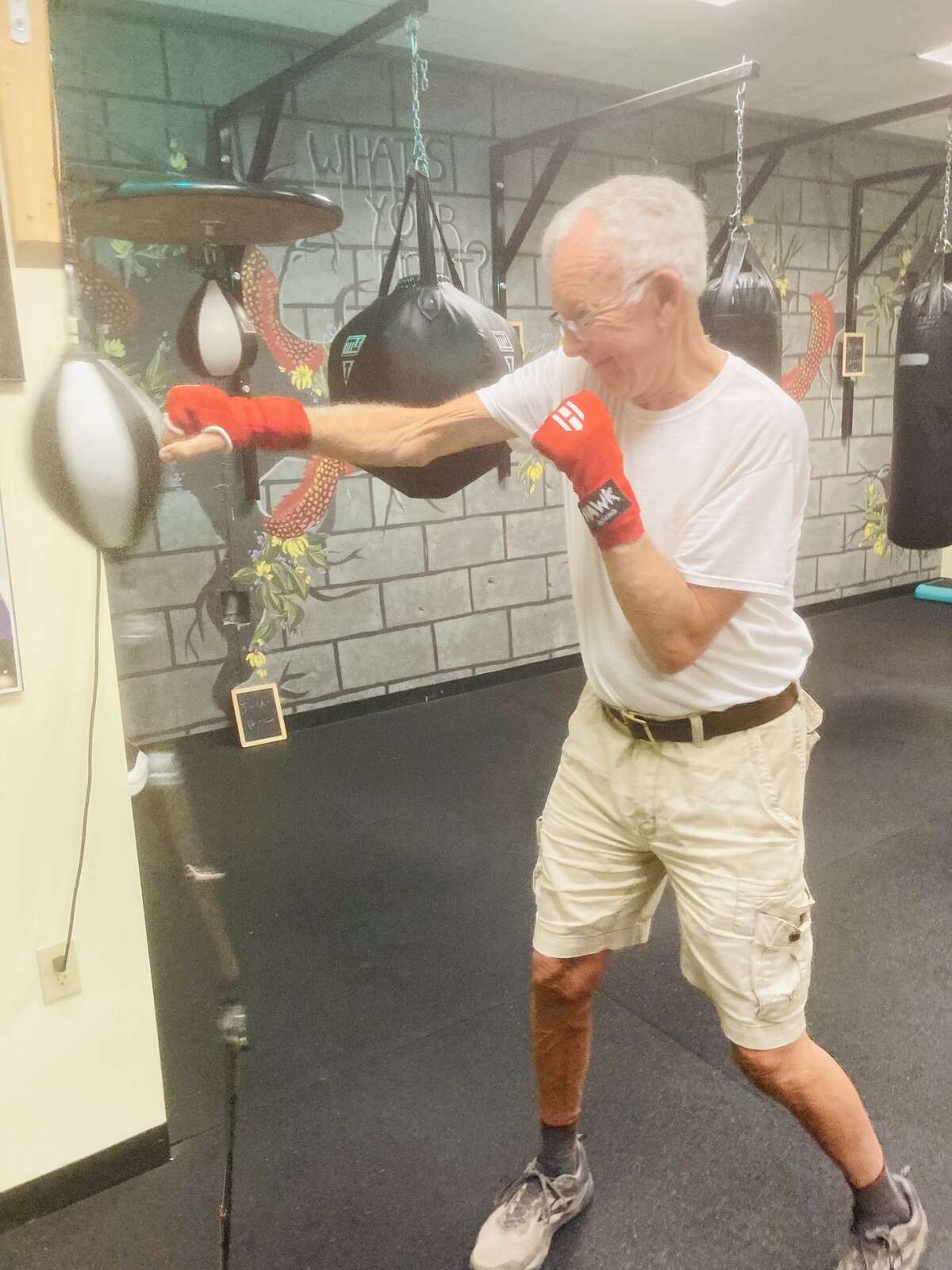 Emotional support is another important component of the Durango chapter, which holds meetings once a month for people with the disease, as well as a separate monthly meeting for caregivers.
"We also have social interaction outings for patients and caregivers," Van Wagenen said. "We try to do something every month, just bring people together. Sometimes we go for lunch, sometimes for coffee. Sometimes we walk down by the river trail, sometimes we go snowshoeing."
Parkinson's is unique because there are so many different kinds of phenomena and manifestations and most people respond differently to the disease and its challenges.
"And one of the commonalities is that people feel kind of ostracized and worry about the way they are interacting or not interacting," Van Wagenen said. "And so we try to make a welcoming environment where we appreciate their differences and their uniqueness and make them feel more welcome around other people that have Parkinson's, as well as non-Parkinson's folks."
The chapter's monthly meeting for caregivers also offers great support and connects people with free resources they may not be aware are available. And it provides a trusting social environment with others who understand the challenges and stress involved in caring for someone with the disease.
Van Wagenen encourages people battling with Parkinson's and caregivers to reach out to the Durango chapter.
"Life can still be good," he said. "It is a chronic neurodegenerative disease, and you're kind of progressively getting worse with time, but generally you have a lot of years ahead of you that can be quality years."
For information about activities and the monthly support group for people with Parkinson's, call Katy Kopec at (806) 786-8849. Meetings are held at 1 p.m. the second Wednesday of each month at Summit Church, 2917 Aspen Drive in Durango.
For caregiver-support meetings call Kathy Moore at (719) 251-9577. They meet at 10 a.m. the first Thursday of each month at Summit Church.
gjaros@durangoherald.com