$5,000-plus drone has a loud speaker, search light and thermal-imaging camera
Two Arizona men suspected of beating and robbing their girlfriends earlier this month in south Durango were caught with the help of a drone, a new tool in the Durango Police Department's crime-fighting arsenal.
The 2-pound device is equipped with a zoom camera and a thermal-imaging camera for nighttime searches. Accessories include a loudspeaker and searchlights. It cost between $5,000 and $6,000, said Officer Dan Kellermeyer, who is licensed to fly the drone.
DPD Chief Bob Brammer said the drone can be used for a number of applications, including finding criminal suspects; helping reconstruct traffic crashes; searching for lost children or Alzheimer's patients; and giving a bird's-eye view of a potentially dangerous situation, such as a fire or a standoff.
"The list could go on and on and on," Brammer said. "I'm thinking more of the positive aspects. ... To safely locate people and bring loved ones back into their families or into the places they can be cared for."
One of the first uses involved the search for the two Arizona men suspected of assaulting and robbing their girlfriends.
The assaults were reported about 4 p.m. April 8 near the La Plata County Humane Society, according to an arrest affidavit. The men were on a short vacation with their girlfriends. All four had been drinking most of the day, and an argument broke out in the Walmart parking lot.
The women started walking north on the Animas River Trail toward their hotel room, according to the affidavit. The men followed, and at some point, the men allegedly assaulted the women and took more than $2,000 in cash from them.
"After they beat them up, they actually were kicking one woman while she was down, and then stole a purse and money," said Cmdr. Ray Shupe, spokesman for the department.
The men fled into thick bushes near the Animas River Trail. Instead of pursuing the men into the bushes, where the suspects could ambush police, officers stood back and experimented with the drone.
After about four hours, the drone camera captured the men as they exited the thick brush and entered a car. They were accompanied by a third man who was not involved with the assaults, Shupe said.
Police followed the car and initiated a high-risk traffic stop, meaning guns drawn, just south of Home Depot. Both men were arrested and charged with robbery, assault and domestic violence, according to Shupe and court records.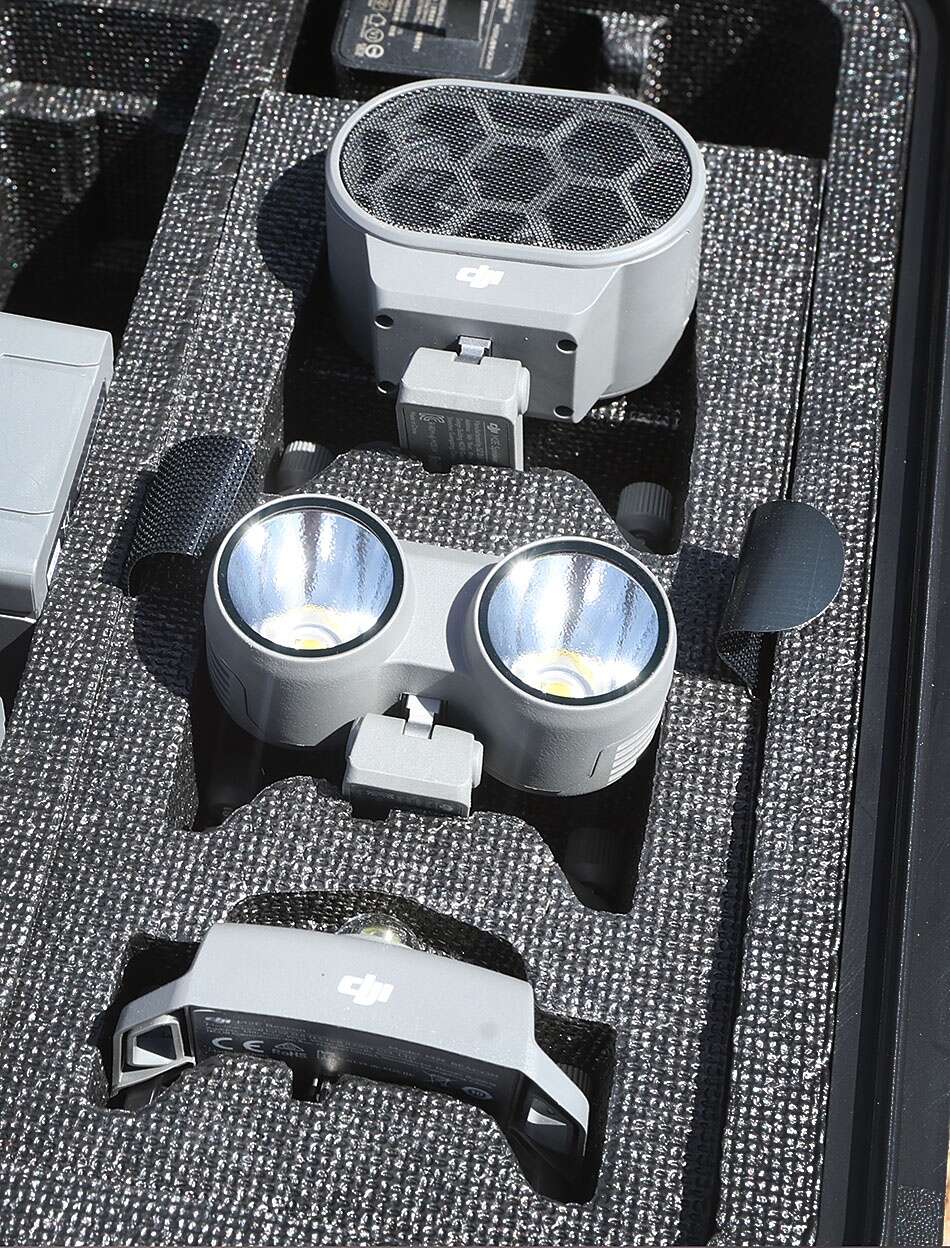 Brammer said the drone was bought this year using grant money from last year.
"That was our first real true deployment of that technology, and it was a great success," he said. "It gave us a little bit of patience, it gave us some distance and some time to really respond to something that was going to be a safer approach to dealing with some kind of violent people."
It prevented officers from having to go into a high-risk situation, he said. Officers were able to mobilize and develop a plan using the drone, he said.
"People always go into their flight or fight mode, and they could have either attacked our officers or startled the officers, and it could have resulted in a real negative confrontation," Brammer said.
The department shared a 51-second video clip showing the suspects returning to their car and driving away. Brammer said he wants the community to know the department is using the latest technologies to fight crime, including cameras on Main Avenue and using license plate readers.
Cameras and automated technologies can expand the capabilities of officers, allowing them to do more with less, he said.
"As long as these technologies are used for the right reasons at the right time in the right places, I don't think there's an issue with that," he said.
It is likely the drone will be used to help photograph and map crime scenes and crash scenes, he said.
Kellermeyer, the primary pilot, went to flight school before becoming an officer, which gave him the necessary background about Federal Aviation Administration regulations and made his studies a little quicker than most first-time drone pilots.
For the most part, police must operate by the same rules as anyone else flying a drone, including height restrictions, not interfering with established air spaces, not flying over crowds and keeping a line of sight with the drone. But police can seek emergency waivers from the FAA to bend the rules, for example, go beyond the line of sight in emergency or disaster situations, Kellermeyer said.
He said flying the drone is pretty user-friendly. The device can hover in place without constantly making adjustments for wind, and it can be programmed to fly a grid pattern, which helps with mapping or photographing areas.
"Operating the controller is very much like playing a video game," he said.
One camera allows police to zoom in up to 32 times, and the thermal camera allows police to search for heat signatures at night. That can come in handy when looking for suspects who are hiding outside or to see if a car engine is hot, he said.
"The cameras pretty much jack the price up on the drones," Kellermeyer said. "The actual body and propellers itself I don't think are that expensive, but when you start having higher end cameras, that's really when you start getting into the price increases."
The drone is used on a case-by-case basis and it is not used for random surveillance, he said.
In the future, he said he'd like to see the department purchase a smaller drone that can be used to help clear houses or buildings so officers don't have to physically go inside potentially dangerous locations without first having a look around via the drone.
"A big safety thing for us is being able to use that drone to put it in places where we don't necessarily want an officer to put his face," he said.
shane@durangoherald.com