Chief hopes modern station helps recruit, retain officers
A fingerprinting station sits on a folding table in the hallway. A closet has been converted into a digital forensics lab. And a gym has been subdivided and turned into a copy room and office supply room.
These are just a few of the adaptations the Durango Police Department has made over the years to make room in an aging police station.
But the days of subdividing offices, cramming workspaces into windowless rooms and storing basic equipment in utility rooms may be coming to an end within the next five years.
"This is my big task to try to accomplish as chief, is to modernize our facilities and give us that future that we need to be successful for the next 50 years," said Durango Police Chief Bob Brammer.
With the city of Durango's purchase of the Durango School District 9-R administration building, the police department will move two blocks north from its 14,500-square-foot building at 990 East Second Ave. to the former Big Picture High School building at 215 E. 12th St.
By the time renovations are complete, the new police station will be 40,000-square-feet in size – more than 60% bigger than the current station.
"We're trying to think 40 to 50 years down the road," Brammer said. "That's typically the life span of a police department – is about 50 years."
The new police station will have a gym, community room, underground parking, a digital forensics lab, a lab to collect DNA and fingerprint evidence, coed locker rooms with gender-specific changing rooms and a real-time crime center with big-screen televisions.
Brammer said there has been talk of needing a new police station since he arrived in 2005. There have been stops and starts since then, he said, but the need has only increased.
"It's exciting that we're finally there, because we do believe that we are a leader in many, many ways as a police organization within our profession in this area," Brammer said. "Having the facilities to accommodate our staff and this community is needed."
Brammer said unlike most municipal buildings that get used from 8 a.m. to 5 p.m. five days a week, the police station is operational 24/7. Because of that, it gets far more use per year than most buildings.
In addition to giving the police department more room to operate, the new police station is expected to boost morale and help with recruitment, he said.
The Durango Police Department has 58 sworn officers and 23 support staff members. Retention has been a persistent problem for the agency, largely because of Durango's remote location and the high cost of living. While little can be done about Durango's high cost of living, a new station will at least create a more enjoyable working environment for employees, Brammer said.
"When you have a new facility and you've got modern facilities, that's an attractor," he said. "People getting into a profession are looking at that."
The big vision
Early plans call for a room that can be used for regional law enforcement training, as well as community gatherings like Rotary club meetings, Boys and Girls Club meetings and citizen police academy classes.
It will feature modern locker rooms, with lockers that have charging ports for radios and flashlights, and ventilation to keep boots dry and clothing fresh.
The city is considering secure, underground parking for police vehicles. The garage would be inaccessible to the public and would allow officers to transport prisoners to and from vehicles without being so exposed in public spaces. The below-grade parking will also help alleviate some of the concerns East Third Avenue residents may have with police vehicle activity, Brammer said.
A gym will provide mat space for defensive tactics and arrest control training. It will include weights, CrossFit equipment and cardio machines to help officers stay fit.
"It should increase the confidence and the abilities of our officers to be better at their job," Brammer said. "When they have confidence, it actually reduces such things as excessive use of force and complaints on the officers for how they engage and speak to people."
The police department has access to more than 100 cameras throughout town, including up and down Main Avenue. The agency also has the capability to monitor live feeds from drones and body cameras worn by officers.
A real-time crime center will include about six big-screen televisions that allow officers to monitor evolving situations and provide feedback to officers on the ground. For example, if a fugitive is in someone's backyard, a drone may be able to hover over the scene and help inform officers on the ground whether the suspect is armed.
"We can pipe those video feeds into a centralized location … and give real-time information to the officers that are responding," Brammer said. "It's extremely cool."
Having more space will allow the agency to centralize its many services, including code enforcement, traffic enforcement and Co-Responder Program, into one building. As it is now, those programs are spread throughout town, including at a substation in the Three Springs subdivision, even though their calls mostly pertain to the downtown area, he said.
The near term
The City Civic Center, as the city is calling it, at the 9-R campus will ease pressure on numerous city departments working in "overcrowded, dated and inefficient conditions," city spokesman Tom Sluis said in an email to The Durango Herald.
The city is working on the conceptual design for the Civic Center and does not yet have a construction budget. City Council has discussed asking voters to reauthorize a 2005 sales tax that helped fund the redevelopment of Florida Road and the construction of a public library, Sluis said. Otherwise, the tax will sunset in 2026.
The conceptual design for the Civic Center will involve public input meetings in the fall and spring, Sluis said. A citizen focus group is also being formed, he said.
"At the end of this process, we can have a conceptual design that will incorporate the public's feedback and be able to determine a cost for the renovations, to include in a 2005 sales tax reauthorization election," he said.
In the meantime, the former Big Picture High School building will be turned into a "no-frills" space to house the Community Development and Engineering departments for the next five to six years, he said. That is slightly longer than the police chief has envisioned for the time needed to convert the Big Picture building into a police station.
"Those two departments (Community Development and Engineering) are currently housed at River City Hall, which the fire district is eager to demolish for their new fire station," Sluis said.
The city expects to spend $1.2 million to make the Big Picture building functional for the city departments.
"We looked at leasing commercial space with similar square footage as Big Picture," he said. "None were in the downtown area, and lease costs alone were pushing $200,000 per year, not including any improvements that would be needed. It was cheaper, and a better use of taxpayer money, to simply make the improvements at a building already owned by the city."
Long time coming
Brammer said it has been a yearslong effort on the part of the city and the police department to identify a new location for a police station. The current station was never built as such; rather, it was built as a car dealership, then an auto repair shop and then began housing firefighters, police officers and a dispatch center. Durango police has had the building to itself for 40 years.
Walls have been added and removed to meet the needs of a fast-evolving profession.
The Big Picture location will be completely remodeled and repurposed specifically as a police station, he said.
Brammer said the Durango Police Department is the largest law enforcement agency in Southwest Colorado, making it something of a regional hub for other agencies when it comes to regional training and drills. Yet, it has some of the worst facilities.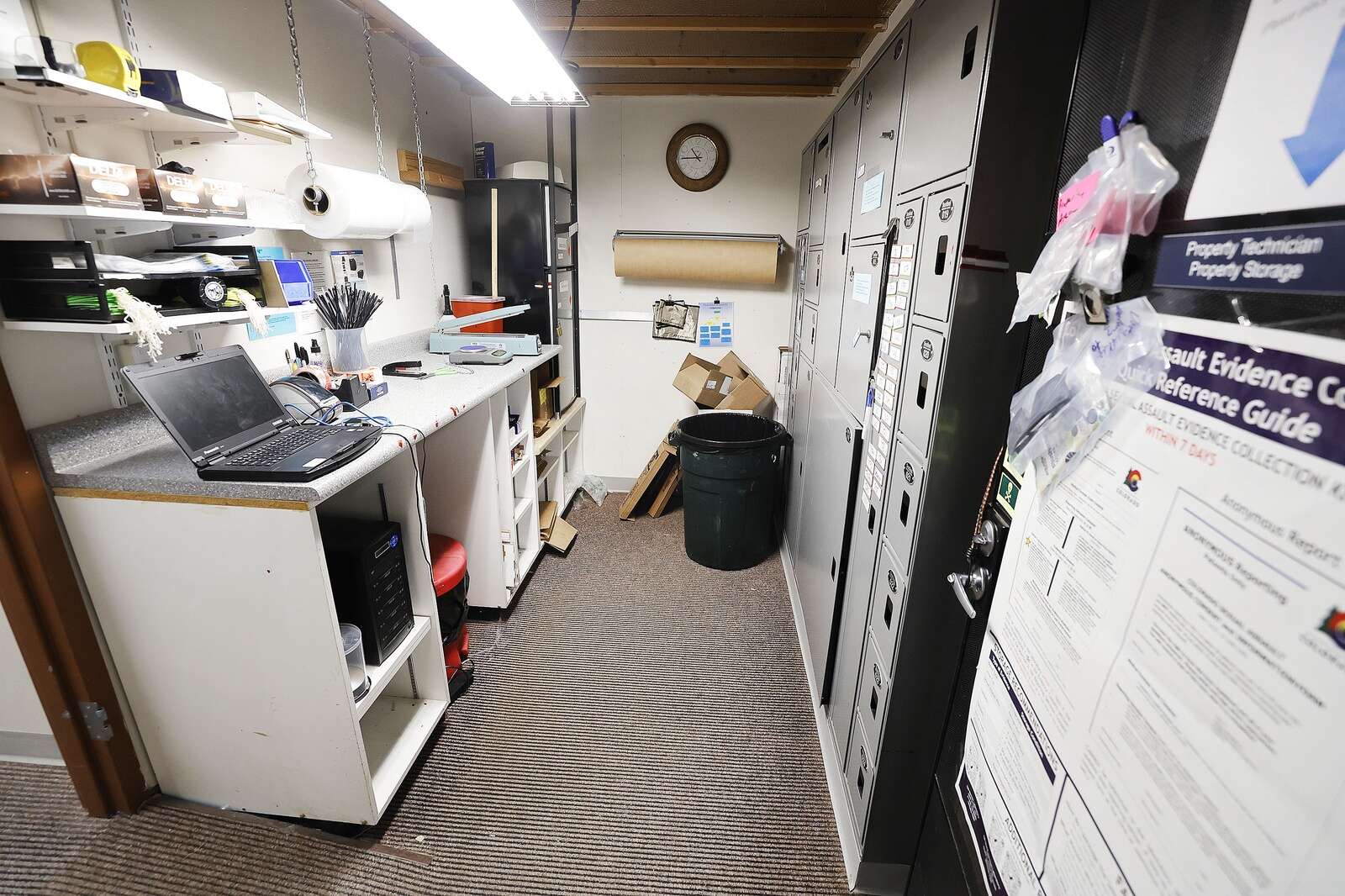 He noted that other regional law enforcement agencies have seen facility upgrades in recent years, including Montrose, Cortez, Montezuma County, the La Plata County Sheriff's Office and the Bayfield Police Department.
"I have been jealous of other chiefs across the state because, you know, they've been able to get their buildings," Brammer said.
He is cognizant that it will be four or five more years before Durango police can move into its new station. While it is exciting to have something to look forward to and plan for, the department must make do with its cramped and dilapidated quarters until move-in day arrives, he said.
"We have to make this building livable and functioning and keep it up, because this is really our only option at this time until we get into the other building," Brammer said.
shane@durangoherald.com