Hundreds turn out for parade, party at Buckley Park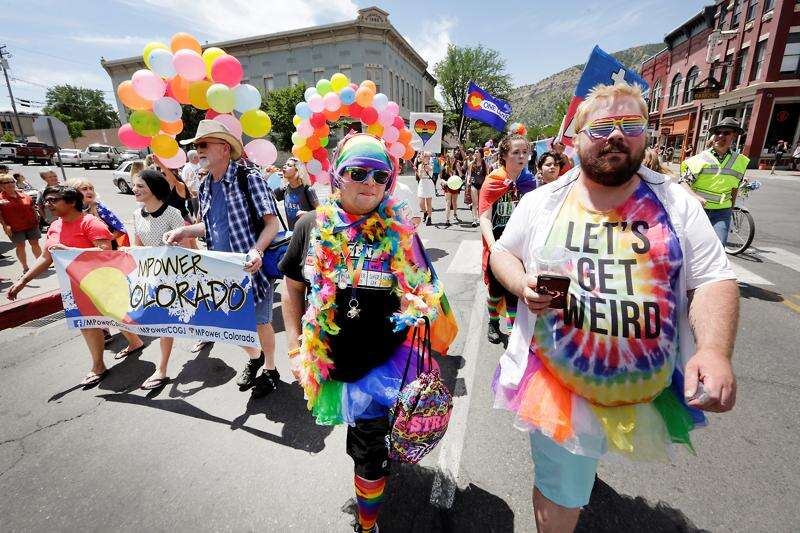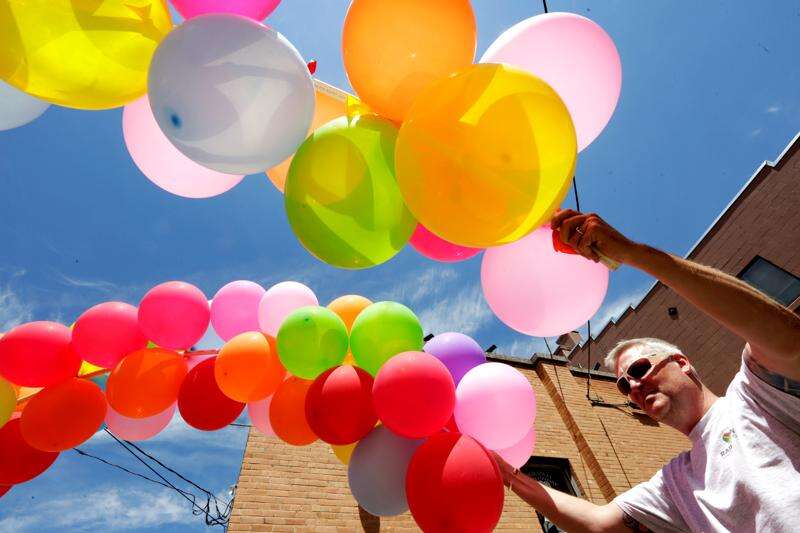 Two weeks after 49 people were killed at an Orlando nightclub frequented by the LGBTQ community, Durangoans donned their rainbow colors and paraded down Main Avenue for the seventh annual Durango Pride Festival.
The Washington Post reported the Capital Pride Festival on June 12 "took on a more somber tone" because of the tragic shooting, yet Durango's LGBTQ community and supporters paraded jubilantly.
"This festival is a show of strength," said a rainbow cape-wearing Calvin Mulcahy, who came out as gay four years ago as a high school freshman. "After the Orlando shooting, it shows that we're not going back into hiding. Something terrible like that could happen again, and it might even happen to me, but at least I'm being myself."
The Pride Procession ended just after noon in Buckley Park, where hundreds flocked for post-parade revelry.
Greg Weiss, a festival coordinator, said the LGBTQ community in Durango has grown along with the event, formerly known as the Four Corners Alliance for Diversity Pride Festival.
"The community is becoming much more open, and I think people are feeling more comfortable coming out," Weiss said, "especially with the younger people."
Because the Pride Festival, which began Wednesday, is spread over several days with multiple events throughout the town, it's difficult to gauge attendance, but it's growing, said Kristi Dean, Durango Pride community coordinator. She said more than 300 attended Friday night's dance at Animas City Theatre, and 130 attended a cocktail reception at the Rochester Hotel.
With the incident only two weeks past, many festival-goers admitted the Orlando shooting was on their minds at this year's event. The alleged shooter, 29-year-old Omar Mateen, was reportedly a regular at the gay club where he opened fire with an assault-type rifle and handgun, killing 49 and injuring 53, before he was killed by authorities.
In the days following, Durango honored the killed and injured with a candlelight vigil.
But the incident didn't darken the mood at the Durango Pride Festival, Dean said.
"And you know why? The people in Orlando said, 'Do not be afraid. Go celebrate life.' And that's what we're doing," she said.
The festival is also a celebration of milestones. Sunday marks the one-year anniversary of the U.S. Supreme Court's historic ruling that guaranteed the right to same-sex marriage.
Rita Lopez and Danielle Patton, the first same-sex couple to get a civil union in La Plata County after the ruling, were attending festival events. Like others, they said Durango as well as the state of Colorado has come far in accepting the LGBTQ community.
In 1992, Colorado voters approved an amendment to the state constitution (Amendment 2) to prohibit affirmative action based on sexual orientation.
In 1996, the U.S. Supreme Court declared that unconstitutional.
Durango resident Martha Elbert, whose gay brother died of AIDS that same year, remembers the 1996 ruling as a turning point in Durango.
"That's when a lot of support started," said Elbert, who became an activist for the gay community after her brother's death. "It was taboo before then. People didn't talk about it, especially in relation to kids – you didn't see kids coming out."
That culture is changing, said Mulcahy, 18. When he told his friends and family he was gay, the announcement was met with "a bombardment of love."
Local businesses, the Rainbow Youth Center and members of the Unitarian church have also shown their support in this year's festival, which will continue Saturday evening with a sold-out party at Steamworks at 6 and karaoke at 8th Ave. Tavern at 9.
Meagan Johnson paraded Saturday. She moved from Boston to Durango eight years ago and was concerned at first that she might have moved somewhere less accepting of the LGBTQ community.
"The fact that we have this many people in a small town turn out for a pride parade shows Durango has come a long way," she said. "There was nothing like this when I first moved here."
jpace@durangoherald.com