E-bike program provides transportation alternatives to income-qualifying employees
Durango restaurant employees are peddling their way to lower carbon emissions with the help of a new Roll to Restaurants e-bike program.
The program, managed by the Four Corners Office for Resource Efficiency in Durango, is essentially a trade. For 4CORE, the grant-funded program helps quantify the impact of e-bikes while supporting the local economy. For 16 restaurant employees, the program means a free e-bike in exchange for keeping track of their rides.
"For someone like me, it's just a game-changer," said Adam Bruce, 34, a line cook at Steamworks.
The Roll to Restaurants pilot program aims to increase access to e-bikes, to reduce emissions and to show that e-bikes can be a convenient way to replace vehicle trips around town, according to 4CORE.
To do that, 4CORE gave e-bikes and accessories to income-qualifying front line essential workers who were impacted by the pandemic. It's an income-based program, so the participants must make less than $30,864 per year, i.e., less than 60% of the Colorado median income.
To find willing participants, 4CORE partnered with Compañeros Four Corners Immigrant Resource Center and local restaurants, including Zia Taqueria, Sunnyside Farms Market and Steamworks Brewing Co.
Every day, the restaurant employees are encouraged to use the e-bikes and log their trips on a smartphone application developed specifically for the program with help from the National Renewable Energy Laboratory.
They log information about each trip, including what transportation method was used and the purpose of the trip.
"This, in turn, shows how the e-bikes can be used, and also helps record the carbon emissions savings from commuting by e-bike," said Laura Haidet, 4CORE's clean energy and transportation program coordinator.
In exchange for recording data, the restaurant employees entered a loan-to-own program for the e-bikes, which often cost between $1,000 and $2,000. For the first year, Roll, a local e-bike rental company, will also offer free maintenance.
After the first 90 days, 4CORE will continue to check into the participants for two years. Funding came from a $50,000 grant from the Colorado Energy Office as part of the state's Can Do Colorado Community Challenge.
Overall, the program encourages e-bike adoption in Durango, which will in turn help the city achieve its goal to reduce greenhouse gas emissions by 80% by 2050, compared with 2016 levels.
"So far, the participants have been loving their e-bikes," Haidet said. "They are using them to commute to work, errands, appointments and more, and are finding that they are a great alternative to driving in a car alone."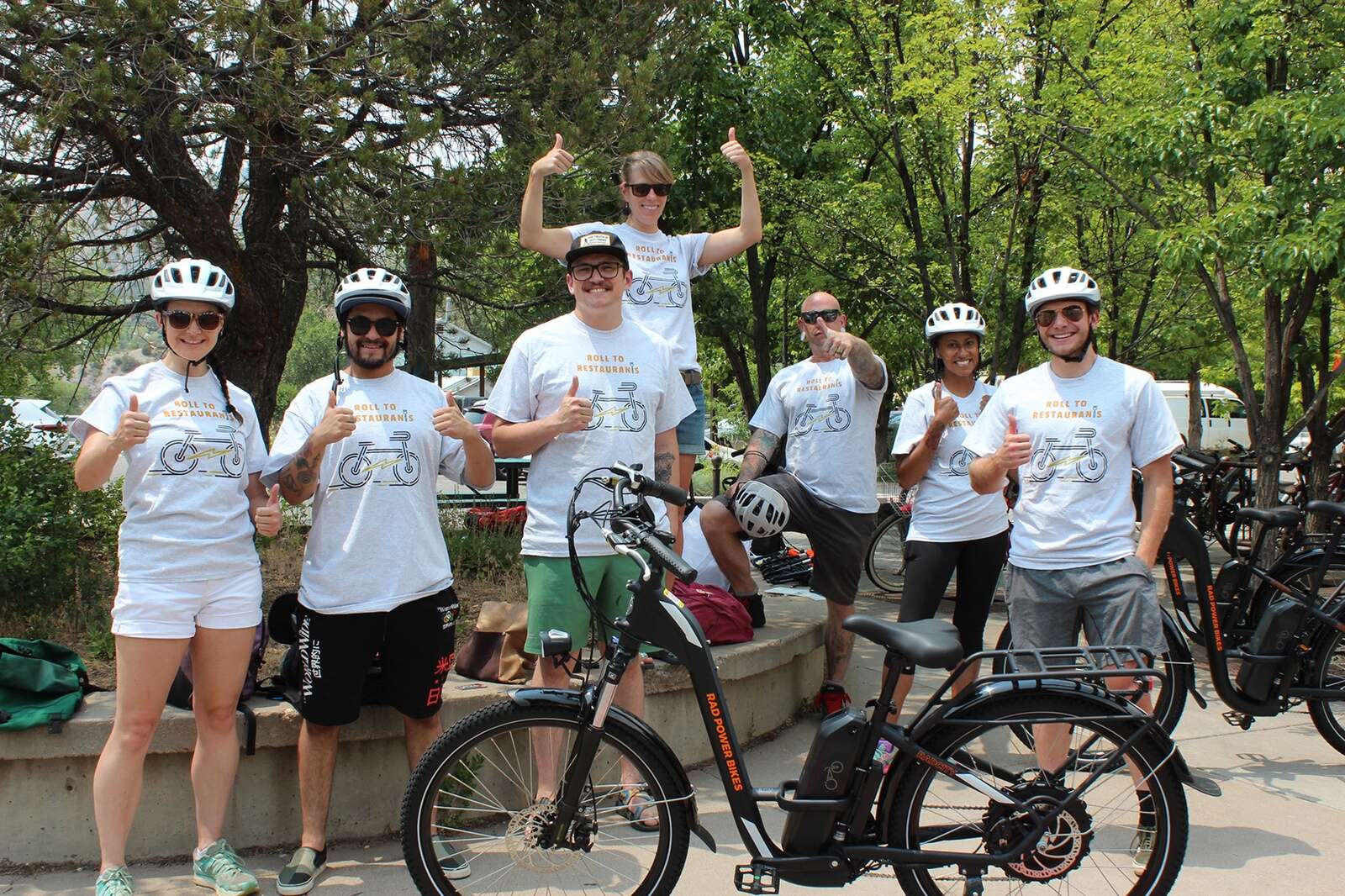 The e-bikes, made by Rad Power Bikes, are rechargeable and can go up to 20 mph with a pedal-assist and throttle.
"It's amazing," Bruce said. "Out here it's like a major workout trying to get to places because there's a lot of hills."
Bruce is living at Hilltop House, which provides transitional housing for parolees who are required to work and earn income. While there, he is not allowed to have a vehicle.
Before the Roll to Restaurants program, that meant planning his days around the Durango transit schedule and walking to work. Now, the e-bike is his primary method of transportation, and the loan-to-own program is giving him a leg up on his savings, Bruce said.
The e-bike program is a "blessing," he said.
"I've had a lot of bad luck in the last 10 years. I've been through a lot. Things like this don't come my way, so to speak," Bruce said. "Now that I've got my feet back on the ground, and I feel like I am successful, everything's just falling back into place."
Juan Paredes, 26, who works at Zia Taqueria's south location, thought the e-bike program was a "cool opportunity" when his managers mentioned it to him.
He and his wife share a vehicle. With his wife going back to work after having their daughter, sharing was not going to be easy. The e-bike is a much-needed extra source of transportation, he said.
"I use it pretty much daily," Paredes said. "I use it to run errands, to go into town. I use it to go to work because it really helps me out. ... With bike lanes, everything's so accessible. It's so nice."
Keeping track of his rides motivates him to use the e-bike more frequently, Paredes said.
"I'd really like to thank the people who made it happen," he said. "It's a pretty cool opportunity that I'm getting to be a part of."
smullane@durangoherald.com