Students must launch hen egg 850 feet up, keep it aloft, and land safely
"Now, that's what we're looking for!"
The exclamation came from CloudBusters Model Rocket Club president Scot Davis as his son Leith's rocket soared almost 1,000 feet up during a test launch April 23 at James Ranch.
The rocket shot relatively straight with just a bit of curve to the south because of a slight breeze that had rolled into the Animas Valley about 9:30 a.m. The six-student rocket team was testing their rockets for the American Rocketry Challenge to be held Saturday in The Plains, Virginia.
The national competition hosts 100 teams from across the country that must build a rocket that safely carries one large hen egg to an altitude of 850 feet, stays airborne for 42 to 45 seconds, and returns the egg safely to the ground.
The rockets are built from cardboard and plastic and use F model rocket engines.
Five Animas High School students and one Durango High School student will be competing in the competition that will offer $100,000 in scholarship prizes. CloudBusters is heading into its eighth year as a team, and Scot Davis said he has had numerous team members graduate high school to pursue degrees in aerospace engineering fields.
But for high-elevation teams like Durango, at 6,512 feet, the competition is tricky because the elevation creates less air density. The Plains is at 610 feet above sea level with a more humid climate which means the rocket is likely not to reach the same altitude as in Durango.
"We actually need the rockets to go higher here," Scot Davis said.
Leith's rocket stayed in the air for a little over a minute at Durango's elevation but could be less given the elevation change come competition time.
Students use a computer program to help them determine how a rocket's performance in Durango will perform in The Plains with different climate and elevation conditions.
Leith was experimenting with a new concept for this year's competition. In previous years, he had gone with a four-fin design and a rounded nose cone. His new design has six fins with a sharp-pointed cone that he believes will help the rocket gain better altitude.
The six-fin design gives the rocket more stability and makes it less likely to curve when launched.
"My goal is just to create a design that goes straight and gets the height," Leith Davis said.
The sharper cone design is longer, which means the weight of the rocket's electronic components are located farther down to fit the cone. Leith said this could create a difference in launch altitude and direction.
"None of them are really going to break because the nose cones are 3D printed," Leith Davis said. "It's not really about that. It's really just about height and looks if you really want it that way."
Animas High School junior Brayden Harms said his rocket was equipped with a servo motor that controls the fins as a braking mechanism in order to adjust the altitude in midair.
"Being able to adjust the aerodynamics of a rocket midflight is very ambitious," Harms said. "Like, there's an endless amount of things that can go wrong depending on the air."
He thought creating an active braking system would be the best option. Using what he described as an "equation that NASA uses," he was able to program the breaking system to account for the weight of the rocket, drag coefficient and air pressure to control the rocket's altitude.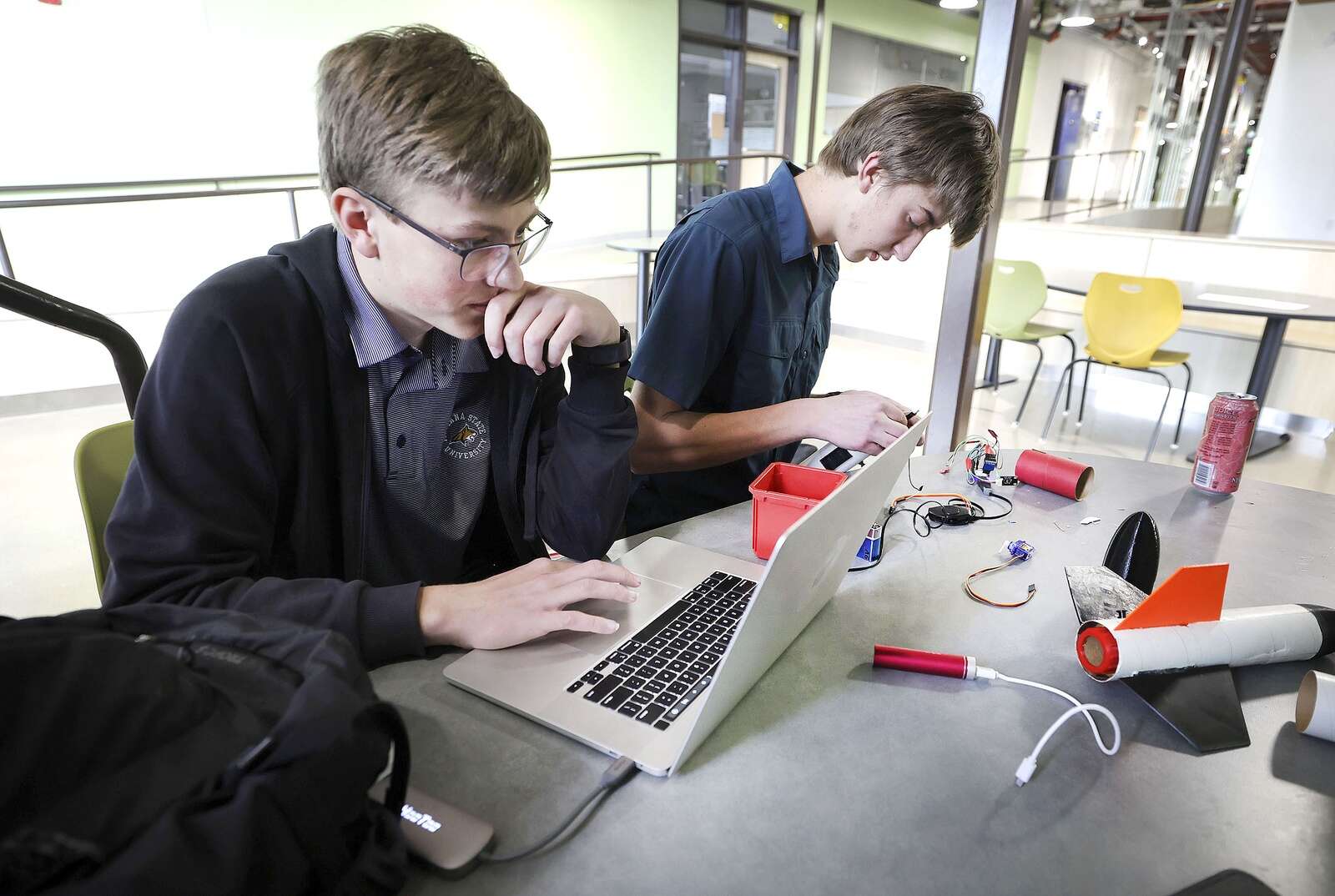 The rocket that Harms was testing does not qualify for the competition. But the team enjoys seeing the innovative nature of his work and lets him test his new ideas, Scot Davis said.
Scot hopes the team will have six rockets with different fin sizes ready to launch for the competition.
Not only does the rocket team provide students with experiential learning opportunities but also allows them to demonstrate their abilities in front of industry leaders like Raytheon Technologies.
"They reserve a conference room in the Senate office building and they invite all the senators and House representatives to come over and tour all the teams' rockets that are on display," Scot Davis said.
tbrown@durangoherald.com