Maggie Yount repeats as women's champion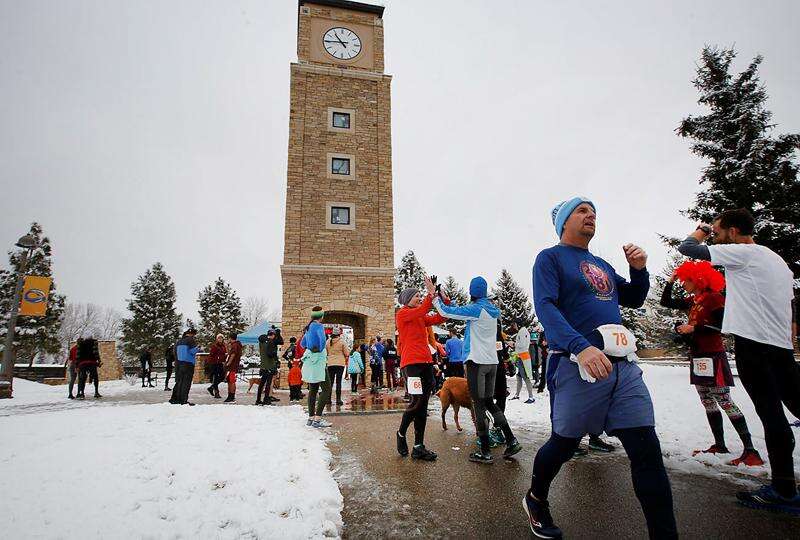 The race organizers were up early to make sure Thursday's Durango Turkey Trot could happen, even with an impending snowstorm and icy conditions from a dusting late Wednesday night.
After the roads were cleared, the Durango running community showed up in force for Thursday's yearly pilgrimage for the prize of a fresh pumpkin pie. And for the second year in a row, the Yount family was able to take one home.
Maggie Yount of Durango won the women's race for the second successive year in a time of 30 minutes, 27 seconds, which was a 6:05 pace and was seventh overall. Cooper Schroeder edged his older brother Jackson, as he won the men's race in 27:26.51, while Jackson was second in 27:27. The brothers are from Manhattan, Kansas, and are sophomores on Kansas State's cross-country team.
The Durango running community came out in force even in less-than-ideal conditions for the race competed on the campus of Fort Lewis College. Close to a record turnout competed in the snow and sloppy road conditions, as over 500 runners ran.
"Snow does not deter the Durango runners, and especially not on a day as special like the Turkey Trot," said race director Matthew Krichman. "It was an amazing turnout, and it's a testament to the amazing running community here, and how much we love to celebrate fitness, health and being outside for a run together on a holiday."
In the women's race, Imogen Ainsworth was second in 31:37, and Stacy Beaugh also of Durango was third in 32:20. Diana Davis was fourth in 35:34 at a 7:07 pace, while Missy Neagos rounded out the top five in 35:47. Kiara Hamlin of Durango High School won the female 17-and-under division with a time of 36:34, which came days after a strong performance at the Nike Cross Regional Southwest in Casa Grande, Arizona.
Krichman, who is usually spotted in a turkey costume gobbling his way to the finish line, opted not to run and said the top priority for him and other race volunteers was for the safety of the runners.
"We could not have held the race without the Fort Lewis College Physical Plant Service," Krichman said. "We had conversations with them over the past couple of days about the campus and plowing the roads. They did an amazing job, and were out here before 6:30 a.m. plowing every road and pathway inside and outside campus to make sure that the runners were safe and the race could proceed. That was the biggest concern, just making sure the conditions were safe."
Yount won her second race of 2019 after she won the Thirsty 13 Half Marathon in June. She has won five out of the last six major area races, as she was 3-of-3 in 2018, when she also claimed the Thirsty 13 and Steamworks Half Marathon titles.
For Yount, the conditions made it a fun race and did not change her race plan.
"It really wasn't bad," Yount said. "It was beautiful. The roads were fine. The road conditions were a bit sloppy, but after you got over the initial cold, it was a beautiful day for a run. I think everyone is thankful that the race still got to go on, and we didn't get what was predicted."
In the men's division, the Schroeder brothers ran at 5:30 pace, which allowed for a close finish. Howard Grotts of Durango was third in 27:46, and just missed out on the top two, as he ran at a 5:33 pace. Guy Lesham was fourth in 29:59, and Steven Fenster rounded out the men's top-five finishers with a time of 30:10.
The conditions did not even slow down older runners, as 79-year-old Steve Stovall finished in just under an hour in 59:41.
"I gave it a go, and I had a blast," Stovall said, a former professor at Fort Lewis. "The reservoir road was a bit tough and sloppy, but everyone was well taken care of, including myself, who was way back. I've done the Turkey Trot for 20 times, and it's always a fun Thanksgiving tradition. It was just a fun day. I was overdressed. No wind, temperature was great and 95% of the course was clean. They did a wonderful job. If we're still here next year, I'm sure we'll do it again."
The race also raised over $5,000 for local charities, and the Marc Witkes Scholarship, which is given to a Fort Lewis College cross-country runner each year.
bploen@durangoherald.com