Holcomb, Lott, Sippy claim titles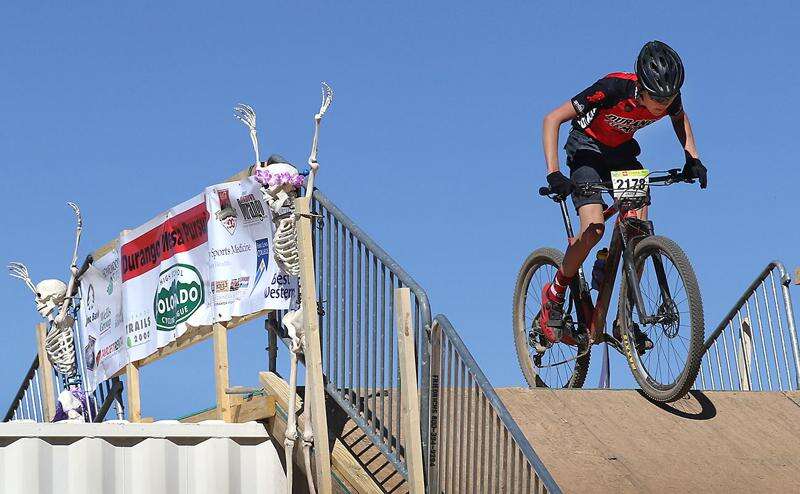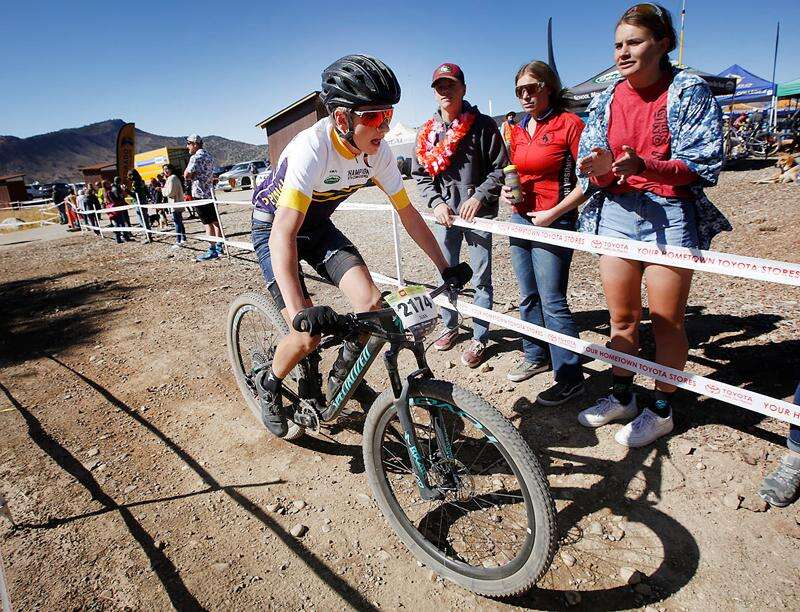 It was a sea of red atop the podium Saturday on the opening day of the Colorado High School Cycling League mountain bike state championships at Durango Mesa.
Durango High School riders took first place in three of the four races held Saturday and missed out on a first-place sweep by less than half of a second. All of the combined results gave Durango a massive points lead in Division 2 with 5,021. That led the 3,591 points from Manitou Springs and 3,543 from Crested Butte, as the Demons were well on their way to a third consecutive state championship in its division.
"We are ending on a high note in our hometown in the last race of the season," said Durango freshman Maggie Holcomb. "We are really coming together as one team to win this title."
The day was capped by an awe-inspiring performance from Holcomb. Too fast for the freshman girls division, she was bumped up to the junior varsity level mid-season. Because she didn't have enough points built up at that level, she had to start in the second wave of riders, who started five minutes behind the season points leaders. After two laps, Holcomb had nearly closed the entire gap to the first-wave leaders, as she won the race in 59 minutes, 30.21 seconds.
Holcomb said she never could quite see Crested Butte's Sarah Bivens and the first-wave leaders while she was on the course, but she knew she was gaining ground in a hurry.
"This is pretty memorable," Holcomb said. "It's probably the hardest I've ever gone in a race. It feels pretty good to get this win.
"My plan was to go as hard as I could without having to pass anybody early since there was that gap between us and Wave 1. I went as hard as I could up the first hill to get as much ground covered as I could."
Lauren Aggeler of Durango also started in the second wave. She, too, turned in an incredible effort to place second, 1:22 behind the time of Holcomb. Crested Butte's Bivens placed third in 1:01:31 after she was technically the first rider to cross the finish line in the race. There were 88 girls in the race.
Holcomb followed in the footsteps of her older sister, Ruth, who also competed at the JV level as a freshman. Now a junior, Ruth will race for a varsity girls state title Sunday against a loaded field of Boulder-based talent.
Durango riders flooded the top-20 in the JV girls race, as Hannah Garvey placed seventh in 1:04:26, Bailey Cioppa was 11th in 1:06:22 and Kelsey Nicholson was 12th in the same time as Cioppa.
Before the JV girls race, Ivan Sippy of Durango completed a dominant season. The Durango High sophomore won his fifth JV boys race in as many events this season. Despite an illness, he crossed the finish line of the three-lap race first in 1:19:42. Wyoming's Tristan Smith was second in 1:20:00, and Chuck Jones of Boulder was third in 1:21:45.
"I did not expect this coming into the year. To do it all the way to the end, it feels pretty awesome," Sippy said of his season sweep. "Being sick, I didn't know how I was going to do today. The first lap, I felt pretty good. The second lap was OK, but that third lap didn't feel good at all. Something wasn't right, but I was going to do whatever I could to finish and stay up front."
Also for Durango, Ian Groom placed fifth in 1:22:22, and Jaden Kirk placed seventh in 1:22:36. There were 150 boys in the race. Sippy was proud of his team's total effort Saturday.
"It's so cool watching everyone else race and seeing everyone give it their all," Sippy said. "I knew I had to give it everything I had, too."
The day got started with a bang for Durango, as Willow Lott earned the championship in the freshman girls race. She started in 56th but worked her way through the masses and completed two laps in 1:04:28 to win by nearly a full minute in front of Megan Heath of Basalt. Durango talent once again crowded the top five, as Durango's Ellie McLean was third in 1:05:22 for DHS, and Animas High star Julia Glotfelty placed fourth in 1:05:37. There were 75 riders in the field.
"I missed a couple races this year, so I had to start way back," Lott said. "I knew on the back road when I could see the leaders that I could get them. I was paranoid starting too far back, but I got it."
Holcomb said she was inspired by Lott's morning win from the back of the pack, and the two were happy to celebrate together as state champions Saturday.
"Maggie and I are such good friends, and it is so amazing to watch her succeed," Lott said. "All day today, Durango was so strong. We're on home turf defending that title, and it feels good for Maggie and I to set the tone for our Durango girls. We've got some good ones to come, too."
The only race Durango didn't win Saturday was the freshman boys, which kicked off the weekend of racing. It wasn't without a valiant effort, as Mack Otter of Durango sprinted to the finish line with Steamboat's Caleb Haack. It was Haack who would win in 53:09.43, and Otter was second in 53:09.85.
"I started 10th and noticed at the beginning that everybody was just going their hardest," Otter said. "That's the thing with freshmen boys is that everyone goes as hard as they can at the beginning and then they start to blow up.
"Coming back around the last few corners, I went to pass the kid in first. He started sprinting, and I knew it would come down to the end."
Otter knows well what it's like to be in a sprint finish. He won the South conference championship race in Eagle two weeks earlier in a similar sprint. Saturday, he said he had the legs to do another lap and was happy to show how well he can perform.
"I'm kind of used to the sprints," he said. "It's a good feeling for me in only my fourth race, and I'm super stoked to see my improvement. There's some potential there."
Boulder had command of Division 1 with Boulder (6,010) and Fairview (5,810) atop the standings with Golden (4,449) in third.
In Division 3, Cortez-based High Desert Composite is in the thick of the action with 1,368 points to sit in third place. Palisade leads with 1,576 points, and Taos Composite out of New Mexico is second with 1,465 points. High Desert had nine of its 11 athletes compete Saturday.
With such an impressive start, a Division 2 state title for Durango High was almost already assured going into Sunday's sophomore and varsity races.
"Everyone on our team is amazing and so supportive," Otter said. "The coaches are awesome, and it's really cool to be part of a team that is so supportive and embraces the sport like this. It's an honor for me to be part of this."
jlivingston@durangoherald.com