Demons survive late Bobcats rally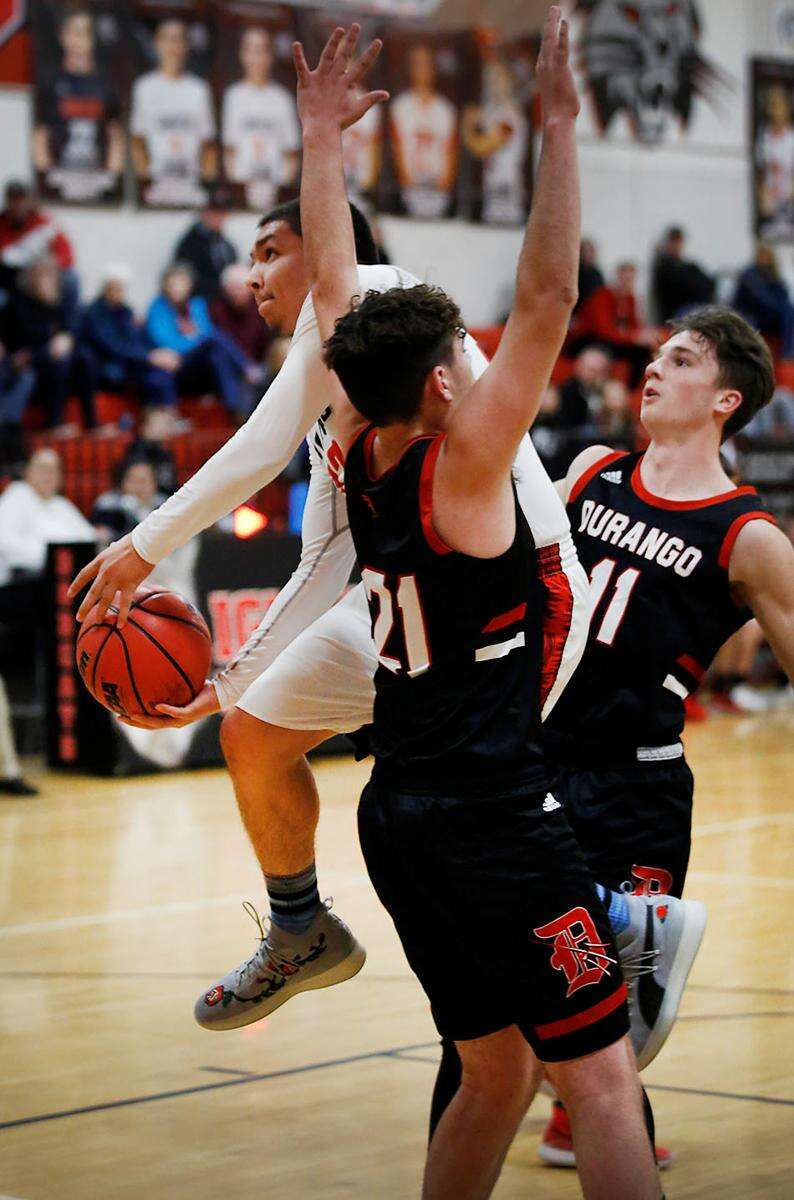 IGNACIO – Durango High School's Jordan Woolverton looked over at the referee and grinned. After the handshake line, he reserved a big hug for Anthony Flint, who moments earlier had delivered the game-clinching play the Demons drew up against Ignacio High School on Tuesday.
The Demons' inbound executed in a two-point game with 1.7 seconds to play worked to perfection in a 49-47 win, much to the relief of Woolverton and confusion from Ignacio fans.
Durango (9-9, 0-3 5A/4A Southwestern League) entered with a three-game losing streak and saw its once big lead trimmed to two points after Ignacio's Ocean Hunter grabbed an offensive rebound and scored a putback layup with 1.7 seconds to play. Ignacio head coach Chris Valdez called a timeout to set up his defense that needed a steal.
After the timeout, Woolverton exploded past defender Triston Thompson and beelined to the baseline and went out of bounds. Flint patiently waited until Woolverton was fully out of bounds. Woolverton caught a chest pass from Flint, and Flint ran inbounds and received a pass from Woolverton, and the game clock struck zero. After a moment of protest from Valdez, the referees handed the ball back to the scorers table and DHS was awarded the win.
"It was a crazy moment, for sure," Woolverton said. "I looked over at the refs, and they seemed pretty confident with their call. I was excited that they saw that it was a drawn-up play. It was legal, and I was just super excited that we executed it great."
Flint, the sophomore sharpshooter who led the Demons with a game-high 18 points and made four 3-pointers in the win, said Durango had used it last season at the Mitchell Tournament in Colorado Springs, and head coach Alan Batiste brought it back Tuesday night.
"It was a great play call from coach Batiste," Flint said. "If I was in coach's situation, I definitely would have not thought of that, but it threw Ignacio off. I told the refs, 'You're not going to call this, are you?' I thought it was legal, and it was."
Woolverton was the team's second-leading scorer with 13. He helped DHS get off to a quick start in the first quarter with a quick seven points, and the Demons had a 15-7 lead after the first.
Ignacio's offense went cold, as the Bobcats did not score from the two-minute mark of the first quarter until Bird Red made two free throws with 4:40 left in the second quarter. During that stretch, Durango went on an 8-0 run. When Red made the free throws, Durango led 23-9 with 4:40 left in the half.
The Bobcats (10-2, 6-0 2A/1A San Juan Basin League), ranked No. 5 in the latest CHSAANow.com Class 2A poll, would get within 28-16 by halftime.
Ignacio point guard Brady McCaw, who led the Bobcats with 13 points, thought the Bobcats came out flat after not playing a game in nine days.
"It impacted us heavily," he said. "We need to get that game experience and that flow from the beginning. When we take long breaks like that, we're sure to get a little rusty. I thought we did a good job of shaking off that rust in the second half and coming back. We were down 23-9, and we only lost by two. That's why we have to play well from the start of the game. If we do that, I think we win tonight."
In the third quarter, Ignacio made its run, thanks in large part to its bench. After Woolverton had his second steal-and-score basket of the night to make it 36-22 with 3:45 left in the quarter, it seemed the Demons were in cruise control. The Bobcats, specifically Dylan Labarthe, had other ideas. The junior scored five points, recorded three steals and also got two important offensive rebounds to revitalize Ignacio's offense. He finished the game with nine points, and IHS closed the quarter on a 10-0 run to make it 36-32.
"We were out of rhythm, without question," said Valdez. "We needed a gut check, and we need to come out and be ready to play from the start. I thought our best performance tonight came from Dylan and Bird Red as post players. They were making things happen. From there, Brady turned it up defensively working his tail off from both ends of the ball and was trying to will his team to help him."
In the fourth, Flint opened the quarter with back-to-back 3s in the left corner and then had an uncontested fast-break layup after a missed free throw that gave DHS a 44-33 lead with over six minutes left.
Late in the game, Thompson made a 3-pointer to make it a four-point game with 27.7 seconds left. IHS would get closer on the Hunter layup, but it came a bit too late with only the 1.7 seconds to play.
Both teams will return to league play this weekend, as Ignacio will travel to face Ridgway (5-9, 2-5 SJBL at 7 p.m. Friday), while Durango will hit the road to face Grand Junction Central (5-13, 1-2 SWL) at 7 p.m. Friday and Class 4A No. 9 Montrose (15-3, 3-0 SWL) at 1:30 p.m. Saturday.
bploen@durangoherald.com