Coal-fired locomotives to resume service July 4, weather permitting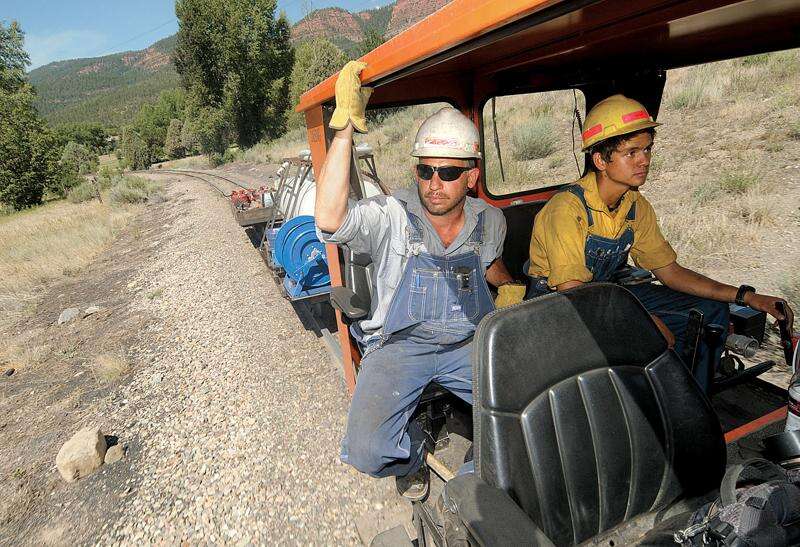 A familiar sight in Durango will return Friday – the Durango & Silverton Narrow Gauge Railroad train.
Railroad owner Al Harper said Thursday the train will start running shorter trips on sections of the historic line from Durango to Silverton, but this time, with a diesel engine.
"Coal-fired steam engines will have to wait," Harper told La Plata County commissioners during a meeting about fire restrictions. "We don't want to put the community at anymore risk than it's been at."
The D&SNG suspended service June 1 after the start of the 416 Fire about 10 miles north of Durango. The fire, which remains active, has burned through more than 34,000 acres of land mostly on the San Juan National Forest.
The investigation of the fire's cause is ongoing, but the train has been identified as a possible culprit after eyewitness accounts that the fire started right after the train passed homes along Irongate Way.
Since the fire broke out, business communities in Durango and Silverton have taken a huge financial hit, both because of the impacts of 416 Fire and also because the railroad, which draws thousands of tourists each year during the summer, hasn't been operating.
Harper said the region has suffered an estimated $21.2 million loss since the beginning of June.
"We have destroyed Silverton's economy," he said.
The train, for its part, has canceled 33,000 trips and has had to furlough 150 employees.
Harper said he was under "a lot of pressure to do something," resulting in the decision to at least start to offer shorter trips using a diesel engine.
The railroad will run three trips daily Friday through Sunday from its depot in downtown Durango to its event park several miles north of city limits in the Animas Valley. It will extend those runs to Cascade Canyon from Monday through July 3. And beginning July 4, the railroad plans to resume coal-fired steam trains to Silverton, if drought conditions permit.
La Plata County commissioners on Thursday declined to lift Stage 3 fire restrictions, which prevent the operation of any coal-fired steam engines. But the railroad is optimistic commissioners will have lifted Stage 3 fire restrictions by then, said Harper's son, John Harper, who serves as general manager.
John Harper said the railroad intends to work closely with federal, county and fire officials to reach agreement on when it is safe to operate coal-fired engines.
Diesel engines owned by the D&SNG don't have the power to make the trek to Silverton.
Coal-fired steam engines are infamous for throwing off hot cinders that land on the ground and start fires. Al Harper said the train has measures to put out fires, but apparently, it may not have been enough.
"We did everything humanly possible to prevent a fire ... but there's only so many things you can do," Al Harper said. "The rest is up to good fortune."
Al Harper vowed to not run coal-fired steam engines until the region receives enough moisture to end the risk of high fire danger.
Durango Fire Protection District Chief Hal Doughty told commissioners the fire department feels comfortable letting coal trains run again, despite the fire danger.
"No matter what we do in our community, there's always going to be a risk of fire," Doughty said.
Commissioner Julie Westendorff rebuffed this notion and pointed out that just last week Doughty petitioned commissioners to ban coal-fired engines, even citing several instances from the past few weeks where the train started smaller fires.
"It feels to me disingenuous to say a week ago we had a crisis ... and a week later we get an inch of rain and magically that threat isn't there anymore," Westendorff said. "And I don't think our community believes it."
Nathan Morris, a Durango resident for 16 years, said he understands what the Durango train means to the economy, but for the good of the community, the train has to make some serious changes to prevent another fire.
"There are people who are furious and hurt ... and if the train cannot be a good community partner with its current ownership, we're going to have a big fight, and it's not going to be good for the community," Morris said.
Al Harper said he has crews working to rebuild a more than 50-year-old engine to run on oil, which carries less fire danger, that will be ready for next season. The train will also investigate options for diesel that would be able to make the trip to Silverton.
"It's not as easy as people think," John Harper said.
But Al Harper said changes are coming. He recalled that when he bought the D&SNG in 1998, he made a statement that the train would always run on coal.
"But the world is changing, and Al has to adapt," he said. "And I will."
jromeo@durangoherald.com