More than 50 people make 16-hour trip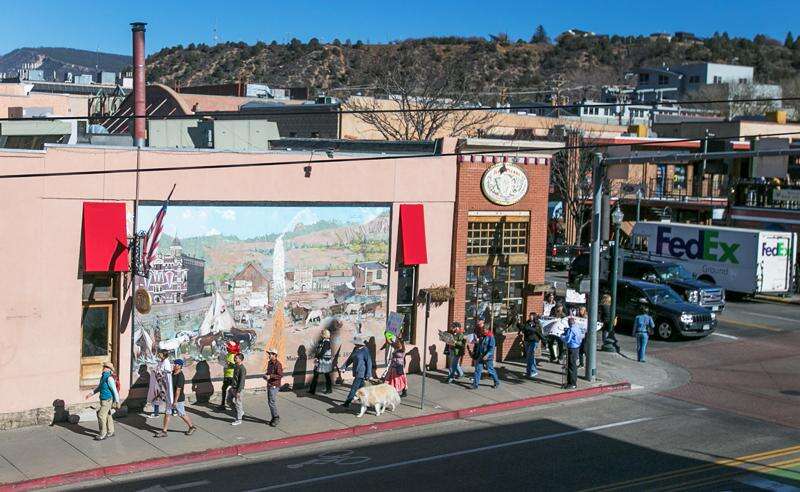 A caravan of more than 50 students, professors and others set out Tuesday morning from Durango on a 16-plus-hour drive to Standing Rock, North Dakota, to spend Thanksgiving break in solidarity with tribes across the nation protesting a controversial oil pipeline.
"I just felt a calling to be up there," said Damon Young, a Fort Lewis College student from Taos Pueblo, New Mexico. "I'm looking forward to the spiritual connection more than anything, and to be able to bring back what I learn to my own people, who are also facing water right battles."
This summer, opposition mounted to a 1,170-mile pipeline that would transport 470,000 barrels of oil a day from the Bakken oil fields in North Dakota to other pipelines in Illinois, known as the Dakota Access Pipeline.
The pipeline would come within a half-mile of actual reservation land, and tribal members say it would traverse ancestral land, including burial grounds, and be built under the tribe's reservoir, which provides drinking water. Tribal members of Standing Rock, the country's sixth largest reservation, which straddles the border of the Dakotas, also argue they were not properly consulted in the pipeline's planning process.
While protests have remained relatively peaceful, in the past few days, protesters, who prefer to be called "water protectors," have clashed with police. On Sunday, law enforcement officers used rubber bullets, tear gas and water from a fire hose on demonstrators, who police said were acting "very aggressively."
"This mistreatment by police says a lot about our country," said Fort Lewis College student Whitney Smiley, whose brother went to Standing Rock a few weeks ago and was shot by a rubber bullet on Sunday. "People are just fed up with being neglected and oppressed and pushed over by corporations. It's a world problem, not just our problem."
Anthony Nocella, assistant professor of sociology at Fort Lewis College, said the 14-car, 50-plus person trip out of Durango is one of the largest independently organized caravans from a university. He said students wanted to show solidarity with the tribes in Standing Rock, in large part because the student enrollment at Fort Lewis College is about 36 percent Native American, representing hundreds of tribes across the country. "Our goal is to protect land and water, globally and locally," Nocella said.
Nocella said the attendees have taken a pledge to remain sober and nonviolent during the trip.
Organizers also gathered food, clothing and camping gear to donate to the demonstrators as the harsh South Dakota winter sets in. A GoFundMe campaign has raised just over $2,000 of its $3,500 goal.
Nocella said students will arrive at a university close to the Standing Rock camp, and they then plan to participate in various activities until they head back to Durango on Sunday. He said he was unsure if the students from FLC would enter the protest's frontlines.
"I'm more nervous about the cold," said FLC student Chris Mendosa, referring to South Dakota's below-freezing temperatures as being more concerning than police tactics.
Terri Etsitty, also a student, said she'd rather spend Thanksgiving break in Standing Rock for the first-time experience of seeing so many people come together for a common cause, especially one that involves her own heritage.
"As a Native American, we have a certain bond with the Earth," she said.
"And for water to be put at risk for contamination by a pipeline so close to a reservation is just unacceptable."
The Army Corps of Engineers announced last week it would delay the pipeline until it conducted further analysis on its impacts.
jromeo@durangoherald.com
An earlier version of this story said students were heading to South Dakota. They are actually protesting in North Dakota, along the border with South Dakota.