Vocal group at 9-R feedback session says leave the decision to parents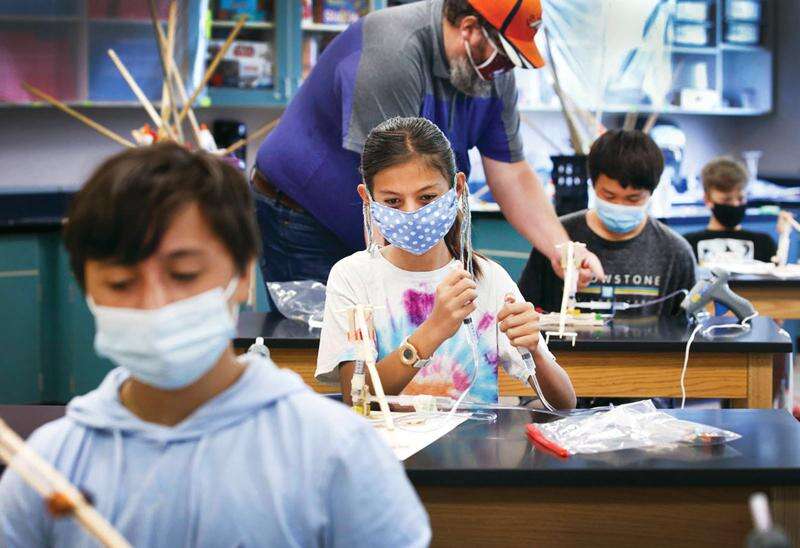 Durangoans are split on whether students should be required to wear face masks next school year.
Durango School District 9-R conducted a survey and held a feedback session Tuesday as part of the district's effort to get a pulse of the community before issuing procedures to deal with COVID-19 for the 2021-22 school year.
The district plans to release those procedures next week.
The most vocal group at the session, attended by about 100 people, clearly wants the decision about masking to be left to the parents, not forced on children by district policy.
Durango neurologist Eric Edgar said 9-R and much of the nation's school systems have been putting public health before education. That's a mistake, he said, when all the data show children have an extremely low risk of suffering serious consequences if they contract COVID-19.
"From the beginning, we've known the risk to children from this disease is low," he said. "On the other hand, every student is at risk from a poor education and adverse social-emotional outcomes."
On the other end of the spectrum, Serra Meyer, a nurse at Mercy Regional Medical Center, said Mercy's ICU is full, and she urged caution in dealing with COVID-19 for the coming year.
"We haven't seen what the delta variant is capable of, and that should concern everyone," she said.
Meyer suggested requiring face masks for all students would be the safest route to keep schools open and normal in-person school learning the practice rather than resorting to bouts of required remote learning.
"A simple practice like wearing a face mask will allow learning in schools without resorting to things like cohorting," she said.
Karen Cheser, 9-R's new superintendent, said more is known about COVID-19 now, and the hope was this year would allow for a return to school without taking added precautions to deal with the coronavirus.
"We thought it might be over, but it is not," she said.
The school district has expertise in education, not in health, and Cheser said 9-R would rely heavily on guidance from health experts and feedback from the community.
The district, she said, also wants to hear from parents and the wider community, which is what drove Tuesday night's feedback session.
"We want to hear from the community. We know this is an issue people are passionate about, and they should be," she said.
Vanessa Giddings, 9-R's director of student support services, said health agencies 9-R would look to in adopting COVID-19 policies for 2021-22 would be the Colorado Department of Public Health and Environment, the Centers for Disease Control and Prevention, and San Juan Basin Public Health.
Last year, 9-R was under a public health order, which limited its flexibility in devising COVID-19 procedures in school year 2020-21.
However, next school year, with public health orders now expired, the district will have more flexibility in devising COVID-19 procedures, Giddings said.
Britny Hanson, the mother of a 4-year-old and a 9-year-old, said forcing unvaccinated students to wear masks was discriminatory and in effect makes a child's health record public, which she said is illegal.
Hanson vowed to have Cheser removed if 9-R forces unvaccinated students to wear masks next school year.
She also called for community members to sign up to run in the November school board election against existing board members, who she said had taken too much control of children's education away from parents.
"We need to take back our schools and give power back to the parents," Hanson said.
parmijo@durangoherald.com