Victorian-style home will celebrate its 130th birthday this summer
The Gable House will celebrate its 130th birthday this year under new ownership.
This comes after previous owner, Heather Bryson, sold the Victorian-style home to Charles Goodman and Tracie Trotter on May 12.
The house sold for $2,339,000, said La Plata County Assessor Carrie Woodson. It was not immediately known whether the sale price included any value for the bed-and-breakfast that operates out of the Gable House, she said.
Goodman is an entrepreneur from Santa Fe, and Trotter is a former nurse who spent much of her life in the Taos, New Mexico, area.
The Gable House was built in 1892 by James and Eliza Schutt, who owned multiple businesses in Durango and Cortez nearing the turn of the 19th century. Since then, the building has been used multiple times as a mercantile shop and was even La Plata County's first public hospital.
In 1970, the house was purchased by Jeffrey and Heather Bryson. The couple were students at Fort Lewis College at the time of purchase and often rented out rooms to other students to help pay the mortgage. They did this while renovating the house and making it into the building it is today.
"We were college students at the time we purchased the house. I was 19 and my husband was 21. Durango was still a very little town at the time and we came from back east to attend Fort Lewis College," Heather Bryson said. "Back then, students used to hitchhike up and down the hill and that's what we did."
During that time, East Eighth Avenue was often the drop-off point for students who hitchhiked to the college. This is where the Brysons found their inspiration to purchase the Gable House.
"We'd walk by it all the time and think, 'Gosh, this is a magnificent building.' We were used to the architecture back east. You could tell she was a wreck, but she was brick and that was a big saving grace," Bryson said.
The house was originally a private residence, but in 1991, Bryson decided to turn it into a bed-and-breakfast. This transition was special for Bryson, who took joy in introducing Durango to visitors.
"It brought the world to me and to my family. It gave people an understanding of how wonderful Durango is," she said. "It's costly to get here, and once they get here, I wanted them to enjoy our town and be a good host in order for them to take back wonderful memories."
While the bed-and-breakfast is under new ownership, it was important to both parties that the building stay the same. Much like the Brysons, Goodman and Trotter live in the Gable House.
Goodman said the Gable House made a top-10 list in a book about historic homes in Colorado.
"It's just a fabulous property and when you look at the transformation that home has gone through under the stewardship of Heather Bryson, it's just phenomenal," he said.
Goodman originally was looking for a home in Durango and Trotter had always wanted to retire in the community. Goodman said Trotter had always wanted to be an innkeeper and the more they looked into the Gable House, the more they became interested.
Because of her background as a nurse, Trotter has a unique connection with the house because of its history as a hospital.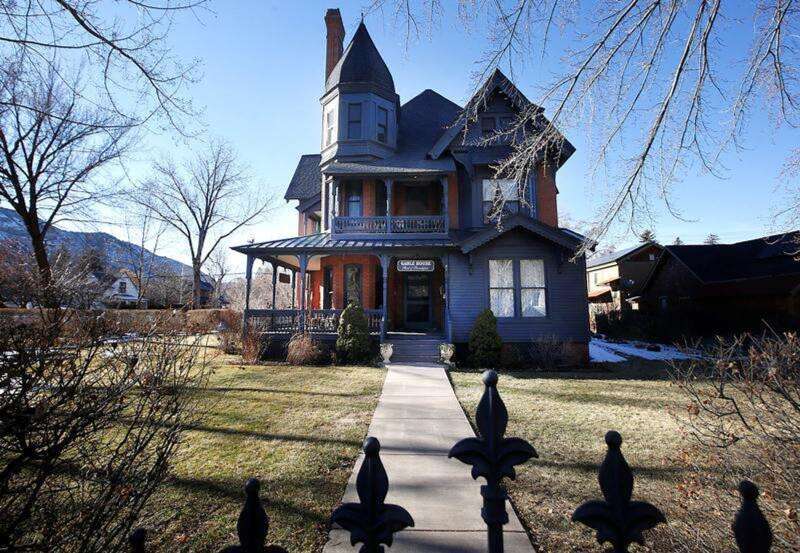 "Just the presence of who she is. For me to come in as a retired nurse and care-take for a building that served as a hospital is also a privilege," Trotter said. "We have people come by all of the time and say, 'My mother was born here.'"
While the Gable House is generally thought to be lodging for out-of-town visitors, the couple hope to engage the community as well. Trotter wants Durango locals to visit the home for staycations and aspires to work alongside local businesses.
For the celebration of the house's 130th birthday, the Gable House will be hosting an ice cream social in partnership with Cream Bean Berry.
"I want to be an ambassador for local businesses. I'm working with a bakery, coffee companies, the cidery and chocolate companies. ... Anything I can do to promote local business, I'm doing," Trotter said.
Bryson's decision to sell the home may be an end of an era but she still lives close by. Bryson and her husband now live in the same neighborhood, just so they can look at the Gable House whenever they want.
"People used to ask me where I grew up and I told them 'Alexandria, Virginia,' and then I got to thinking: I didn't grow up there. I grew up right here and raised my family in the house and tried to be as good of a steward as I could," Bryson said. "Finally, I found the best people to take over my stewardship."
tbrown@durangoherald.com