Blevins falls behind on tough stage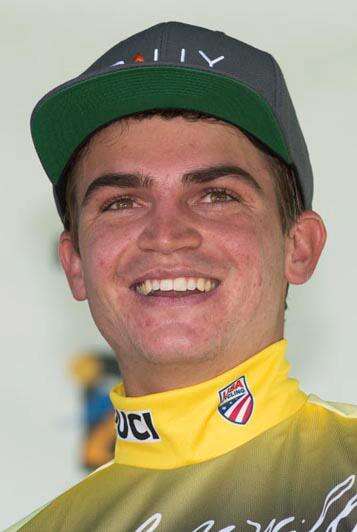 The toughest stage of the Colorado Classic was mastered by one Durangoan.
Seep Kuss, 22, finished 12th on Stage 2 of the four-stage UCI race Friday in Breckenridge, but he expects a review of a late incident to improve his position. He completed 10 laps of 6.4 miles for a total of more than 7,000 feet of climbing in 2 hours, 53 minutes, 17 seconds, but that time is expected to improve. The stage was won by Denver's Alex Howes in 2:51:17.
Kuss' result came one day after he finished 17th on the opening stage in Colorado Springs.
"It was a very tough day with 10 laps of a steep climb at high altitude," Kuss said in an interview with The Durango Herald. "There was a dangerous break up the road early on, but the guys rode out of their skin to bring me within striking distance."
Kuss is unofficially in 13th in the GC standings and is 2:11 behind leader T.J. Eisenhart of Utah. He expects to move further up if a ruling goes in his favor. Kuss will rely on the 3-kilometer rule that states if a rider suffers a fall, puncture or mechanical problem in the last 3 kilometers, the rider will be credited with the same finishing time of the riders he was with at the time of the incident.
"I made the selection on the closing laps and was just off the lead group of three heading into the final kilometer," Kuss said, "but I washed out in a corner. I expect they will give me a prorated time due to the 3-kilometer rule, so fifth on GC heading into the last few days."
Durango's Christopher Blevins, who finished 10th on the opening stage, had a tougher day. He finished 61st on the stage in 3:07:34. The 19-year-old is now 53rd overall in the general classification standings and is 16:28 behind.
"It was a beautiful stage because it just put it down to the pure basics of racing," Eisehart said in a post-race press conference.
"This is the type I love: straight from the gun who has it. It's like taking your gloves and boxing it out."
Howes is in second place overall only one second behind Eisenhart. Boulder's Peter Stetina is third at 11 seconds back.
"I really wanted to win here today because I knew whoever takes the win has best shot at overall. This is one of those few races without a time trial, and to get the win today was pretty special," Howes said in a post-race press conference.
Friday's stage featured the Moonstone Road climb that soars above 10,000 feet with 600 feet of elevation gain in one mile at a grade of 8.3 percent.
As a single climb, Moonstone is nothing outrageous, but cyclists had to conquer it 10 times Friday.
The Colorado Classic, in its inaugural year and part of the Velorama festival, will continue Saturday in Denver with an 81-mile out-and-back ride west on the Peak to Peak Highway with a return ride through Golden Gate Canyon State Park.
Sunday's final stage is a circuit race through the streets of Denver. The 7.5-mile loop will be ridden 10 times.
In all, the professional men's cyclists will complete 313 miles with more than 20,000 feet of elevation gain.
"Tomorrow will have some tough climbs early on – some of my favorite training roads outside of Boulder," said Kuss, a 2017 graduate of the University of Colorado at Boulder.
"So, I plan on racing aggressively and hope to get some time back on GC."
The two-stage women's race concluded Friday in Breckenridge. Canada's Sara Poidevin of the Rally team won the six-lap stage to take over the general classification lead and claim the first women's title of the Colorado Classic. Tayler Wiles of California placed second.
jlivingston@durangoherald.com