Conservation easements complicate use of 'motorized vehicles' on natural surface trails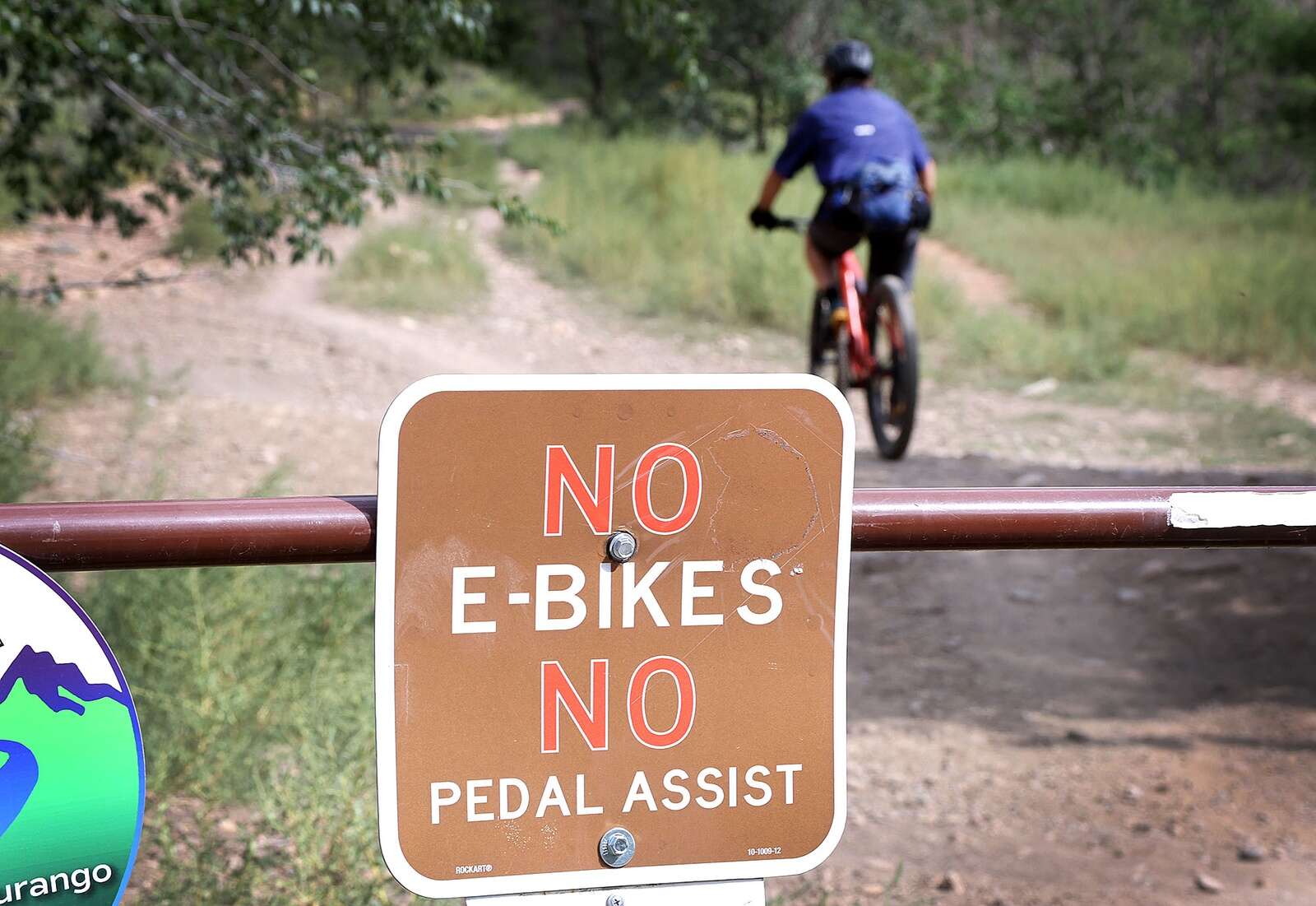 Love them or hate them, e-bikes have been on Durangoans' minds for years. Durango City Council had planned to discuss allowing them on the city's natural surface trails at Tuesday's council meeting, only to be told conservation easements prohibit their use at Horse Gulch and other trails.
Durango has steadily opened use for Class 1 and Class 2 e-bikes on paved trails, such as the Animas River Trail, and Class 1 e-bikes are permitted at Twin Buttes. But conservation easements on Horse Gulch, Dalla Mountain Park and Overend Mountain Park trails disallow the use of motorized vehicles on those lands.
The easements could be amended to allow e-bikes, but that process would be "onerous" and lengthy, according to a staff report delivered to City Council.
Amy Schwarzbach, natural resources manager for Durango, said seeking an amendment to the conservation easements owned by La Plata Open Space Conservancy could have unintended consequences.
The only way the city may be able to allow e-bikes on conservation lands is to identify areas where no more trails will be built or to create an area where no trails can ever be built, Schwarzbach said.
It's hard to pinpoint what concessions the city might need to make to modify standing conservation easements until the process is started, she said.
"Amendments to any conservation easement cannot negatively impact the conservation values of the property," she said in an email to The Durango Herald. "So this process will require demonstration that all conservation values are not diminished by adding e-bike use."
The conservation values for the easements at Horse Gulch include wildlife, scenic, open space, educational and recreational values, she said.
Past wildlife-impact studies to identify how recreationists moving faster or slower, quieter or louder, change the behaviors of mule deer and elk (which were radio collared and tracked over years) were costly in time and money to the federal government, she said.
"Our amendment process may necessitate more extensive review of research that has been done or it could necessitate our own research," Schwarzbach said.
She said Durango promised to protect conservation easement land "for generations to come" when it agreed to the easements in 2010.
Ture Nycum, Durango Parks and Recreation director, recommended City Council allow city staff members to work with legal counsel in preparing an amendment request for Horse Gulch's three conservation easements to La Plata Open Space Conservancy.
He said Horse Gulch is the largest open trail space with trails geared toward a variety of skill levels, whereas Dalla and Overend mountain park trails are tighter and offer fewer sight lines for cyclists and hikers. Further, Horse Gulch is planned to connect to the future trail system at Durango Mesa Park, which is intended to allow e-bikes.
It would also be cheaper to pursue amendments for the Horse Gulch easements first – acquiring a blueprint for future amendments in the process – than it would be to tackle the six easements that collectively overlay Horse Gulch, Dalla and Overend Mountain Park trails, Nycum said.
It would cost $18,000, not including staff, legal and appraisal expenses, to pursue amendments for all of the conservation easements under consideration. If the city were to focus solely on Horse Gulch for now, the cost would be $9,000, not including additional costs, he said.
The city's 2005 Open Space, Parks and Trails sales tax fund would pay for the expenses.
Nycum said staff members determined through research and conversations with other municipalities across the country that initiating the conservation easement amendment process to accommodate e-bikes would be a nationwide first and precedent-setting. He said the move would attract a lot of attention as it plays out.
"We would be setting precedent here in the city of Durango for the nation and will be very much watched," he said.
City Council voted unanimously to have staff members pursue the amendments, but not without trying to find a workaround first. Councilors Olivier Bosmans and Kim Baxter dissected the definition of "motorized." According to the state, e-bikes are considered the same as any other bicycles for intents and purposes.
But the fact remains that e-bikes rely on motors, which are restricted under the conservation easements in question, Schwarzbach said.
City Councilor Melissa Youssef said the year-or-more time frame for addressing conservation easements is "a disappointment."
"We've been talking about e-bikes for years and years and years. It's disappointing to me to hear that it's going to take at least another year to even get them into Horse Gulch," she said.
She said Durango is a "mountain biking mecca" and the city should be progressive insofar as creating inclusive policies for e-bikes.
Residents have expressed throughout the city's evaluation process of e-bikes and natural surface trails that e-bikes allow people with disabilities to enjoy Durango's trails with their friends and families. Some residents said prohibiting e-bikes on the trails is discriminatory.
Mayor Barbara Noseworthy said she is discouraged it will take so long to go through the amendment process for conservation easements.
cburney@durangoherald.com