Lifelong resident owned bike shop, co-founded Iron Horse Bicycle Classic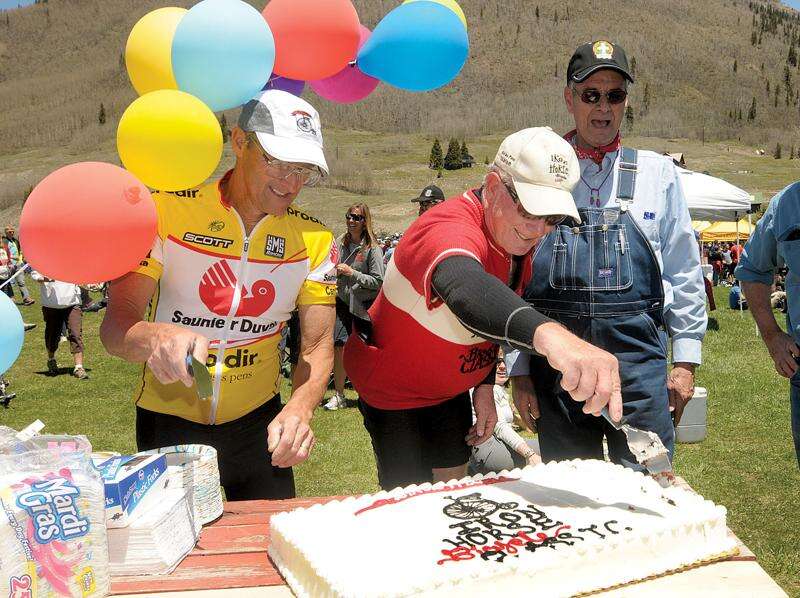 Ed Zink, a founder of the Iron Horse Bicycle Classic, owner of Mountain Bike Specialists and longtime La Plata County rancher, died Friday from complications of a heart attack. He was 71.
Family and friends said they will remember Zink as a man who constantly served his community.
"He lived a life of service at an individual level, at the community level and just cared about making the community a better place," said his son, Brian Zink.
He said his father had a "servant's heart" and was willing to stop what he was doing to volunteer for La Plata County Search and Rescue and help those in need.
"He did that without hesitation or regret or frustration," Brian Zink said.
Ed Zink, a Durango native and a pillar of the local community, was owner of Waterfall Ranch, a longtime advocate for mountain biking and chairman of the Iron Horse organizing committee for decades. He also led efforts to bring the first World Mountain Bike Championships to Durango in 1990 and organized the event.
His contributions to the community were recognized by former Gov. John Hickenlooper who named March 1, 2018, as Ed Zink Day.
Zink is survived by his wife, Patti Zink, and his three children, Brian Zink, Tim Zink and Kristi Zink.
The Durango community recognized Zink's contribution in 2005 when he was named Citizen of the Year. During that ceremony, he shared his love for Durango with the crowd:
"I grew up in one of the best places in the world. The only smart thing I did was stay here. I couldn't imagine how my life could be better. ... All I've done is have crazy ideas. Ideas like people who have perfectly good cars ride their bikes to Silverton."
Zink founded the Iron Horse with Tom Mayer, one of the brothers on which the race was based. Mayer, a cyclist, famously bet in 1971 he could get to Silverton on his bike faster than his brother, Jim, who worked on the Denver & Rio Grande Western Railroad line from Durango to Silverton. Zink later helped organize international events, such as the Olympics in Atlanta and Nagano, Japan.
He had the vision and drive to think big and make things happen, especially when it came to planning trails and events, said Trails 2000 Executive Director Mary Monroe Brown.
"He did that his whole life and inspired other people to walk in his footsteps, to help carry the torch he lit for Durango," she said.
Director of the Iron Horse Gaige Sippy said that while Zink had an extensive mountain bicycling resume, he wasn't a typical cyclist.
"Ed wasn't a shaved-leg type of cyclist," Sippy said.
Sippy also recalled Zink as a hard worker throughout his life and attentive listener.
"He was confident he was going to learn something from everybody he spoke to," he said.
Zink got into business after his father, John Zink, purchased Crawley Sporting Goods in 1968.
John Zink asked Ed, who was 20 at the time, if he would like to run the shop and Ed accepted the offer, according to "Waterfall Ranch: The History and People of a Special Place in the Animas Valley," a book about the Zinks' family ranch.
Crawley Sporting Goods became the Outdoorsman, a general sporting goods store. Then in 1987, Ed Zink bought the Fort Collins-based Mountain Bike Specialists. The business won best Best Mountain Bike Shop in the U.S. in 2016 at the Interbike industry trade show in Las Vegas.
On the shop's website, Zink and all the staff answered questions about biking. To the question, "What is your favorite bike to ride?" Zink wrote: "The next one I am on." To the question: "Favorite trail in Durango?" he answered: "The last trail I did."
Zink was also well-known as the owner of Waterfall Ranch, which celebrated its 100-year anniversary under the ownership of the Zinks in 2017.
Ed Zink's grandfather, John J. Zink, and his family moved from Nebraska to Southwest Colorado in 1910.
Zink was the only one of his five siblings never to move away from the ranch and took on much of the responsibilities of running the ranch in the late-1980s and early 1990s.
Zink and his wife, Patti, have restored 50 acres of the 150-acre ranch to wetlands and were recently approved to restore another 15 acres. The couple started researching wetlands banking in 2006 because they wanted to purchase neighboring property that had been part of their family's original ranch but couldn't afford to just raise hay on it. Wetlands banking allowed the family to restore property and then "sell" those acres to agencies or developers who are building on wetlands in other areas, according to Waterfall Ranch.
Ed also served on numerous boards, including the Animas Consolidated Ditch Co., USA Cycling, Trails 2000, San Juan Mountain Association, The Durango Herald's board of directors and many others.
"Ed, like his father, John, was comfortable in both rural and city environments and a leader in each," said Richard G. Ballantine, chairman of Ballantine Communications Inc., which owns the Herald. "We asked Ed to join the Herald's board of directors because the Ballantine family admired his imagination and creative energy and his perceptive insights into events and people. He delivered all that. There was also no fuzziness with Ed. He believed in setting goals and then accountability."
A memorial service will be held at 10 a.m. Monday at the Community Concert Hall at Fort Lewis College.
Contributions in memory of Zink can be made to Trails 2000 and the Mercy Health Foundation.
mshinn@durangoherald.com