A meeting will be held Tuesday to discuss possible road improvements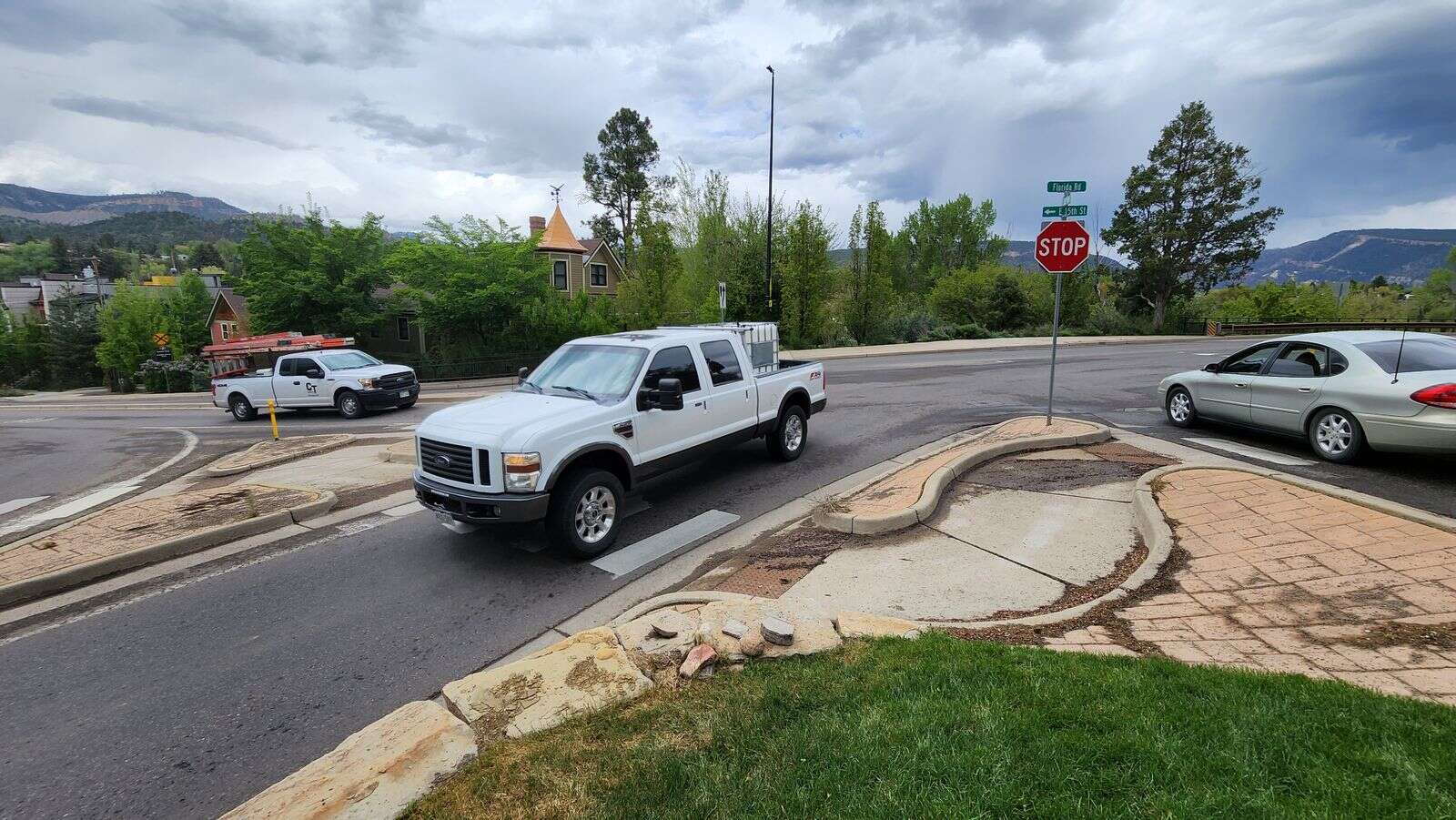 The three-way intersection of Florida Road, 15th Street and East Third Avenue – referred to by some Durango residents as "malfunction junction" – can be a headache to navigate for drivers, pedestrians and cyclists.
Numerous crashes have occurred at the site, and a traffic study coordinated by the Colorado Department of Transportation and SEH gave the intersection an "F" grade for service because of the traffic congestion that occurs during peak hours of use.
Southbound drivers turning left from Florida Road onto East Third Avenue must yield to northbound 15th Street traffic. On the other side of the intersection, East Third Avenue commuters turning left are frequently stuck at a stop sign, waiting for all traffic to pass before they can go.
But the messy intersection is on the city's radar. City staff members want to hear from residents about how to redesign it making it safer and easier to cross.
A public meeting about connectivity for pedestrians and cyclists in midtown, which includes the three-way intersection as well as the intersection at 14th Street, Main Avenue and Camino del Rio, is scheduled for 5 p.m. Tuesday in rooms 1 and 2 at the Durango Public Library.
Devin King, transit multimodal administrator, said the installation of a roundabout at the intersection is one possible solution. A continuous flow intersection, similar to the DoubleTree intersection at South Camino del Rio and U.S. Highway 160 West, is another alternative.
City staff members haven't yet gotten into the nitty-gritty details of possible redesigns because they want to first hear from the public, he said. But they have a few main options to review on Tuesday.
'F' for failing
Interest in improving the intersection at Florida Road, 15th Street and East Third Avenue first appeared in the city's 2016 multimodal transportation plan for the midtown area, King said. Funding for a traffic study was budgeted in 2020 and relied on contributions from a 2015 half-cent sales and use tax.
In 2021, the city contracted the study out to SEH construction , but CDOT was also planning to conduct a traffic study of the 14th Street and Main Avenue intersection. CDOT was amenable to including midtown improvements in its traffic study, he said.
The traffic study revealed the Florida Road, 15th Street and East Third Avenue intersection and the 14th Street and Main Avenue intersection operate at a service level of "F," which essentially means "failing," King said. The study considered options such as a roundabout at "malfunction junction" and also looked 20 years into the future.
The study determined a roundabout would improve the level of service at Florida Road, 15th Street and East Third Avenue to an "A" grade, based on current traffic flows.
But if traffic demand grew by 80% by 2041, the service level at the Florida Road, 15th Street and East Third Avenue intersection would revert to grade "F." If growth were to increase by just 16% by 2041, which is closer to the city's projected annual growth rate of 2%, the intersection would maintain a grade level of "B," he said.
"We're in the very beginning stages of the project. So we're hoping to get feedback on conceptual alternatives," he said.
King said the traffic study that concluded in 2022 and a brief history of the project will be reviewed at Tuesday's meeting, and CDOT representatives will be present to speak more about the 14th Street and Main Avenue intersection.
Camino Crossing, midtown two-way bicycle track under the city's eye
At a study session Tuesday with Durango City Council, King said the Camino Crossing – a proposed underpass near the intersection of 12th Street and Camino del Rio intended to connect downtown to the Animas River Trail – is reliant on the Durango Fire Protection District's site plan for its Station 2 rebuild at River City Hall.
"Before we spend all the money on the hard engineering, we want to make sure (our) planning alignment and everything will coalesce with what else is going on," he said.
The underpass has been talked about for at least a decade if not two decades, he said.
King also showed plans for a two-way bicycle track on East Second Avenue between 13th and 15th streets. He said the intersection at 15th Street and East Second Avenue can have more than 200 cyclists and 90 pedestrians pass through it during a two-hour period. They use it to get downtown from the Animas River Trail, or vice versa.
"That cycle track to get folks into downtown is important for that reason," he said. "But specifically, the right of way on East Second Avenue is a little bit narrow. Doing a cycle track actually saves some space as opposed to just having separate bicycle lanes."
cburney@durangoherald.com
An earlier version of this story included an incorrect photo caption that referred incorrectly to the 15th Street, Florida Road and East Third Avenue intersection. The story also incorrectly identified the company that performed a traffic study, SEH, with CDOT.