Alyssa Buescher brings skills to Tico Time, other events
Alyssa Buescher never planned to become a professional fire performer.
Buescher, who moved to the Durango area in 2018 from Grand Rapids, Iowa, studied nursing in college and has trained gymnasts with her Durango Junior Olympic Gymnastics – two talents that combine perfectly with her career.
And the fire? That all started before she got here.
"I had a roommate back in Iowa who did fire hula hoop, and she wanted me to fire hula hoop with her. I knew that I wasn't skilled enough with a hula hoop to want to light it on fire, so I said, 'What can we create that I can do gymnastics with?' And we took one of her hula hoops and we cut it apart, and we made my very first fire prop, which was toe torches, which is something that nobody else in the world does," she said. "I take these torches and I put them in my hands and my toes and I tumble with them."
That act was just the beginning for Buescher. After a couple of years of working on her skills, she ended up being the medical director at a Fire and Flow workshop weekend. That stint turned into becoming an instructor, winning a fire staff and then she started making props.
"It's all history from there," she said. "It all stems from a roommate trying to convince me to do a fire hula hoop."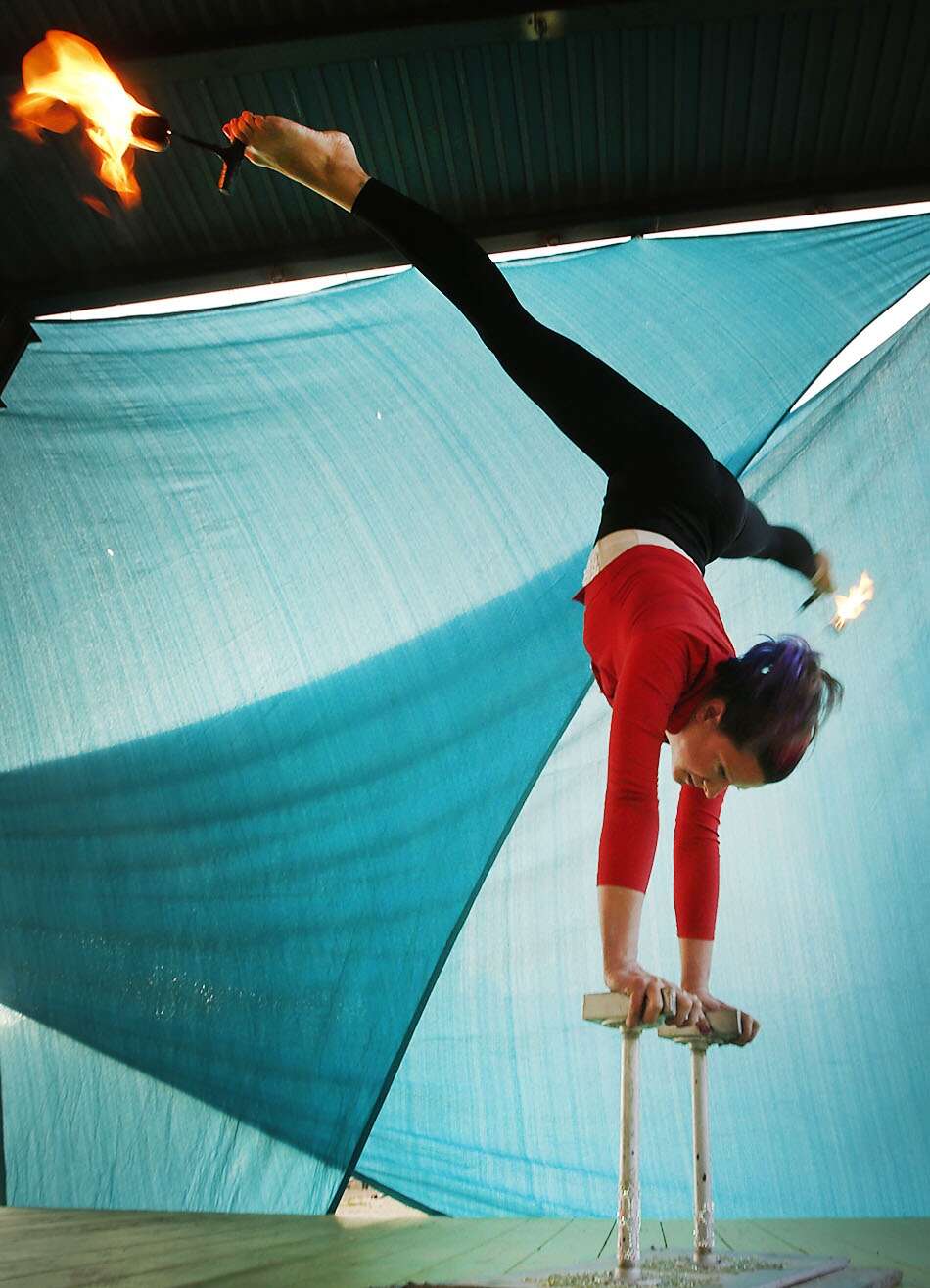 For the last two years, Buescher has been lead fire performer at Tico Time River Resort, just south of us in northern Aztec. Every Friday, the resort puts on a magic and fire performance for the people staying in the RV park. Day passes are also available for the shows. And, as a result of her growing fan base, she has also created her own company, Mountain Heat Entertainment, where people can book shows and learn more about fire performing.
At Tico Time, Buescher manages up to 15 fire performers who are all fairly local, being within about an hour and a half radius of the resort. She credits the resort and co-owner Robert Holmes with providing her with the support and budget necessary to put on professional shows.
"I'm so fortunate that I have this residency here at Tico Time and that they're so supportive of the arts and especially fire performance art because it's not something that has been widely hired out in this area up until these last two years," she said. "Rob at Tico Time has been very supportive of our community and of performers in general. ... He is all in, and he wants the budget to be even bigger that we can keep putting on these great shows. I have a lot of respect and gratitude for everything that he's doing to help promote the arts in this area."
Buescher said that while of course there are risks when working with fire, what people may not know is that artists can practice for years before even lighting their props on fire – what they call 'dry practice."
"I have three props right now that I've been dry practicing with for the last year just to add to my arsenal of choices. And I'm not quite stage ready," she said. "My guideline and what I suggest to all my performers, too, is you have to be able to do something 10 times with it not on fire before you light it on fire. And once you get ready to light it on fire, you have to be able to do it 10 times in practice in a row before it's stage ready. That consistency and that repetition – when you're doing something 10 times in a row, the pressure starts when you're on seven, and if you can make it through that pressure you're putting on yourself, then you can make it through the pressure of being on stage and having that extra adrenaline."
The props themselves are designed with safety in mind, Buescher said. Props are usually made out of carbon fiber cords and metal. Around the metal is a Kevlar wick, the same material that's used to make bulletproof vests. Performers soak the Kevlar with enough fuel for an act, which is time-tested during rehearsals. Performers can also control the flames by measuring how much fuel put in each wick.
It's this strict adherence to safety and professionalism that Buescher hopes will help build the fire performing community – and give it its due with the general public.
"We want to keep improving the reputation of the fire performers and keep working our way up the performance art spectrum because sometimes people feel like rogue spinning is the norm, where people are just like haphazardly spinning in their backyard and not thinking about the fact that we have a fire ban or something like that," she said. "I am in close contact with the fire marshals and the police department in Durango, I let them know where I'm going, if I have a performance in town."
And for a profession that comes with risk– although serious injuries are rare, Buescher said – the mental benefits outweigh worry of potentially getting burned.
"It's so much fun. The whole reason why I got into it in the first place is it was my way to decompress; it was my way to just do something where my mind wasn't wandering and wasn't thinking about other stuff," she said. "I found something that I had to be hyper-focused on because you can't let your mind wander when you have flames in your face, so it allowed me to just focus in on something else and let everything else go for a minute. I never really intended to be a professional performer; I did it for the healing and for the fun of it. ... It all just kind of happened, and those are the most beautiful things sometimes, when it wasn't forced, when it wasn't something that I was trying to create. It just happened on its own and it was meant to be."
katie@durangoherald.com