Evacuations, pre-evac notices remain in place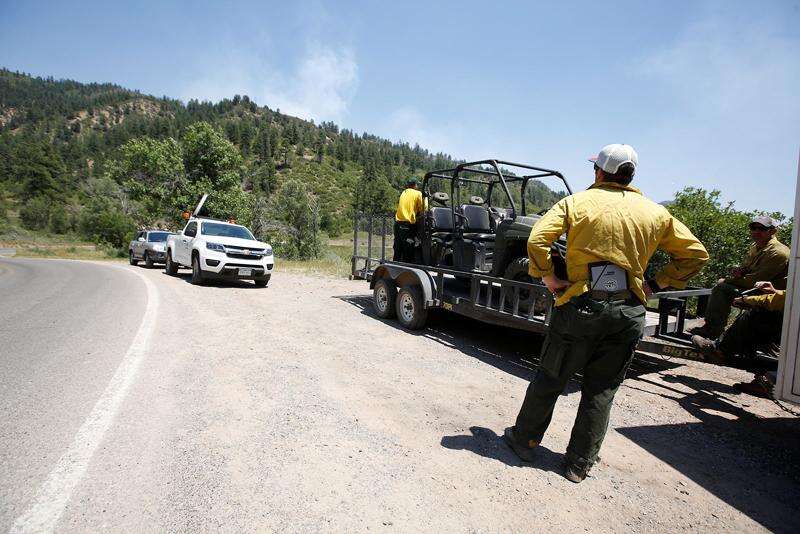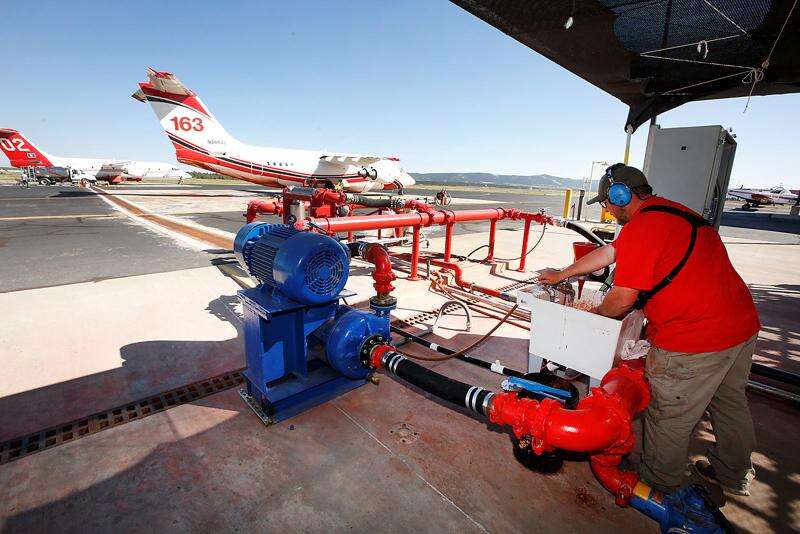 Pilots and ground crews partially contained the Lightner Creek Fire west of Durango on Thursday and kept it to about 360 acres despite hot and dry conditions.
The fire was 20 percent contained by Thursday evening and the outlook for Friday was positive, said Scot Davis, public information officer for the Durango Interagency Command after an evening staff briefing.
The worst fears of fire officials didn't materialize Thursday, as the wind gusts hit 15 mph to 17 mph, instead of forecast 30 mph, he said.
Cooler weather and calmer winds were expected to aid the firefight on Friday.
"The next 24 to 48 hours, we'll see some good, solid improvement," Davis said.
Despite the optimism, fire officials weren't ready to lift evacuations or pre-evacuation notices. About 170 homes were evacuated Wednesday, and several other neighborhoods were told to be ready to evacuate.
After drones flying over the fire Wednesday grounded aircraft and wasted retardant, there were no reports of hobbyists disturbing operations Thursday.
The state's multi-mission aircraft mapped the fire twice and revealed that it did not expand between 12:30 and 4:30 p.m. Thursday, Davis said.
There were five single-engine air tankers, four large air tankers, one aerial supervision module, one air-attack plane and three helicopters working the fire. The larger fire near Perins Peak was burning in steep, rocky terrain that is difficult to access and so it was fought mainly by air.
Firefighters on the ground worked to contain the 50-acre blaze west of Lightner Creek Road (County Road 207) Thursday because it was the most likely to jump U.S. Highway 160.
A bulldozer cut a fire break around the western side of the blaze and another was built by hand on the north side of the fire. A fire hose was laid up the south side of the fire from the bottom of Lightner Creek to the top of the butte as well.
A controlled burn on the edge of the fire to keep it away from U.S. Highway 160 and the Rafter J vicinity is planned, he said.
The fire started about 4 p.m. Wednesday in the 1200 block of Lightner Creek Road and quickly consumed 50 acres. It is believed to have started at a house at 1255 Lightner Creek Road. Neighbors reported three loud booms and said the house was destroyed before firefighters arrived. Davis said firefighters arrived nine minutes after the first call on the fire.
A second fire was apparently started by an ember on the east side of Lightner Creek Road and it worked its way toward Perins Peak and became the larger of the two fires.
Firefighters were unable Thursday to investigate the home where the fire is believed to have originated because the ground was too hot, Davis said.
The fire prompted evacuations Wednesday night for Animas High School, and county roads 206, 207 and 208 and Lightner Creek Campground.
Pre-evacuations notices were in effect for the Rafter J area along Wild Canyon Road (County Road 141), U.S. Highway 160, one mile west of Lightner Creek Road, Dakota and Westwood Apartments on County Road 206 and the Rockridge subdivision, west of town.
Some evacuated residents were housed at the La Plata County Fairgrounds on Wednesday night and Escalante Middle School on Thursday night, but many found lodging elsewhere.
The La Plata County Sheriff's Office escorted evacuees home to get pets, livestock, medication and RVs from Lightner Creek Campground.
The county received 21 requests to collect pets, RVs and medication, La Plata County spokeswoman Megan Graham said.
Durango Police escorted residents past a road block on County Road 206 to retrieve items.
Suzanne Garcia, who lives at the end of County Road 206, returned to her home Thursday morning and said it was surreal to hear the planes over her house. She was in Alamosa when the fire started and her daughters called her.
"As a mom, when you're three hours away and get a call like that, I can't begin to tell you how it makes you feel. They did an incredible job of getting the animals and the family heirlooms out," she said. "I have to hand it to them, because for teenagers, they got what matters. Not shoes and makeup."
Garcia said the police officers did a remarkable job keeping everyone calm and organized, and friends have made their homes available to her family.
Additional firefighters, administration and equipment moved into the La Plata County Fairgrounds on Thursday.
Six federal firefighting crews, of 20 people each, were expected to arrive Thursday, bringing the total number of fresh firefighters to 120, Davis said.
The additional staff are part of a transition from a Type III Incident Management Team to a Type II Team, trained to handle more complex fires with difficult terrain.
The weather was expected to be cooler with calmer winds and higher humidity Friday, said meteorologist Andrew Lyons with the National Weather Service.
A cold front was expected to arrive Thursday night and bring the shift in weather, but no precipitation is expected, he said.
The high on Friday is expected to be between 84 and 86 degrees.
Hot and dry conditions are expected to return next week, he said.
mshinn@durangoherald.com
Herald reporters Mia Rupani, Jonathan Romeo and Alex Semadeni contributed to this report.
This story has been updated to include the official response time of firefighters.