Blaze scorched about 2 acres of oak brush east of Twin Buttes subdivision
Firefighters and air attack crews responded to a 2-acre wildfire Tuesday near western Durango city limits – a reminder that despite several weeks of above-average rainfall, fire season is still here.
"I think everybody breathes a pretty worthwhile sigh of relief when we start getting rain, but we're on top of a couple years' worth of significant drought," said Hal Doughty, chief of the Durango Fire Protection District. "A couple of days of rain doesn't make up for a couple of years of drought."
The fire was reported about noon and was "creeping" through oak brush east of the Twin Buttes subdivision and north of U.S. Highway 160, said Rod Allen, battalion chief for DFPD.
A thin haze of smoke wafted through the air Tuesday afternoon in downtown Durango.
No homes were in immediate danger, and no residents were put on pre-evacuation notice, according to La Plata County government. The fire was burning on private land within Durango city limits, according to the county.
About 20 firefighters responded with a structural engine and two wildland engines. A helicopter and two single-engine air tankers also responded.
The cause of the fire was under investigation.
Doughty said firefighters received a report that people may have been in the area just before the fire started. A fire investigator was at the scene trying to identify the point of origin to better determine what caused the blaze.
"I'd say that human-caused is not ruled out," Doughty said.
Tuesday's fire was relatively small in size, he said, but it had the potential to spread. For one, it got started in the early afternoon before winds kicked up. Secondly, it was still burning during the hottest part of the day.
"We're just getting up here to the top of this hill to the fire. It's 99 degrees up here, so pretty warm for firefighting," Doughty said at 3 p.m. Tuesday speaking from his cellphone.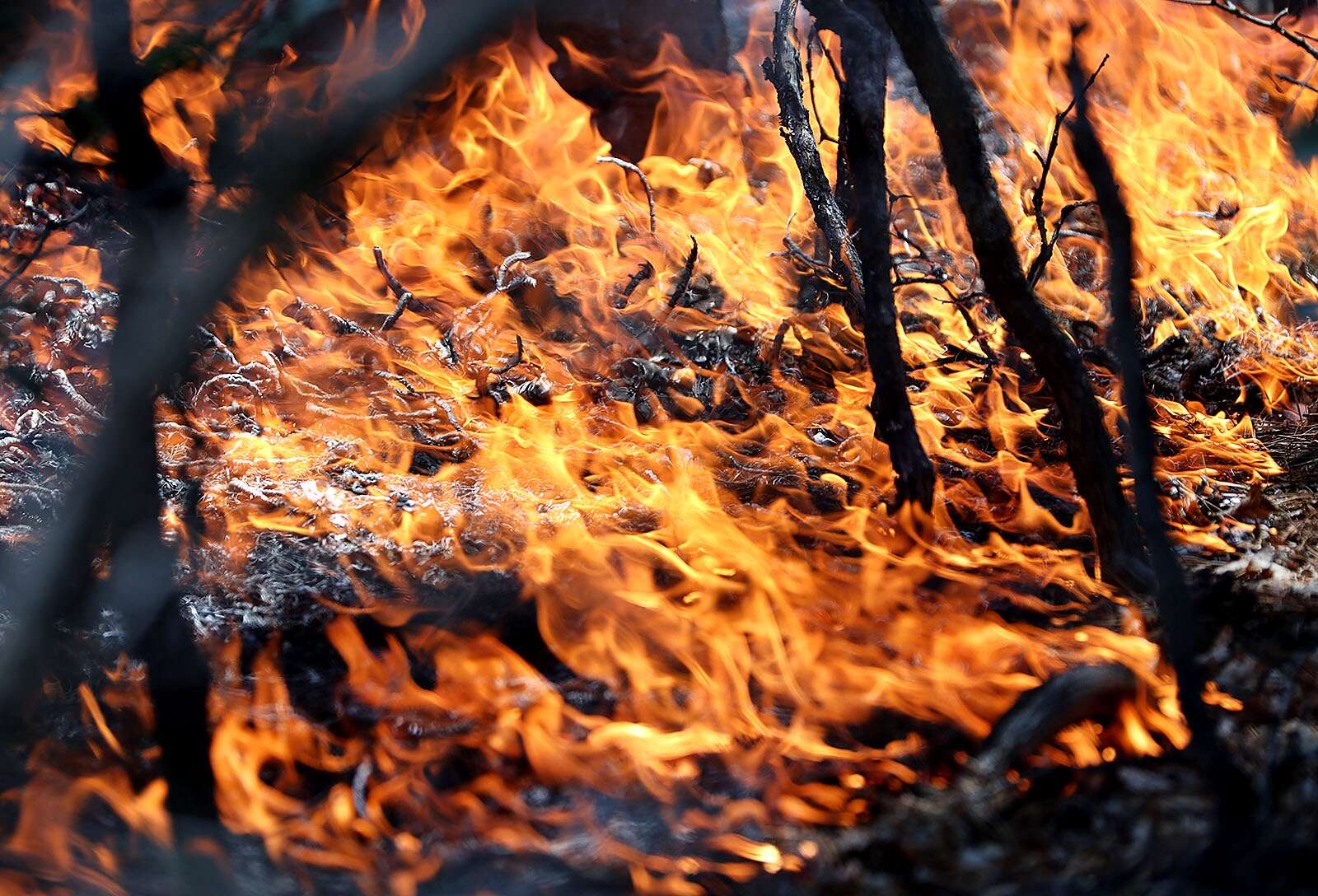 Fire agencies have received several reports of lightning-caused wildfires in recent weeks, but those have been kept to a tenth of an acre in size for the most part, Doughty said.
The lightning-caused fires typically smolder for one or two days. When the wind starts to blow, it can fan the embers and blow them onto the dry, brittle ground, he said.
But wildland managers can usually monitor those naturally occurring wildfires, Doughty said. They have access to data that accurately tracks where lightning strikes occur, and whether those strikes are positive or negative charges. Positive charges are believed to result in a higher percentage of wildfires.
Local governments and land agencies enacted fire restrictions in May and June, but those have been rescinded as a result of above-average monsoonal moisture.
Doughty said it is worth considering re-enacting Stage 1 fire restrictions, but many of the fires starting in the area have been small in size or the cause wouldn't have been covered under the restrictions.
Similarly, no red flag warnings have been issued in recent days. That is because red flag warnings are issued when the wind, temperature and fuel moisture reach certain levels. While it has been hot and windy (in the afternoons), the fuel moisture is doing OK, said David Byers, meteorologist with the National Weather Service in Grand Junction.
"The trees and the plant life have soaked up the moisture, and so they've greened up," Byers said.
A high-pressure system has centered itself over the Four Corners, which has caused temperatures to soar and pushed moisture to the north and east over central Colorado, he said.
Temperatures are expected to remain in the 90s until Sunday. About that time, the high-pressure system will move to the Texas Panhandle, which will allow moisture to return, he said.
But even then, it will only be "wetting rain" – about a tenth of an inch.
"But then, any precip and moisture you get helps," Byers said.
shane@durangoherald.com