Bobcats bit by Panthers run game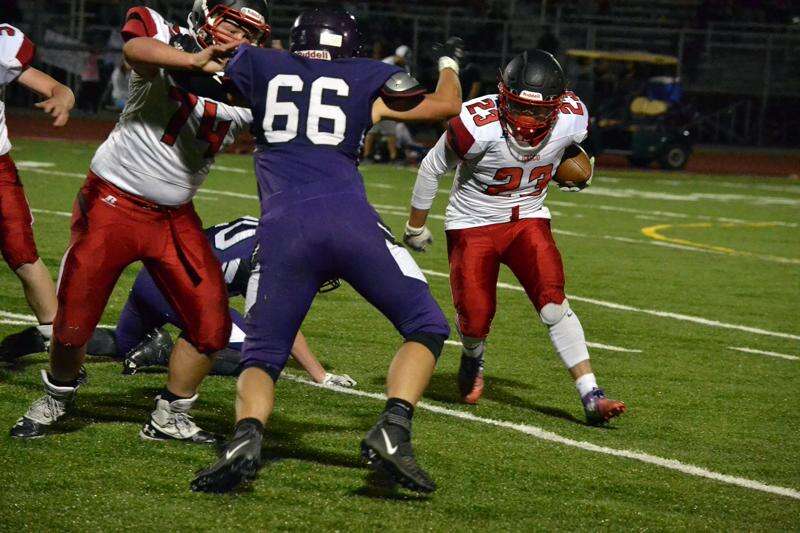 All the scoring came in the first half Friday in Walsenburg.
On homecoming night at John Mall High School, the host Panthers (1-2) claimed a 22-13 victory against Ignacio (1-3) in a Colorado Class 1A showdown.
Wesley Van Matre ran for 203 yards on 32 carries for the Panthers in the victory.
Ignacio scored first after Colten Jackson intercepted a pass from John Mall quarterback Travis Vialpando to give the Bobcats the ball on the Panthers' 4-yard line. Two plays later, Ignacio's Joe Garcia scored on a 1-yard run, and the extra point was good to put the Bobcats ahead 7-0 with 10:36 to go in the first quarter.
John Mall answered back with a 7-yard TD run by Van Matre, and his 2-point conversion run was also successful to give the Panthers an 8-7 lead with 8:41 to play.
Ignacio fumbled on its first offensive play on the ensuing possession. John Mall then went 36 yards in six plays, and DJ Van Matre ran for a 25-yard TD complete with another 2-point run from Wesley Van Matre to put the home team ahead 16-7 with 4:58 to go in the second quarter.
But the Bobcats marched right back with a 64-yard scoring drive capped with a 5-yard TD pass from Ian Weinreich to Lawrence Toledo. The extra point was low and no good, and the deficit was 16-13.
John Mall then mounted an 87-yard scoring drive in only five plays, as Vialpondo hit Wesley Van Matre on a 55-yard TD pass down the middle of the field with 11.8 seconds to play in the first half. The 2-point try was no good, and the Panthers had a 22-13 lead at halftime that would stand up as the final score.
To start the fourth quarter, Wesley Van Matre intercepted Weinreich, but nothing came of it. Ignacio's Tyler Barnes recovered a fumble with 11:11 to play to give the Bobcats hope, but an 11-play drive stalled on the John Mall 28 with 6:12 to play. From there, the Panthers ran 11 consecutive runs to run off the remainder of the clock.
Jackson had three catches for 36 yards for Ignacio, while Toledo led the Bobcats in rushing with 35 yards on eight carries.
Next for Ignacio is a bye before a home game at 2 p.m. Oct. 5 against Colorado Springs Christian.
Pine River Times sports writer Joel Priest contributed to this report.
jlivingston@durangoherald.com