Skyhawks to host ASU at 2 p.m. Saturday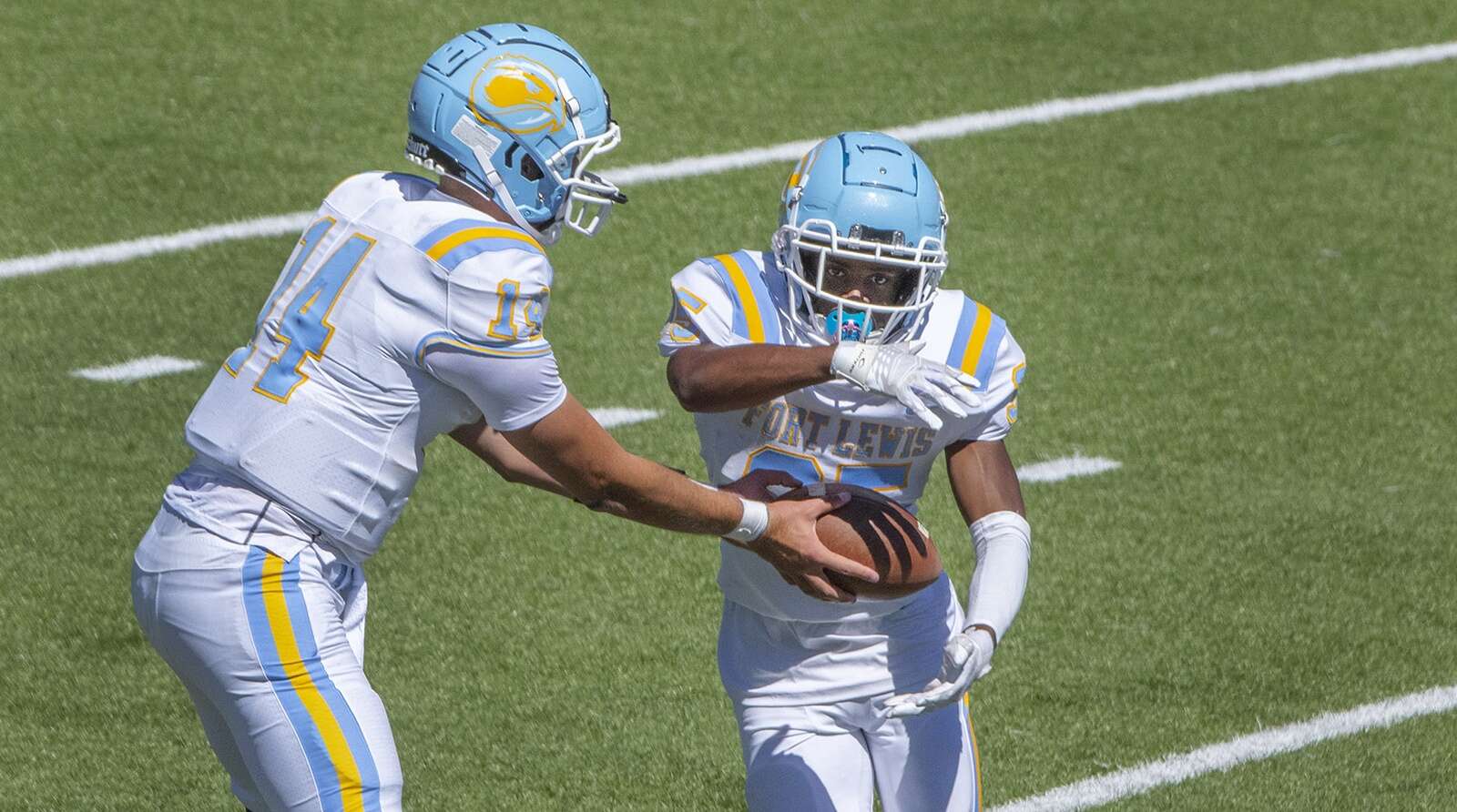 After a hard-fought conference opener down in New Mexico, the Fort Lewis College football team is back at home for a Rocky Mountain Athletic Conference showdown with rival Adams State University at 2 p.m. Saturday.
"We're really excited about this game," Fort Lewis College Head Coach Johnny Cox said. "I know our record doesn't reflect the result we want, but I really feel like were improving week to week. We know Adams will be hungry to get back on the field after last week's results. It's a big rivalry game so neither records matter. It's going to be an intense game and both sides are going to bring their best."
Originally named, "The Musket Game Series," Adams State and Fort Lewis had competed for a Springfield .45-70 military issue rifle that served as the traveling trophy between the two programs. The rifle was originally donated in 1966 to both athletic departments by Mahlon "Butch" White in memory of William White. The Musket Game Series was put on pause before the 2021 season. No game was held in 2020 because of the COVID-19 pandemic.
Scouting the Grizzlies
Adams State is fresh off a tough 84-10 loss at home to No. 21 Colorado School of Mines. The Orediggers maintained a relentless pursuit of the Grizzlies, producing 637 yards of total offense by way of 275 yards in the air and 362 yards on the ground. ASU secured just 231 yards of total offense, one rushing touchdown from Shammah Luani, and a 35-yard field goal from Kenneth Aryers. The loss last dropped Adams State to 0-3 overall and 0-1 in the RMAC.
Mark Salazar spearheads the Grizzlies offense at quarterback. The 6-foot-1 graduate student has completed 59 of his 111 passing attempts. On the ground Salazar has made just 11 attempts for 15 net yards and has been sacked five times. Shammah Luani is the ASU workhorse on the ground, securing 117 yards on 24 carries.
Defensively the Grizzlies have three individuals with over 20 tackles to their name. Leading the trio is safety Daniel Mendoza with 28, then Viliami Schaumkel with 27, and lastly Edward McClendon with 22. The trio has provided 77 of the teams 229 tackles thus far.
Last Time Out
Fort Lewis came home with a tough loss on the road to New Mexico Highlands last weekend. The Skyhawks struck first with a 36-yard field goal to take a 3-0 lead, but the Cowboys answered with a touchdown to make it 7-3 before halftime. Highlands found another gear in the second half, putting up a trio of touchdowns for the final 27-3 score.
FLC continued to struggle on the penalty front, giving the Cowboys 70 free yards on seven penalties. While the Skyhawks were able to secure the ball and not give up any turnovers, the offense just couldn't find its footing. Braden Wingle threw for 152 yards, completing 19 of his 32 passes (59%) alongside 48 yards on the ground with eight attempts. The Fort Lewis offense struggled to move the chains, however, converting just 10 of 19 third-down attempts and going 0-2 on fourth-down attempts.
Skyhawks leaders
Wingle leads the Skyhawks both on the ground and in the air. The junior quarterback owns an 85.92 quarterback rating after completing 40 of his 71 pass attempts (56%) for 306 yards, one touchdown and four interceptions. On the ground Wingle has produced 45 net yards on 14 attempts while being sacked seven times.
Zach Russell leads the Fort Lewis receiving core with 88 yards and one touchdown on just seven catches. Dylan Holts has 70 yards on six catches, while Drake Cortez leads all receivers with 11 total catches thus far.
On defense, Durangoan Max Hyson continues to be wrecking ball on the front line and leads Fort Lewis with two sacks for 13 yards alongside five tackles for loss for a total of 22 yards. James Reyes has the team's only interception, securing it on a tip at the line against Arizona Christian for a 6-yard return.