Carter Rogers, 20, says town needs change from 'the bottom up'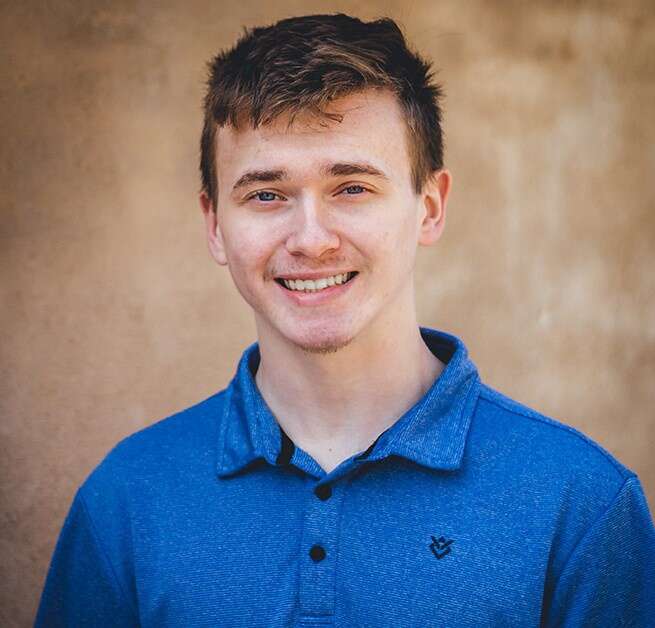 Fort Lewis College Student Body President Carter Rogers, 20, announced his candidacy this week for Durango City Council.
Rogers, a junior majoring in political science, spent part of Wednesday petitioning residents for their support and soliciting their views on pertinent local issues.
Rogers said he was motivated to run for City Council after being told by the city's mayor that the city is more focused on its workforce than housing security for FLC students.
"Back in October, we actually extended the invitation to current Mayor (Barbara) Noseworthy to discuss some possible collaboration on the college's part and the city's part to help our students obtain housing security," he said. "And in that meeting, Mayor Noseworthy basically expressed that the view of the council is that they are more focused on their workforce (housing) here in Durango."
Noseworthy said she did tell Rogers the city is focused on workforce housing. But she said she also brainstormed with Rogers about how to address student housing issues, such as how renters might not want to rent to students.
The college and its chief financial officer have been working on the student housing problem, she said.
"I did say that, because we're focused on workforce housing," she said. "What I also had said is I know Tom (Stritikus, FLC president) and the CFO are really trying to focus on student housing."
Rogers said he found the interaction with Noseworthy disheartening. But it wasn't the only time his efforts to help college students with housing were unfruitful.
Rogers said he was elected as a senator to the college's student government, the Associated Students of Fort Lewis College, in 2021. He successfully established a student court for making disciplinary decisions that the college itself would normally handle. In 2022, he found more success in his bid for president of the student body and managed to secure a full student court appointment. But he also pushed the college administration for housing security for students.
"Nearly one-third of our students here at Fort Lewis College face housing insecurity," he said, referencing a report. "So advocating for that was a really big part of my platform. Unfortunately, the administration decided to not grant those emergency housing solutions."
Rogers moved to Durango in 2020 from the Osage Reservation near Kansas-Oklahoma boarder to attend FLC, according to his campaign website. He his pursuing a bachelor's degree in political science. He was elected to president of the student body by a margin of 84% to 16%.
Rogers is among the youngest candidates that have ran for City Council. He follows in the footsteps of Aaron Tucson, another political science major from FLC who made local history in 2001 when he successfully ran and won election to City Council at the age of 21.
He is the third candidate to announce a bid for City Council, which has two seats up for election in April.
Change from the bottom up
In a news release, Rogers said "effective change must come from the bottom up." He describes a "skewed" political landscape where "good and reliable change" relies on powerful and well-established candidates, politicians and political parties.
He said that strong and lasting change stems from the protection of families and persons who need expanded access to housing, mental health and transportation services, and investments into small and sprouting businesses.
He said he heard residents' views about housing while petitioning on Wednesday, and many of their concerns involve the vacation rental industry in Durango.
Airbnb has over 1,200 rental units in Durango ranging from eight-bedroom homes to single-bedroom houses, he said. He proposed a city ordinance that limits the number of short-term rental spaces in addition to the amount of time those spaces can be rented.
For example, if somebody wanted to rent an Airbnb in Durango for three days, they'd have to pay rent for an entire month, he said. That would force renters and rentees to reconsider their agreements.
"Hey, would we benefit maybe from opening these leases up for full-term lease contracts, whether it be six months, 12 months, things like that?" he said.
He said building affordable housing is an idea other announced candidates for City Council – Harrison Wendt and David Woodruff – have mentioned. But he doesn't think more affordable housing will solve the city's housing crisis.
"We have the stock here in Durango, albeit they're tied up in Airbnb rentals," he said.
He said regulating vacation rentals is just one example of how "effective change must come from the bottom up."
The reimagining of downtown Durango's Main Avenue from Fifth to 14th streets is another important issue for Rogers. But where others have voiced support for the project, Downtown's Next Step, Rogers said the city should take a step back and listen to business owners.
"I think the current council has made a serious misstep in going forward with those plans," he said. "Especially considering that 75 business owners in Durango have already sent a letter to council saying that they do not support that next step project."
cburney@durangoherald.com