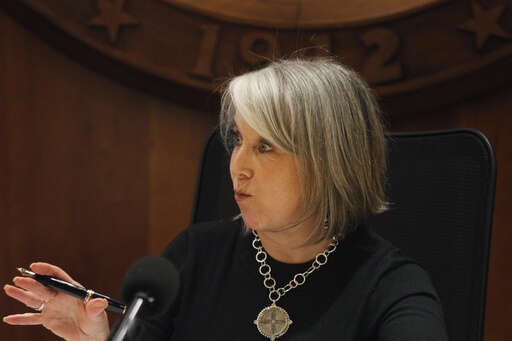 SANTA FE – The governor of New Mexico is confronting a noon deadline Friday to sign or veto provisions the largest proposed annual spending plan in the state's history, along with a $1.1 billion tax relief bill.
Surging oil prices and production in southeastern New Mexico are producing a financial windfall. In a state with high rates of poverty and low workforce participation, officials estimate a $3.6 billion surplus for the coming fiscal year.
Democratic lawmakers seek to shore up rural health care networks, provide tuition-free college, no-pay daycare and new business incentives, under a $9.6 billion spending plan for the fiscal year that runs from July 2023 through June 2024. The proposal represents a roughly 14% spending increase.
At the same time, legislators have endorsed more than $1 billion in direct spending on construction projects and a tax relief package that would forgo more than $1.1 billion in state government income in its first year.
Democratic Gov. Michelle Lujan Grisham said this week that she has misgivings about the scale of the tax-relief bill. She warned that it would undermine spending on social programs when oil prices and production falter in the future. That could compel the state to slash spending on law enforcement, health care and public education including college scholarships, she warned.
"Take a look at Kansas, they went to a three-day week for schools. Take a look at Missouri, if you go too far, too deep" with tax cuts, Lujan Grisham said. "Take a look at Congress, are they not now debating all of their entitlements, including Social Security, because of the Trump tax cuts?"
The governor, who embarked on her second term in January, said she is committed to tax reform "at a pace that is sustainable." Lujan Grisham cannot run for a third consecutive term in 2026.
Tax changes passed by the Democratic-led Legislature would provide $500 individual rebates, refundable credits of up to $600 per child, a gradual reduction in taxes on sales and business services, and new incentives for the film industry estimated at $90 million a year.
Lujan Grisham said she is proud of the work her administration has done to diversify the economy and create new sources of government income to sustain public programs.
"But they're not enough to replace a giant loss in oil and gas," she said at a news conference on Wednesday. Income linked to oil and natural gas accounts for more than 40% of annual state general fund spending.
The governor can veto individual spending items throughout the budget bill from the Legislature. She has more limited authority to pick and chose when it comes to provisions of bills on taxation and government policy.