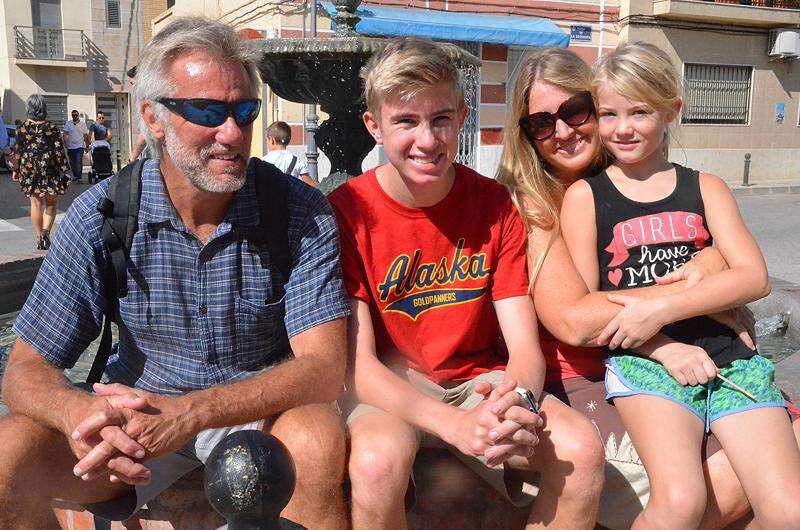 Traveling to Europe is an expensive endeavor. However, once there, it is fairly cheap to go from country to country.
Plane tickets from Valencia to Porto, Portugal, for instance, can be around 30 euros. Many people we met in Spain go easily from country to country, especially since being in the European Union makes it so easy to travel. Lots of high school students we met were planning to go to college in Germany, the Netherlands and England, and it was nothing for their parents to bop over to see them regularly.
We, however, were confined to Spain. After being robbed for a second time, my Foreigner's Identity Card was stolen. I received a paper replacement, but was told I could not come back into the country if I left, or it wouldn't be valid. This was not really such a bad thing because it allowed us to really get to know Spain without diluting our time there. We hit almost every region and really learned the Spanish landscape and regional differences.
But, when the lease on our house and our Visa expired, we decided to take advantage of our proximity to other countries and visit as many other places in Europe as we could before returning to the United States.
I don't mind bragging that I have gotten good at travel planning. I have discovered all the resources for authentic experiences and making the most of short stays. So, I put my hobby to use and planned a two-week, six-country tour through Western Europe. The list consisted of: Porto, Portugal; Prague, Czech Republic; Cologne and Triberg, Germany; Salzburg, Austria; Bruges, Belgium; and Amsterdam, Netherlands.
All our friends from Spain thought we were crazy to pack so much in, but it was actually perfect, if you didn't mind skipping the relaxation part of a vacation and going straight for the action. We used planes and trains, hit the main sites and a few out of the way places, stayed in little local inns and occasionally went on a tour (the highlights were Fraulein Maria's bike tour in Salzburg and the Dam Boat Guys Canal tour in Bruges). The key was to avoid the touristy offerings and focus on local guides.
When people talk about going to Europe on vacation, they often don't think that it is actually a very small place. It's as if everyone in the world decided to travel to a few main cities in a few states in America. In other words, in July, it is packed! It made me miss our lazy pace in Valencia, which doesn't make it into most guidebooks.
Even though we were still in Europe, this trip made me realize how different Spain is from other European countries. Partly because Spain was kept separate so long because of Franco's regime, it has not adopted as many things from the United States. The main difference was the food schedule. It felt strange to be back on a mid-day lunch hour and an earlier (by Spain standards) dinner. Secondly, we had became accustomed to the way Spanish people look and dress. On a metro, almost everyone had black hair, a very specific haircut for boys, tight clothes, small physiques and a particular care with personal grooming. Women tended to be very well dressed if younger than 50, and in house dresses if older than 50. As soon as we got to Prague, we were hit with people who looked very different. People were taller, lots of blond hair, many more people were speaking English and lots more people were getting drunk in public. I always was interested that as much as Spanish people drink, it was considered very bad form to be drunk in public.
We had many memorable adventures on this whirlwind trip, from getting stuck in the homeless party car on a five-hour train ride to hiking about 2 miles uphill with our luggage to an inn off the beaten path. We happened upon a town festival in Triberg, a rock festival in Bruges and watched Portugal lose in the World Cup outside in the main square in Porto.
It was a funny, educational and emotional end to our year in Spain. Hopefully, our kids will never forget it. And, it created a little buffer for our re-entry into the U.S.
Sally Shuffield is a Durango resident who lived in Spain for a year with her family. Visit her blog at www.sallyshuffield.net/spain-blog.