Volleyball takes No. 20 Regis to fifth set
The Fort Lewis College football team scored first and kept its game tight heading into halftime against New Mexico highlands on Saturday, but succumbed to the Cowboys 27-3.
"I thought we fought well today," head coach Johnny Cox said. "We improved from Week 1 to Week 2, but now we must continue to get better and take it to an even higher level. This is a tough conference. We have to play cleaner football and take advantage of more opportunities to put ourselves in a position to win."
New Mexico Highlands outproduced the Skyhawks 358 yards to 240. The Skyhawks improved from Week 1, adding 49 yards of total offense and securing 71 yards with its running game.
Seven penalties, however, cost Fort Lewis a total of 70 yards while Highlands gave up four penalties for 42 yards.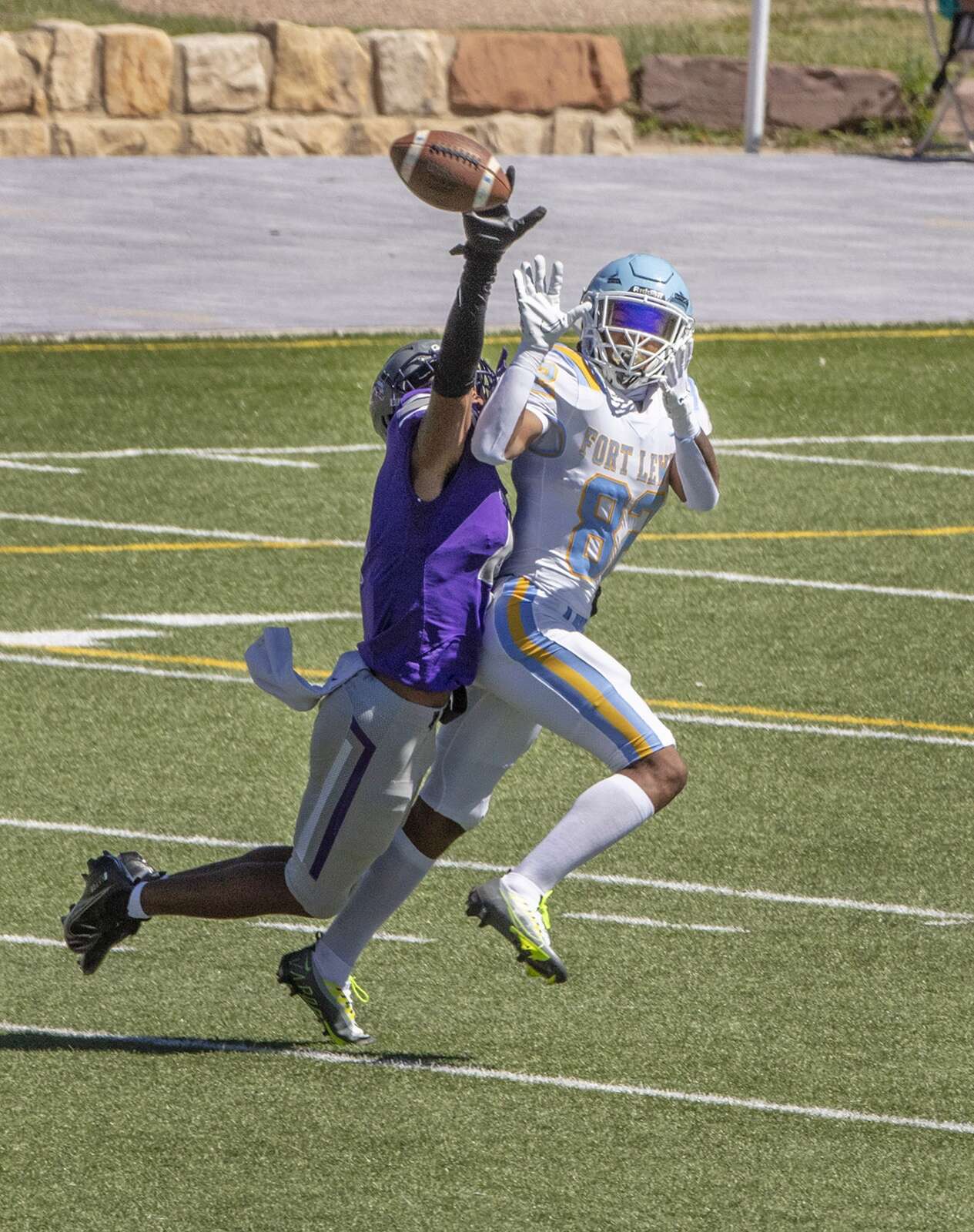 Quarterback Braden Wingle led FLC's offense with 48 rushing yards and 152 through the air with, completing 19-of-32 with no interceptions.
Hunter Villavicencio drilled a 36-yard field goal in the opening quarter to put FLC up 3-0 and capped a drive in which Wingle scrambled for a pair of first downs. Villavicencio made one other attempt, but the Cowboys blocked it as time expired in the second quarter.
Next, Fort Lewis will return home to face RMAC rival Adams State University at 2 p.m. Saturday.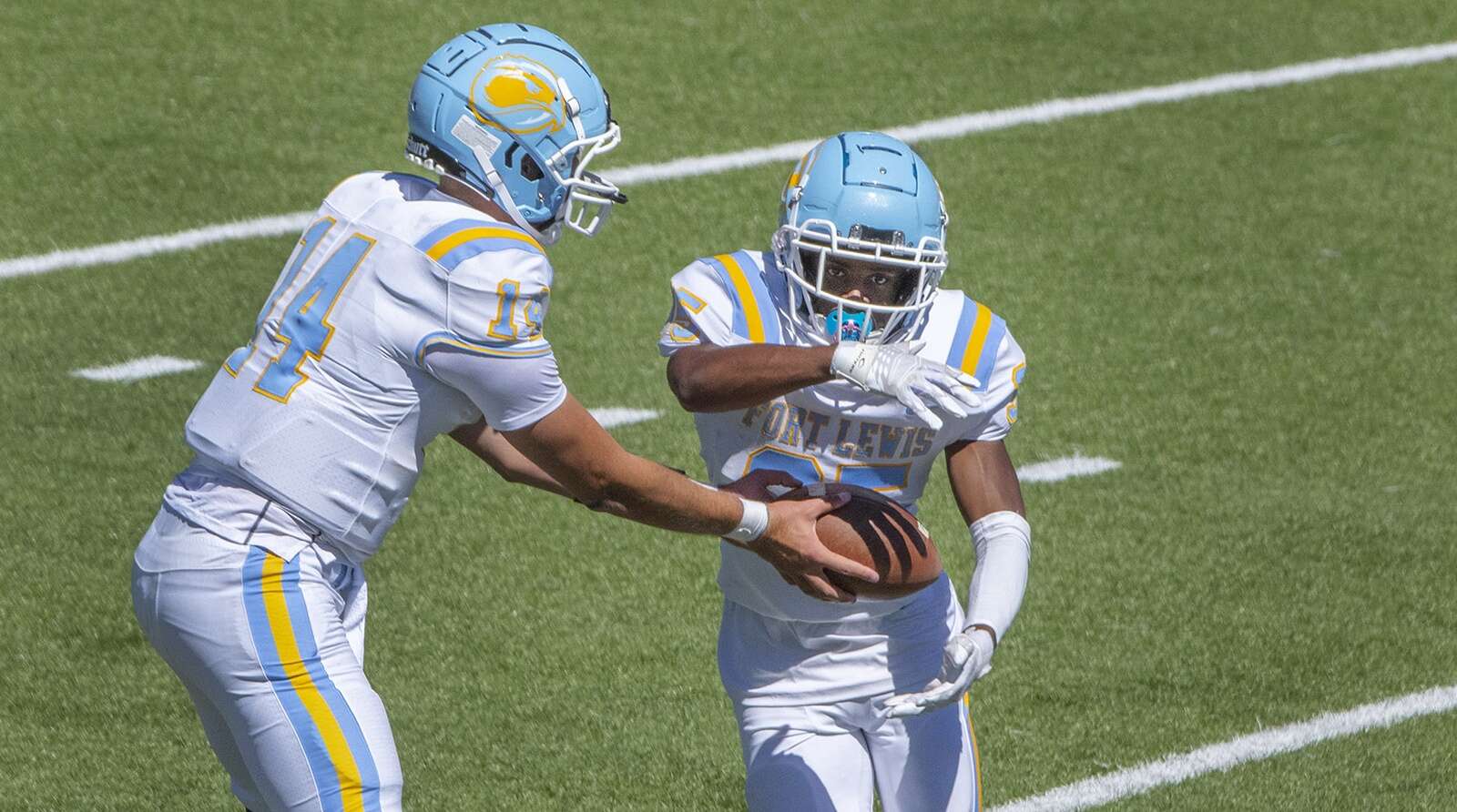 Volleyball nearly upsets Regis
The Fort Lewis College volleyball team pushed the red-hot, No. 20 Regis University to five sets in front of a rocking home crowd Friday but fell in the RMAC slugfest by a 15-9 score in the decider.
"It makes me proud that we didn't let the momentum of the game dictate how we showed up as a team," said head coach Giedre Tarnauskaite. "Whether we were ahead or behind, we kept taking care of details, serving tough and making great plays. Challenging a team like Regis to a fifth set shows a lot of growth for us as a team and proves that we are a tough team to face."
FLC started strong and won the first set, 25-23. Regis rallied and won the next two, 25-18 and 25-8, but the Skyhawks won the fourth set 25-23 to force the deciding Game 5.
Sophomore Alexis Hobie found the floor for 17 kills to go along with 10 digs. Senior Rylee Johnson had eight kills and a team-high five blocks. Sophomore Natalia Lambos racked up 32 assists and 10 digs for her fourth double-double of the season. Senior Kamryn Lopez led the team with 17 digs to tie a season-best.
The Skyhawks are now 4-6 overall, 2-2 RMAC. The Rangers improved to 7-4, 3-0.
Roadrunners elude men's soccer
Metropolitan State University of Denver escaped Durango with a 2-1 nonconference win over the Fort Lewis men's soccer team on Sunday.
Sophomore Gabriel Legendre gave FLC the early lead, scoring his fourth goal of the season in the 22nd minute on a penalty kick.
FLC maintained the 1-0 advantage into halftime, but Metro answered with a pair of second-half goals to finish on top.
"Disappointed in the result today, but there was a lot of good progress made on our side," head coach David Oberholtzer said. "I am very happy and excited with the attitude and effort our guys put forth today, especially with a lot of our guys battling injury."
FLC will next play Colorado Christian at 1:30 p.m. Friday in its RMAC opener in Lakewood.
UCCS blanks FLC women
The Fort Lewis College women's soccer team took on the University of Colorado Springs on Sunday but was shut out 3-0.
Fabiola Estrada scored two quick goals to give UCCS a 2-0 lead after just 12 minutes. UCCS added a goal in the 53rd minute and outshot FLC 17-7 in the game.
"I know that the team is tired of learning through loss, and so is the coaching staff," said head coach Damian Clarke. "We really are growing, and when we look at the first half we matched UCCS in shots and hit the crossbar. We found out a lot about some more of our young players today."
FLC is now 1-6-1, 0-2-0 RMAC. UCCS improved to 5-1-2, 2-0-0.
The Skyhawks will return home to host NMHU (0-5-0, 0-1-0) at 7 p.m. on Friday.
Men's golfers take fourth at CSUP
After a rocky start to its season last week, the FLC men's golf team made some quick adjustments to place fourth at the Farmers Insurance Sam Proal Invitational, held at Walking Stick Golf Course on the campus of Colorado State University Pueblo.
"I think our guys are learning how to close it out pretty quickly," Fort Lewis College Head Coach Jim Foltz said. "Our fourth and fifth guys really hung in there and competed all week. With the field of competition we had, I'm extremely pleased and proud of our guys for the fourth-place finish."
Traejan Andrews and Riley Rottschafer led Fort Lewis. The duo tied two other golfers for 12th with a 215 (-1) across the week.
As a team FLC shot an 870 (+6). The Thunderwolves took first with an 822 (-42), led by individual champ Matt Millar at 204 (-12).
Cross-country face regional foes
The FLC cross-country teams ran some personal best times against nationally ranked foes on Saturday at the MSU Denver Roadrunner Invite.
The FLC women finished fourth out of 11 squads in the 6K with 143 points, beating No. 4 UCCS, MSU Denver and Westminster College.
Sophomore Katie Fankhouser led the team with an 11th-place finish in 22:23.80. Senior Angel Curley crossed in 29th in 23:25.80. Carmella Wright (23:43.00, 35th), sophomore Sophia Mena (24:15.90, 49th) and senior Esther Beck (24:33.30, 59th) rounded out the women's team score.
The FLC men finished eighth out of 10 teams, besting Texas A&M International and Westminster College.
Sophomore Bean Minor led the men in his first collegiate race, placing 30th in 25:39.80. Brady Burrogh (31st, 25:40.60), Max Robinson (33rd, 25:49.40), Aaron Busche (49th, 26:38.71) and Javier Victorino (52nd, 26:50.00) also ran for the men.
FLC will next run Oct. 7 when the teams host the Tom Strandt Memorial meet at Hillcrest Golf Course.